Degen Show Part (2/17/21)
Your favorite Degens give you their NBA Bet Picks for 2/17/21 and there's some hockey picks below too. Listen to their NBA win totals episode for more NBA action.
Powered by RedCircle
The Degens! App
Grab the Degens App hangout, shoot the breeze and get even more content.
Android:
https://play.google.com/store/apps/details?id=io.gonative.android.xmmkqw&hl=en
iOS:
https://apps.apple.com/us/app/id1527907647
Max's NBA Bet Picks for 2/17/21
Miami (-1) at Golden State (1)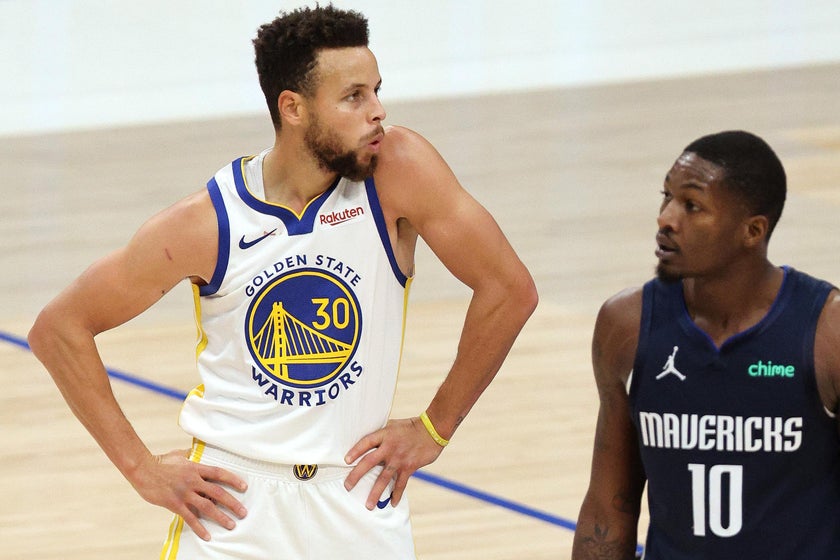 Pick: Bet $20 Golden State
Total: 223.5 (Lean Under – 222)
Predicted Score: Golden State 113 – Miami 109
Overview: The Warriors are coming off an absolute beatdown of the flailing Cavs that improved their home record to 10-6 on the season. Without Klay, this team is not a championship threat, but with Curry, they are a competitive team that will win some games.
Miami, on the other hand, just can't seem to get back to the same level of play that bolstered them into the finals last year. They continue to have road woes – 4-9 on the year – and they aren't as competitive against the better teams. Their last two games (against the Jazz and the Clippers) weren't close and their recent wins have come against Houston and New York.
Draymond Green has turned this Warriors defense around. They are now ranked in the top 5 of defensive efficiency and their opponent's points per game is significantly better than it was. At home, it's even stingier. Miami's offense just hasn't found consistency and with Dragic still out, it will lack the extra spark they need to keep up with the Warriors.
I do wish Wiseman was back to match up against Adebayo but even still, I'll bet $20 on the Warriors.
Denver (-3.5) at Washington (3.5)
Pick: Bet $20 Washington
Total: 232.5 (Lean Under – 228)
Predicted Score: Washington 115 – Denver 113
Overview: Man, I hate it when my sheet says to bet Washington. Because then I have to debate myself about whether I should actually listen. I have ignored my sheet the last two games and guess what, they won. So now that I am following my sheet, they will lose. Fuckers.
And even worse is that Denver played and lost yesterday. So they will be motivated to avoid losing two in a row.
One thing to say about Washington is that their defense has improved. It used to be the worst in the league and it's making strides. Their offense can still put up some points, but this is now a team that is scoring a bit less and trying to slow down other teams. Don't get me wrong – they still lead the league in possessions per game – so they are pushing the ball as much as possible. But if they can stop the bleeding on defense, I think they can win some games.
So yeah. $20 on the Wizards. Which means you should bet Denver. As a note, I do have Washington outright winning. The moneyline payout is 130. At a 3.5 spread, I'd want +160 or more for this to be a value play on the moneyline.
Meaningless Leans
New York (-3) at Orlando (3)
Pick: Lean Orland
Total: 209.5 (Lean Under – 213)
Predicted Score: New York 107 – Orlando 106
Houston (11) at Philadelphia (-11)
Pick: Lean Houston
Total: 225.5 (Lean Over – 225)
Predicted Score: Philadelphia 114 – Houston 111
Notes: Embiid is probable
Atlanta (4.5) at Boston (-4.5)
Pick: Lean Atlanta
Total: 223.5 (Lean Under – 223)
Predicted Score: Atlanta 112 – Boston 111
Notes: Kemba Walker is doubtful
Indiana (-5.5) at Minnesota (5.5)
Pick: Lean Minnesota
Total: 227.5 (Lean Under – 222)
Predicted Score: Indiana 113 – Minnesota 109
Notes: D'Angelo Russell having surgery and out 4-6 weeks
Detroit (4.5) at Chicago (-4.5)
Pick: Lean Detroit
Total: 222.5 (Lean Over – 226)
Predicted Score: Chicago 114 – Detroit 112
Notes: Blake Griffin is out because he might be traded
Portland (3) at New Orleans (-3)
Pick: Lean Portland
Total: 231.5 (Lean Under – 231)
Predicted Score: New Orleans 116 – Portland 115
Okla City (7.5) at Memphis (-7.5)
Pick: Lean Okla City
Total: 223.5 (Lean Under – 221)
Predicted Score: Memphis 111 – Okla City 110
Notes: Shae Gilgeous-Alexander and Al Horford are doubtful
Utah (-3.5) at LA Clippers (3.5)
Pick: Lean LA Clippers
Total: 227.5 (Lean Under – 225)
Predicted Score: LA Clippers 113 – Utah 112
Notes: Kawhi is listed as questionable.
Max's Salty NHL Bets for 2/17/21
Subpar day again. Hitting a bit of a cold streak for sure. I was 2-3 in picks and 1-1 in bets (down $0.77). That puts me at 128-96 in picks and 35-28 in bets (up $112.19) on the season.
Florida Panthers (138) at Carolina Hurricanes (-154)
Pick: Bet Florida
Ottawa Senators (271) at Toronto Maple Leafs (-317)
Pick: Lean Toronto
Chicago Blackhawks (-132) at Detroit Red Wings (119)
Pick: Bet Detroit
Vancouver Canucks (128) at Calgary Flames (-142)
Pick: Lean Vancouver
Winnipeg Jets (122) at Edmonton Oilers (-135)
Pick: Lean Winnipeg