Degen Show (12/22/2020)
Your favorite Degens give you their NBA Bet Picks for 12/22/20. Listen to their NBA win totals episode for more NBA action.
Powered by RedCircle
The Degens! App
Grab the Degens App hangout, shoot the breeze and get even more content.
Android:
https://play.google.com/store/apps/details?id=io.gonative.android.xmmkqw&hl=en
iOS:
https://apps.apple.com/us/app/id1527907647
Max's NBA Bet Picks for 12/22/20
Warriors at Nets
Spread: BKN -7.5 (Lean Warriors)
Total: 229.5 (Bet $25 Under – 223)
Predicted Score: Nets 114 – Warriors 109
Overview: The NBA kicks off its new season with Kevin Durant's return from a torn Achilles. It's been a year and a half since Durant played in a regular season NBA game and instead of partnering with Steph Curry, he finds himself on the opposite side of the floor.
Durant and Kyrie Irving signed with the Nets two off-seasons ago and look to make waves in a winnable Eastern Conference. I do think Brooklyn has a chance to succeed in the East if Durant and Kyrie stay healthy and mentally strong. But those are two big iffs.
Brooklyn looked like a more complete when Kyrie was not on the court last season. You saw big performances by guys like Spencer Dinwiddie and Caris Lavert. It will be interesting to see if these guys thrive with Irving controlling the offense.
For Golden State, there's a lot of questions there too. They approach the season without Klay Thompson – who suffered another brutal injury while rehabbing his last one. But Steph Curry looks healthy and in good form. He's partnered up with a fairly deep team that includes Andrew Wiggins, Kent Bazemore, Kelly Oubre, Brad Wanamaker and rookie James Wiseman (rookie).
That's a lot of weapons to help Curry do his thing.
A lot of people are down on Golden State this season but I think this is a dangerous team that can win some games this season. Do they win this one? No, I don't have them getting the opening night W. But I do have them keeping it closer.
I'll lean the Warriors.
Clippers at Lakers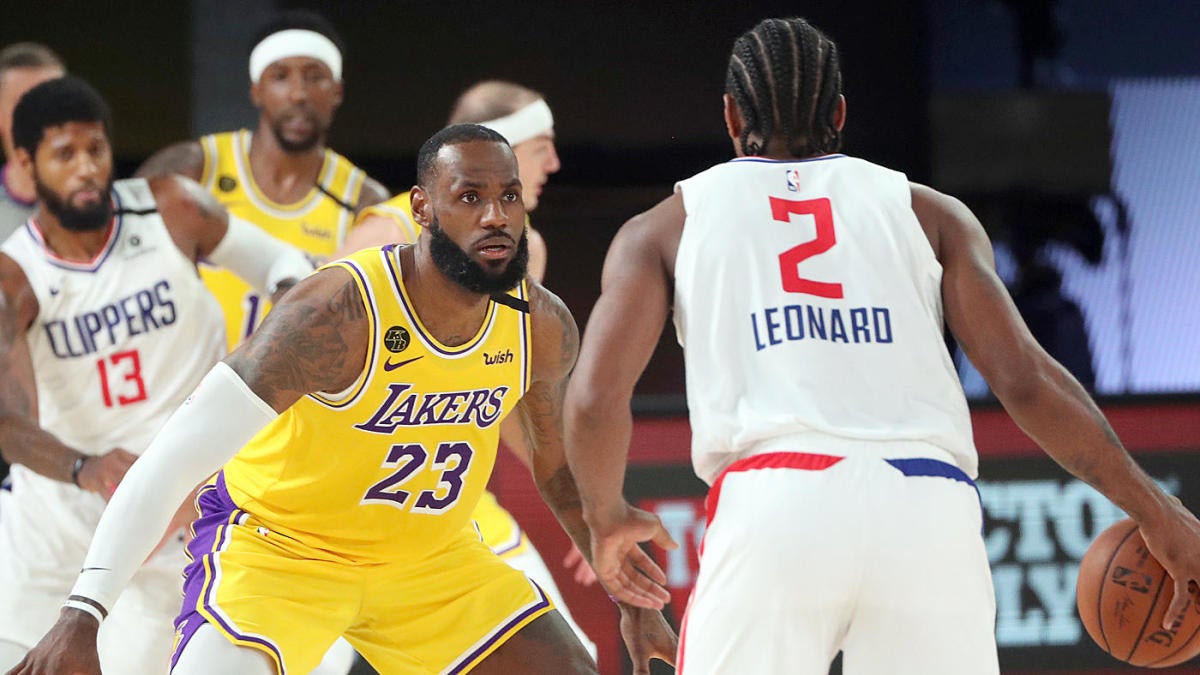 Spread: LAL -3 (Lean Clippers)
Total: 219.5 (Lean Over – 223)
Predicted Score: Clippers 112 – Lakers 111
Overview: The Lakers stopped playing basketball just over 2 months ago. They left the court as NBA champs as they easily handled the Miami Heat. It was obvious end to a bizarre NBA season that saw a massive break and a bubble designed to get LeBron back to the finals. Now the Lakers look to repeat with James and Anthony Davis as their cornerstones but with some new faces.
Gone are Rajon Rondo, Avery Bradley, Danny Green, Dwight Howard and Javale McGee. Replacing them are Marc Gasol, Montrezl Harrell, and Dennis Schröder. So look as this as retooling of sorts. The Lakers will be there at end of the season as long as their stars stay healthy.
For the Clippers, they moved on from their head coach after a disappointing end to their season. Now they look to LeBron's former coach, Ty Lue, to help get them to the finals. The Clippers still have their star players Kawhi Leonard and Paul George but they lost some depth with JaMychal Green and the aforementioned Montrezl Harrell leaving.
The Clippers added Nicolas Batum, Serge Ibaka, and Luke Kennard to fill in those spots – so it's possible they don't see much of a dropoff on the bench. Their success will come if Kawhi can dominate and PG13 doesn't shit the bed again this year.
George said the bubble got to him mentally. So with no bubble, this dude better be ready to play some goddamn basketball with no excuses. And I think he will. At least in game 1 of the season. I have the Clippers pulling off the upset and beating the Lakers by 1.
But I'm not ready to place a bet on them. So I will only lean the Clippers here.