Degen Show Part (2/15/21)
Your favorite Degens give you their NBA Bet Picks for 2/15/21 and there's some hockey picks below too. Listen to their NBA win totals episode for more NBA action.
Powered by RedCircle
The Degens! App
Grab the Degens App hangout, shoot the breeze and get even more content.
Android:
https://play.google.com/store/apps/details?id=io.gonative.android.xmmkqw&hl=en
iOS:
https://apps.apple.com/us/app/id1527907647
Max's NBA Bet Picks for 2/15/21
7-3 in my picks and 2-1 in my bets (why did I think Orlando would show up?). So I am back in the black for the season. At least for today.
Chicago (5.5) at Indiana (-5.5)
Pick: Bet $20 Chicago
Total: 227.5 (Lean Over – 228)
Predicted Score: Chicago 115 – Indiana 113
Overview: The Bulls offense is really good. Except when it isn't. It wasn't a few nights ago against the Clippers and now they play an even better defense tonight in Indiana. The Pacers have won 2 in a row and as we stated the last time they played, they beat the teams they are supposed to beat. Chicago would definitely be one of those.
Yet I have some concerns that Indiana pulls out the win. They are only 7-8 at home this year and Chicago's metrics are much better on the road than at home. The Bulls are shooting 3% better in effective FG% on the road and their offensive efficiency and points per game are also better. Zach Lavine has been on a scoring spree lately and even though he averages much less against Indiana, I don't think the Bulls have much choice other than to get Lavine the ball early and often.
Defensively, the Bulls are still a goddamn mess. And I know for a fact they can unravel at the end of the game. So even though I have Chicago winning this one and the moneyline is tempting, I will just bet $20 on the Bulls with the points.
Cleveland (8.5) at Golden State (-8.5)
Pick: Bet $20 Golden State
Total: 225.5 (Lean Under – 221)
Predicted Score: Golden State 115 – Cleveland 106
Overview: Golden State had been one of my golden gooses this year but after losing one bet by a hook and losing my last bet on them by about 12 points, I'd say my luck betting on the Warriors has worn out. Now in a Hollywood style manner, it's time for me to reboot things and see if I can set my Warriors betting franchise right.
The Cavs have lost 7 in a row and are just 1-9 over their last 10. Their offense ranks second last in the league – only slightly better than the Knicks. And the way New York has played recently, it's only a matter of time before Cleveland is ranked last. Like the Knicks, the Cavs used some stringent defense to keep them competitive but even that's unraveled for Cleveland lately.
So now to the Warriors. They are 6-4 ATS as favorites but the most they have been favored by this year is 6.5 points. Going to let that sit there again.
So seeing this line is scary. But I have the Warriors winning by 9 and I trust them to put up points and Cleveland not to. Betting $20 on Golden State.
Philadelphia (6.5) at Utah (-6.5)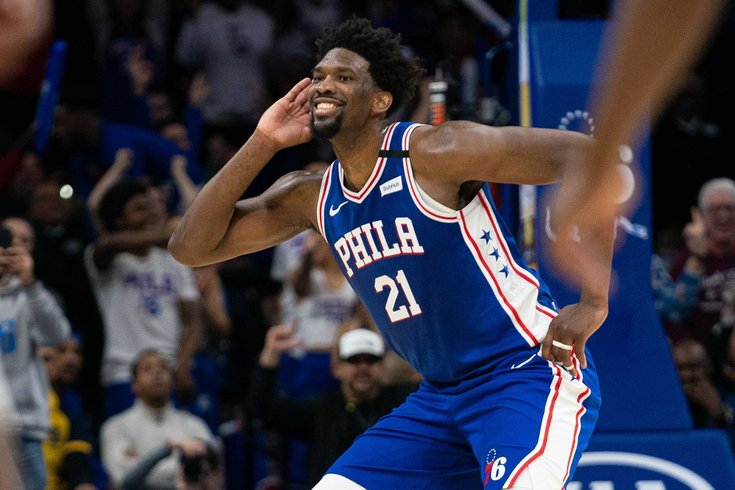 Pick: Bet Philadelphia ML +265
Total: 228 (Lean Under – 221)
Predicted Score: Utah 111 – Philadelphia 110
Notes: I decided to moneyline Philly on the show after "peer pressure" from Rich.
Meaningless Leans
Houston (1.5) at Washington (-1.5)
Pick: Lean Houston
Total: 228.5 (Lean Under – 227)
Predicted Score: Houston 114 – Washington 113
Atlanta (-2) at New York (2)
Pick: Lean Atlanta
Total: 216.5 (Lean Under – 215)
Predicted Score: Atlanta 111 – New York 104
Miami (5.5) at LA Clippers (-5.5)
Pick: Lean Miami
Total: 220.5 (Lean Over – 223)
Predicted Score: LA Clippers 113 – Miami 110
Brooklyn (-4.5) at Sacramento (4.5)
Pick: Lean Brooklyn
Total: 237.5 (Lean Under – 235)
Predicted Score: Brooklyn 122 – Sacramento 113
Max's Salty NHL Bets for 2/15/21
0-2 in my picks yesterday and that puts me at 121-89 on the season with picks. I am 34-26 in bets and up $132.96. My picks have cooled off lately so be cautious. Over the past week, I am 17-20 in picks and 4-5 in bets (-$9.61).
New York Islanders (-142) at Buffalo Sabres (128)
Pick: Bet Buffalo
Meaningless Leans
St. Louis Blues (-122) at Arizona Coyotes (110)
Pick: Lean Arizona
Ottawa Senators (253) at Toronto Maple Leafs (-294)
Pick: Lean Toronto
Columbus Blue Jackets (156) at Carolina Hurricanes (-174)
Pick: Lean Carolina
Florida Panthers (163) at Tampa Bay Lightning (-183)
Pick: Lean Florida
Chicago Blackhawks (-140) at Detroit Red Wings (126)
Pick: Lean Detroit
Nashville Predators (149) at Dallas Stars (-166)
Pick: Lean Dallas
Winnipeg Jets (120) at Edmonton Oilers (-133)
Pick: Lean Winnipeg
Calgary Flames (-125) at Vancouver Canucks (113)
Pick: Lean Vancouver
Anaheim Ducks (-103) at San Jose Sharks (-107)
Pick: Lean San Jose