Degen Show Part (2/26/21)
Your favorite Degens give you their NBA Bet Picks for 2/26/21 and there's some hockey picks below too. Listen to their NBA win totals episode for more NBA action.

Powered by RedCircle
The Degens! App
Grab the Degens App hangout, shoot the breeze and get even more content.
Android:
https://play.google.com/store/apps/details?id=io.gonative.android.xmmkqw&hl=en
iOS:
https://apps.apple.com/us/app/id1527907647
Max's NBA Bet Picks for 2/26/21
Sacramento (-1) at Detroit (1)
Pick: Bet $20 Sacramento
Total: 224 (Lean Over – 228)
Predicted Score: Sacramento 115 – Detroit 113
Overview: Let's start off with the game of the night! After last night's trouncing by the Knicks, the Kings have lost 9 in a row. Not a single one of those losses was close – including a double-digit loss to Orlando. The Kings have by far the worst defense in the league and if a team like Orlando can drop 123 points on you, then you should be worried that the Pistons drop 150.
The Kings are 5-9 on the road and are game 5 of their road trip. Of course the Pistons have only one win recently – over the Magic. So this should make for an exciting match-up. But I do think ultimately Sacramento breaks their losing streak and pulls out a win. Their effective field goal % is 9th in the league and 4% better than Detroit's. They have the wherewithal to withstand a bad quarter while Detroit doesn't.
Granted, against the King's defense that ranks last in opponent's effective field goal % – and is allowing an astounding 61% over their last 3 games – it's possible Detroit doesn't miss much tonight.
Still, I'll drop $20 on the Kings here.
Phoenix (-5.5) at Chicago (5.5)
Pick: Bet $20 Chicago
Total: 228.5 (Lean Under – 225)
Predicted Score: Chicago 113 – Phoenix 112
Overview: This was almost a moneyline bet for me. I do have Chicago winning this game but I was turned off by the fact that Phoenix dropped their last game to Charlotte. This is a damn good team and it's hard to imagine them losing back-to-back games too often. But we've learned that Chicago is a dangerous team.
Chicago has a top 10 offense and their Achilles heel has been their defense. But now they have moved up to 18th in defensive efficiency and that's been a huge difference. They can still be scored on – but they have made key stops that they weren't a few weeks ago. If they can sustain that, the Bulls could be a team that you wouldn't want to face in a first round playoff matchup. Zach Lavine is such a versatile and, at times, an unstoppable scorer that can lift the team to wins … if they play a modicum of defense.
While the temptation was there for a moneyline, I'll just take the points. $20 bet on the Bulls.
Portland (5) at LA Lakers (-5)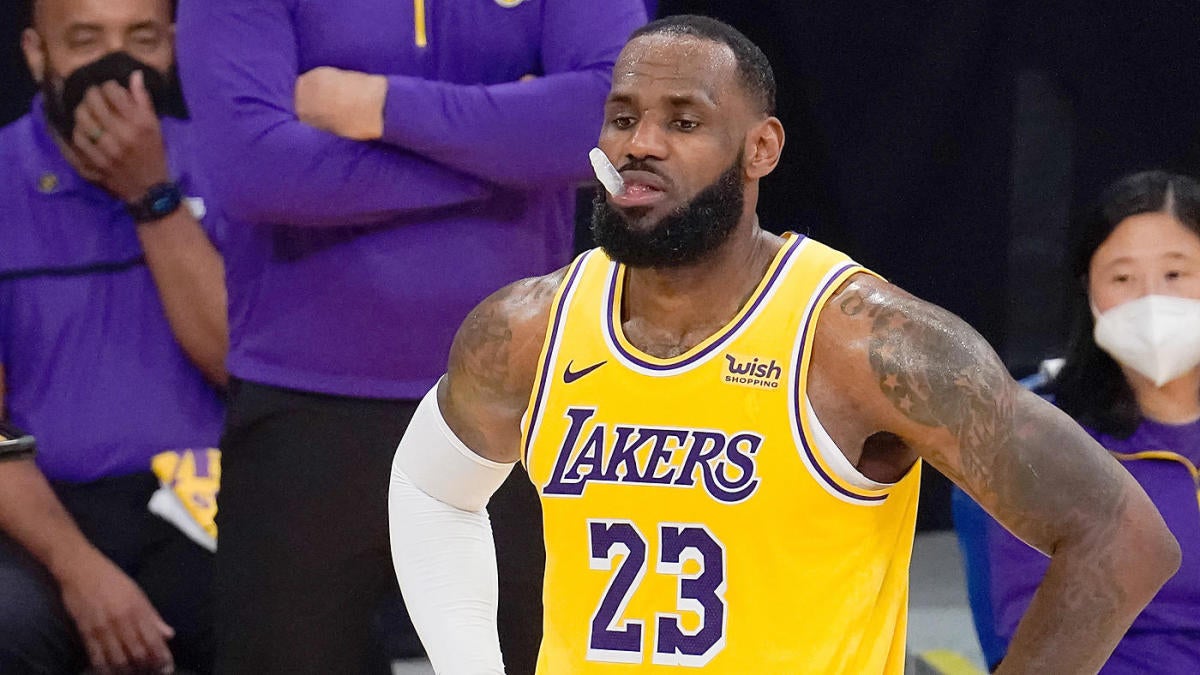 Pick: Bet $20 Lakers
Total: 222 (Lean Over – 227)
Predicted Score: LA Lakers 117 – Portland 110
Overview: A couple of years ago, LeBron went to LA and the team didn't make the playoffs. A lot of that season was him nursing a sore groin and waiting it out until Anthony Davis could join him. AD final did and they won a title. Now, life without AD has begun and the Lakers have lost 4 in a row.
On the other side of the court tonight is a dangerous Blazers team that, despite losing 3 in a row – including 2 in a row on the road – are 5th in the West and boast a 10-7 road record.
So why am I betting the Lakers here? Shooting. As in the Lakers are a better shooting team when it comes to effective field goal % and are much better at defending other teams. And with Dennis Schroder listed as probable for tonight, they get another offensive weapon and a guy that will keep Dame Lillard on his toes tonight.
Without AD, a 5-game losing streak is definitely possible for this Lakers team. I just don't think it's likely. $20 bet on the Lakers.
Indiana (3) at Boston (-3)
Pick: Lean Indiana
Total: 219 (Lean Over – 224)
Predicted Score: Indiana 113 – Boston 111
Houston (7.5) at Toronto (-7.5)
Pick: Lean Houston
Total: 220 (Lean Over – 223)
Predicted Score: Houston 112 – Toronto 111
LA Clippers (-6.5) at Memphis (6.5)
Pick: Lean Memphis
Total: 226.5 (Lean Under – 221)
Predicted Score: Memphis 111 – LA Clippers 110
Utah (-6.5) at Miami (6.5)
Pick: Lean Utah
Total: 217.5 (Lean Under – 217)
Predicted Score: Utah 112 – Miami 105
Atlanta (-3.5) at Oklahoma City (3.5)
Pick: Lean Oklahoma City
Total: 223.5 (Lean Under – 223)
Predicted Score: Atlanta 112 – Oklahoma City 111
Charlotte (6.5) at Golden State (-6.5)
Pick: Lean Charlotte
Total: 231 (Lean Under – 225)
Predicted Score: Golden State 114 – Charlotte 111
Max's Salty NHL Bets for 2/26/21
I was 5-5 in overall picks yesterday but went 2-1 in bets (up $14.25). That puts me at 162  -127 in picks, 44-37 in bets and up $131.37 on the season.
Los Angeles Kings (140) at Minnesota Wild (-156)
Pick: Bet Minnesota
Boston Bruins (-165) at New York Rangers (145)
Pick: Lean New York
Colorado Avalanche (-170) at Arizona Coyotes (153)
Pick: Lean Colorado