Degen Show (12/4/2020)
Your favorite Degens give you their NCAAF Week 14 Friday Game Bets. Also check out the full CFB show here.
Powered by RedCircle
The Degens! App
Grab the Degens App hangout, shoot the breeze and get even more content.
Android:
https://play.google.com/store/apps/details?id=io.gonative.android.xmmkqw&hl=en
iOS:
https://apps.apple.com/us/app/id1527907647
Max's NCAAF Week 14 Friday Game Bets
Louisiana-Lafayette at Appalachian State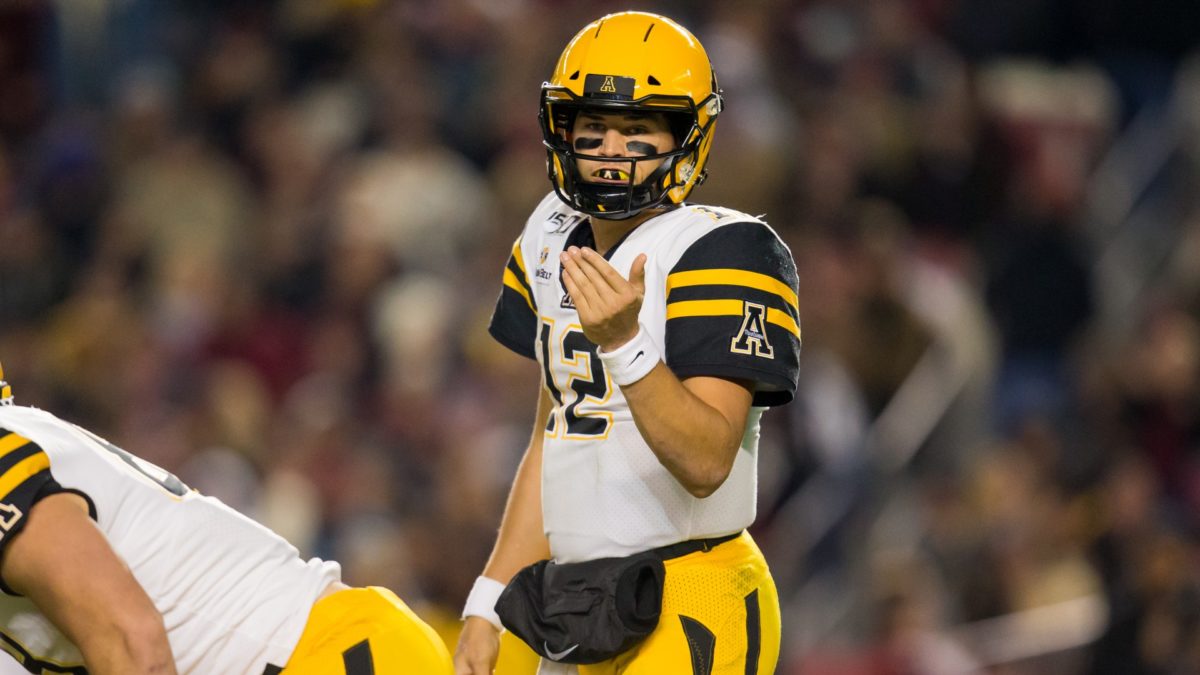 Spread: Appalachian State -2.5 (Lean Louisiana-Lafayette)
Total: 51 (Bet over – 67)
Predicted Score: Appalachian State 34 – Louisiana-Lafayette – 33
Overview: It's been a bit of a surprising season for Appalachian State after losing to Marshall and Coastal Carolina and their expectations of playing for the Sun Belt Championship game faded away. Louisiana is set to face Coastal Carolina in that game instead but there's no mistaking that Appalachian State is still a pretty good team and won't be rolling over tonight.
The Ragin' Cajuns' have not had much success against the Mountaineers over the years but hope to change all of that tonight. They bring in a solid offense that stalls out in scoring points at time, but is still something for Appalachian State to be worried about.
Louisiana's offensive line is damn good and that's even after losing a few o-linemen to the NFL last year. The line does a hell of a job letting Levi Lewis throw the ball and Trey Ragas and Elijah Mitchell run the ball.
Defensively, though, is a different story. Their defense does not rank as a bad defense, but it's nothing special. Their front four do not put pressure on QBs and also gives up chunks of yards on the ground – which could be an issue here against the Mountaineers.
Appalachian State has an incredibly balanced offense that is led by a veteran QB in Zac Thomas. They are a team that can move the ball on the ground and grind it out until they score. Along with their stellar defense, the Mountaineers are in a great spot to win this game.
And ultimately, I think they do. By about a point. So at -2.5, I can bet them and will instead lean Louisiana here.
Speaking of Coastal Carolina…
They get a big matchup against BYU this Saturday in a game that is meant to increase BYU's strength of schedule but will also be their biggest challenge of the season. Should BYU win and be 11-0, their shot at a college playoff spot would increase.
Do they have a huge chance of making the playoffs? Not really. They would need some help by seeing some kind of upset in one of the top teams. And even then, they would probably need to beat Coastal Carolina by a good amount tomorrow to make waves.
What about Coastal Carolina? At 9-0, a win over BYU could actually get them into the conversation as well but they have an even less chance of breaking into the top 4. Based on my metrics, I have BYU winning the game by about 5 points.*
Looking at the betting trends right now in this game right now, the public is coming in on Coastal Carolina while the money is coming in hard on BYU. My metrics also have this game going over and the majority of the money agrees (while the public tends to think this will be a lower-scoring game).
A lot of that could be because BYU has allowed only one team to score 21 points and they regularly hold teams to under 2 scores a game. But I think this turns into a slugfest and Coastal Carolina puts up the biggest amount of points on BYU this season.
If BYU wins, you almost have to wonder if they are done or would they try to find another team to play to increase their chances. Cincinnati, are you listening?
*Note: My model has been pretty good in its first CFB season in use. I am 17-15-2 ATS and 20-13-1 in totals. I'll be interested to see this play out in a "normal" season. The model is a variance on my NFL model and tends to work better with ranked games (though I am fond of some MACtion too).