Degen Show (1/9/2021)
Your favorite Degens give you their NFL 2021 Super Wild Card Round Best Bets. Check back to their NFL futures episode too.
Powered by RedCircle
The Degens! App
Grab the Degens App hangout, shoot the breeze and get even more content.
Android:
https://play.google.com/store/apps/details?id=io.gonative.android.xmmkqw&hl=en
iOS:
https://apps.apple.com/us/app/id1527907647
Max's NFL 2021 Super Wild Card Round Best Bets
Indianapolis at Buffalo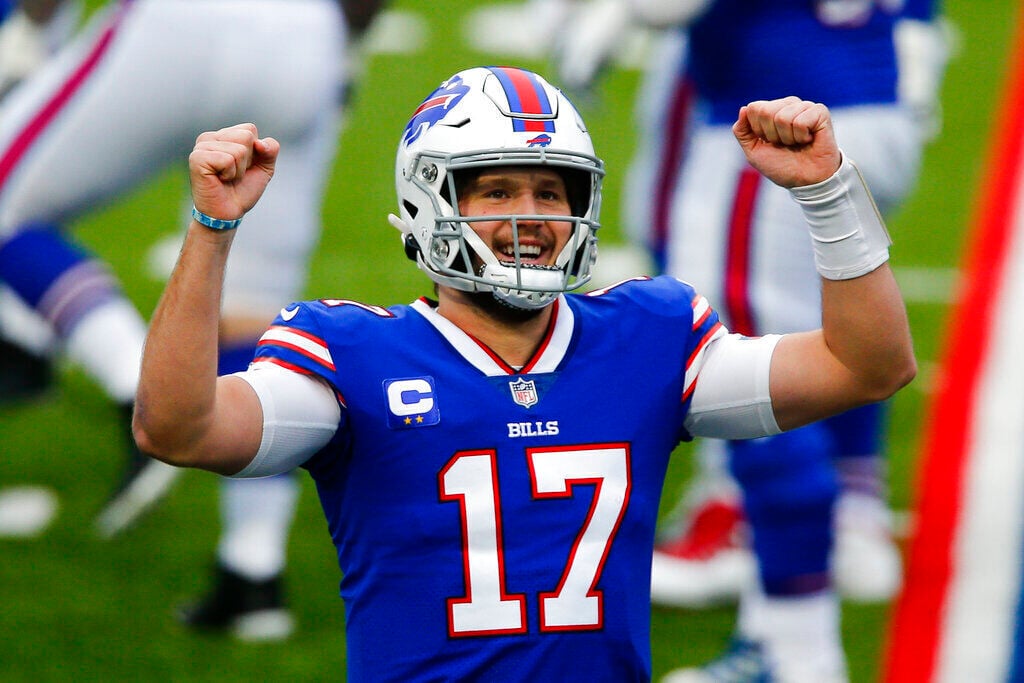 Spread: BUF -6 (Bet Bills)
Total: 51.5 (Lean Over)
Overview:  The Bills have not won a playoff game since 1995. So for those idiots, like myself, who really like them to win the Super Bowl, the first step is to win a single playoff game. And they don't get a cakewalk in the first round. The Bills offense has been lights-out to close the season and in a Week 17 beatdown of a solid Dolphins' defense, they looked almost Chiefs-like in nature.
But the Colts do have a Top 10, statistically ranked, defense. And they like to run the ball to slow the pace of the game down. So if the Colts can keep Josh Allen off the field, maybe they have a chance.
I just don't think they will do that. I love the Bills here and betting them to cover. I also like the over here but only in a lean.
Predicted Score: Bills 35 – Colts 26
LA Rams at Seattle
Spread: SEA -3 (Lean Rams)
Total: 42 (Lean Over – 47)
Overview:  This is a tough one to bet because of the Rams' quarterback situation. Jared Goff has yet to be declared the starter and that's probably some gamesmanship from McVay. Goff had thumb surgery about two weeks ago and he's probably still a week or two away from being ready. So it could be John Wolford again this week and I certainly hope so.
Wolford didn't look like the second coming of Kurt Warner last week and his first throw was an INT – mimicking Goff's typical play on the field. But unlike Goff, Wolford shook it off and played a solid game after that. The Rams have not scored an offensive TD in a few weeks and Wolford could help break that streak.
For Seattle, their defense has played very well since Jamal Adams got back on the field. But his status is up in the air. I predict a tight game here – befitting of a divisional rivalry. And I do have Seattle sneaking out a close win. So I will lean the Rams here with the points and lean the over.
Predicted Score: Seahawks 25 – Rams 22
Tampa Bay at Washington
Spread: TB -8 (Lean Bucs)
Total: 44.5 (Lean Over – 54)
Overview:  Even if Alex Smith could start here, the big question would be if Washington could put up enough points to hang with Tampa Bay. The Washington defense is for real and could put a lot of pressure on Tom Brady today but even if Washington could hold Tampa to under 20 points, would they be able to generate 21 points? No, I don't think so.
And I don't think they can hold Tampa to under 30 points, let alone 20 points. So this should be a blowout win by the Bucs. Why am I apprehensive? Because Tampa has had some inconsistent games this season and Brady does not always deal well with QB pressure.
So my metrics say bet the Bucs but my gut says to only lean them. My gut says to also only lean the over here.
Predicted Score: Bucs 36 – Washington 18
Baltimore at Tennessee
Spread: BAL -3.5 (Bet Ravens)
Total: 54.5 (Lean Over – 62)
Overview:  The Titans have had the Ravens' number recently. It was Tennessee who went on the road in the playoffs last year and knocked Baltimore out. In that game, Derek Henry rushed for 195 yards and then this season, Henry rushed for 133 yards – with 29 of those coming on a game winning TD in OT.
So the Ravens' gameplan will be to slow Henry down and force Tannehill to make some 3rd and long plays. Will they be successful? Probably not. Not sure Henry can be neutralized when he's on the field. So the goal will be to keep him off the field.
Tennessee is middle of the pack when it comes to defending the run and Lamar Jackson has been playing tremendously well as of late. I expect him, and the rest of the Ravens rushers, to move the ball and grind out some clock.
In the end, there will be some big plays and some excitement – with Baltimore coming out with the win. I am going to bet the Ravens here and I also like the over. But only in a lean.
Predicted Score: Ravens 33 – Titans 29
Chicago at New Orleans
Spread: NO -10 (Lean Bears)
Total: 47 (Lean Over – 58)
Overview:  The goals for New Orleans is to win a Super Bowl and let Drew Brees retire on top. It's pretty much been the plan for the past 3 seasons but two close losses to the Vikings and one to the Rams – all with some questionable aspects to them – have brought the Saints to the point where this is probably it if they want to win one last championship with Brees.
Brees is not at the top of his game and missing time this year because of injuries has not helped his rhythm. Nor has injuries to his receiving crew and Alvin Kamara being on Covid protocols lately. But he's healthy now, Michael Thomas might be back and Kamara is going to be good to go.
Now the problem is a tough Bears' defense and an inspired Mitch Trubisky – who is out to prove he's worth a contract extension or a starting role for another team. It should not be a problem for the Saints. The Bears' defense is banged up and as good as the Bears' offense has looked, the Saints defense is better.
I have New Orleans winning this one by about 6. So the line is too big for me. Leaning the bears and leaning the over here.
Predicted Score: Saints 32 – Bears 26
Cleveland at Pittsburgh
Spread: PIT -6 (Lean Browns)
Total: 47.5 (Lean Over – 48)
Overview:  The Steelers rested their starters in week 17 and basically shrugged off the 2nd seed. This means they either liked the matchup with the Browns better than one with the Colts or they wanted to rest old Big Ben before a playoff march. The Browns still only won that game by 2 points. Covid issues have plagued this team for weeks and they will be without their head coach this week. So let's see if Baker can thrive without Stefanski guiding him on the sidelines.
For the Steelers, they face an awesome running game and while they have been good against the run on the season, they haven't looked as good lately. They gave up 152 to the Bengals, 127 to the Colts and 192 to the Browns last week. So Cleveland should once again move the ball on Pittsburgh and keep this close.
But ultimately the Steelers win this game. Just don't think they cover. I'm leaning the Browns here and very slightly leaning the over.
Predicted Score: Steelers 25 – Browns 23