Degen Show (11/28/2020)
Your favorite Degens give you their NFL Week 12 bets. Check back to see what they thought of the early lines.
Powered by RedCircle
The Degens! App
Grab the Degens App hangout, shoot the breeze and get even more content.
Android:
https://play.google.com/store/apps/details?id=io.gonative.android.xmmkqw&hl=en
iOS:
https://apps.apple.com/us/app/id1527907647
Max's NFL Week 12 Bets
Las Vegas at Atlanta
Spread: LV -3 (Lean Raiders)
Total: 53 (Bet under – 51)
Predicted Score: Raiders 27 – Falcons 24
Overview: I feel like we've talked about this one a lot between the early lines episode and the DFS episode yesterday. The summary is that Derek Carr is good and the Falcons secondary is bad. Also, Atlanta will be missing Todd Gurley which means Matt Ryan will need to probably throw even more this week.
Which could be an advantage for the Raiders here. Their pass rush has been nonexistent for some reason but Atlanta's offensive line is terrible. I expect the Raiders to be able to get some pressure and let their secondary do the rest.
The Raiders are 4-1 on the road and they should win this one. But it's close. So I'll only lean Vegas here.
Arizona at New England
Spread: ARZ -1 (Lean Cardinals)
Total: 49 (Bet Over – 50)
Predicted Score: Cardinals 28 – Patriots 22
Overview: The Patriots struggled with Deshuan Watson and they will probably struggle with Kyler Murray this week. Murray has a bit of a banged up shoulder but he should still be able to connect with Hopkins a lot – even against this Patriots' secondary.
Where Murray may do most of his damage is on the ground. His ability to scramble and the planned rush plays is enough to give even Mastermind Bill some fits. I do worry about this being an early game and the Cardinals coming out East, but the Kingsbury and Murray have done quite well in those games since joining forces last year.
I'll lean the Cardinals here but I hate a road team heading into Foxborough as a favorite.
NY Giants at Cincinnati
Spread: NYG -6.5 (Lean Giants)
Total: 44.5 (Bet Under – 38)
Predicted Score: Giants 23 – Bengals 15
Overview: These are two teams that I saw a lot of potential in but were not coming up with the results. And now for Cincinnati, they will need get through the season without Joe Burrow. Which probably means it'll be evaluation time for the roster to see who will be part of the future when Burrow gets back.
The Bengals have Ryan Finley and Brandon Allen at QB and it looks like yet another Allen will start at QB this season in the NFL. The Giants defense should have a solid outing and put New York in good spots to score. The big question mark is always if Daniel Jones will turn the ball over or not.
For the Giants to win, they should run the ball with Gallman and take some pressure of Jones. The Bengals defense allows 136 rushing yards per game – third last in the league. The Giants had struggled with running the ball early in the season but their offensive line is much better and Gallman has taken control.
New York should win and cover but I can only lean them here.
Cleveland at Jacksonville Spread: CLE -7 (Lean Jaguars)
Total: 49.5 (Lean Under – 46)
Predicted Score: Browns 26 – Jaguars 20
Overview: Myles Garrett will still be out for the Browns. On the DFS show yesterday I mentioned he'd be back but seems like the Covid still got him down. Either way, the Browns defense should get it done this week. The Jaguars' only path to victory is with James Robinson running the ball and the Cleveland defense is 8th in the league in rushing defense.
That means that Mike Glennon will have to do more. And good luck there as the Browns average 2.7 sacks per game and are coming off a 5 sack game last week without Garrett.
The Browns should be able to run the ball effectively here and if Baker Mayfield can avoid turnovers, they should win and cover. I don't have them quite covering the spread here because I do think Mayfield has an off game today that coughs some points up.
I'll lean the Jaguars.
Carolina at Minnesota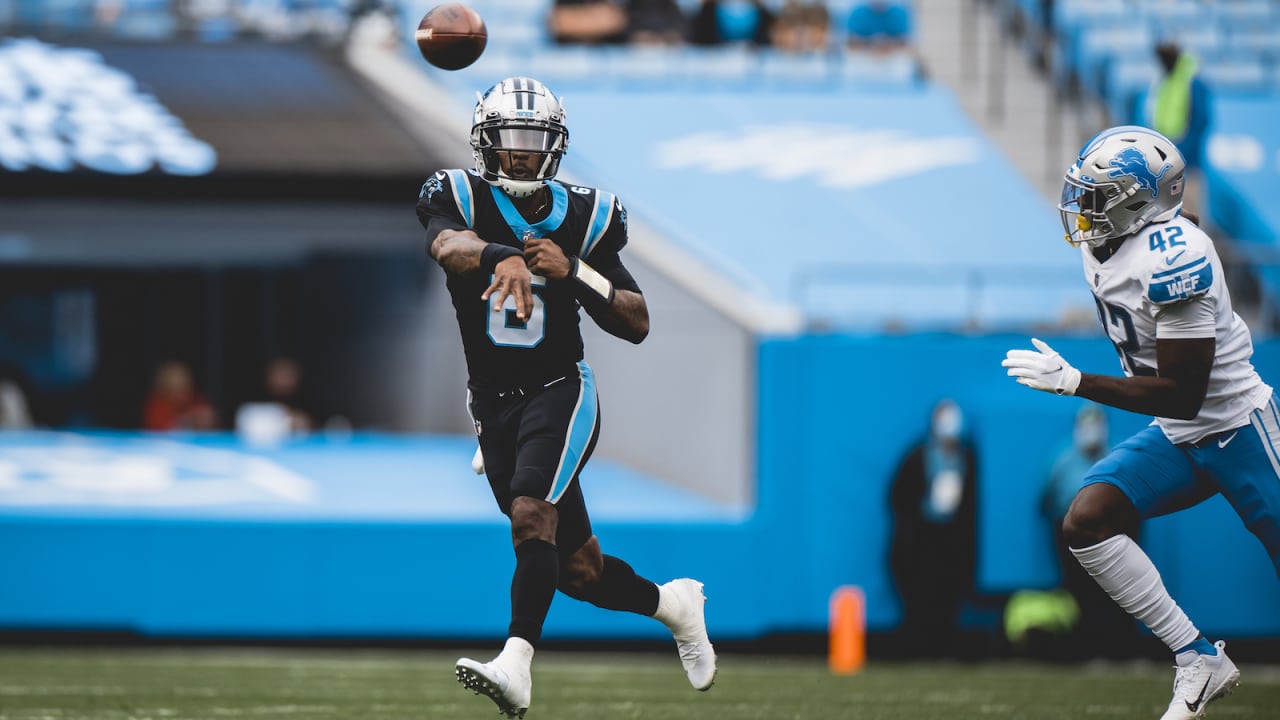 Spread: MIN -3.5 (Bet Panthers)
Total: 51.5 (Lean Under – 49)
Predicted Score: Vikings 25 – Panthers 24
Overview: The big question mark for Minnesota continues to be if their star receiver, Adam Thielen, will play or not. He could be a game time decision – which is great for those asshats who own him on their fantasy team. Thielen had a monster game last week and the Vikings offense was clicking. Their defense, on the other hand, not so great.
Minnesota gives up 383 yard per game and are middle of the pack, or worse, in sacks and takeaways per game. It's a defense that Teddy Bridgewater and crew should be able to get some points on. Bridgewater will show the Vikings what they could have had if they had faith in him recovering from that knee injury years ago.
Ultimately Dalvin Cook should help lead the Vikings to a win but they won't cover here. I'll bet the Panthers.
Tennessee at Indianapolis
Spread: IND -3 (Bet Titans)
Total: 51.5 (Lean Over – 56)
Predicted Score: Colts 29 – Titans 27
Overview: If last week told us anything about the Colts its that their defense is overrated. The Packers put up 31 points on them and 367 yards. The Colts did manage to get 4 turnovers and limited Green Bay on the ground, but this did not look like a dominant, #1 ranked defense.
And now they get another shot to contain Derek Henry – something they have not been able to do. The Colts got a big win over Tennessee in week 8, but Henry still ran for over 100 yards. And he should do that again.
As of right now, the Colts are playing like the better team and probably a team to trust. I just don't think they cover this one. I'll bet the Titans.
LA Chargers at Buffalo
Spread: BUF -4.5 (Lean Chargers)
Total: 52.5 (Bet Under – 50)
Predicted Score: Bills 25 – Chargers 25
Overview: The Bills have had to deal with some of the league's best offenses and have coughed up big yards in those games. The Bills defense will be tasked again this week with the Chargers and their third ranked offense. But Buffalo's defense has slowly been getting healthier and coming off a bye week, they should be rested and ready to go.
Buffalo's offense should be able to put up some numbers against L.A. here and the Allen/Diggs duo should be a nice fantasy stack again. The Chargers defensive metrics are pretty similar to Buffalo's except that Buffalo's pass rush is much better. And that could be the difference here.
Still, I can't fully trust the Bills here to cover this one so I will lean the Chargers.
Miami at NY Jets
Spread: MIA -6.5 (Bet Dolphins)
Total: 44.5 (Lean Under – 44)
Predicted Score: Dolphins 29 – Jets 15
Overview: I was heading over to MyBookie yesterday to place my bets and I got to this one and they took it off the board. It could be because Tua is questionable with a thumb injury or it could be that the Jets announced that Sam Darnold will start at QB this week.
Either way, I don't think it changes my opinion on this game. In fact, if Fitzpatrick plays, I think I like Miami even more. Adam Gase might try to take it to his former team, but the Miami defense should neutralize any clever offensive plays that Gase might have up his sleeves.
Offensively, Miami should be able to move the ball on the Jets' awful pass defense. The only teams the Jets are better than in that department are the Falcons and Seahawks. So if Fitz does get to play, he could put up 400 yards.
I am interested in knowing why this game was taken off the board and what the line will be when it's back. But I'm OK to bet this one comfortably up to Miami -9.
New Orleans at Denver
Spread: NO -6 (Lean Saints)
Total: 44 (Lean Over – 50)
Predicted Score: Saints 31 – Broncos 19
Overview: Taysom Hill had a pretty good first game and now he faces off against a Denver defense that is old and injured. The Broncos were once known for their defensive identity and they still are decent enough, but the cracks can be exploited and teams can score points on them. I expect the Saints to be able to put up some good numbers this week.
And the Saints' defense should be able to shutdown Drew Lock and the subpar Broncos offense. The offense has showed glimmers of hope but its usually against bad defenses. And the Saints do not have a bad defense. In fact, it looks like its getting better week to week.
I like New Orleans to cover this one but only in a lean.
San Francisco at LA Rams
Spread: LAR -6.5 (Lean 49ers)
Total: 45.5 (Bet Under – 45)
Predicted Score: Rams 23 – 49ers 22
Overview: The 49ers dominated the Rams in week 6 and now LA will look to get some revenge and keep their NFC West champ possibilities open. I was telling Arch yesterday that I feel like this Rams team reminds me a lot like the 49ers from last year: solid defense, decent enough running game, and a QB that can be a liability at times. I begrudgingly did say that Goff is better than Jimmy G, but my praise stops there.
The Rams' defense should come up big this week. Aaron Donald was held without a sack last time they played and he's been held without a sack the past two games. There is some pent up Donald QB hitting that needs to come out this game.
The Rams should win this one. But I was damn close to betting the Niners with the points here. I just couldn't bet against my own team. Solid lean on San Francisco here.
Kansas City at Tampa Bay
Spread: KC -3 (Bet Chiefs)
Total: 55.5 (Bet Over – 62)
Predicted Score: Chiefs 33 – Bucs 29
Overview: Tampa's defense can be summed up easily. Amazing against the run. Shitty against the pass. Goff bot just shredded this team for 376 passing yards and now they need to contain Patrick Mahomes and the Chiefs' pass game. Good luck with that.
Mahomes strives when teams put pressure on him and the Bucs like to blitz. They might be better suited not rushing more and dropping people back to help defend Kelce and Hill.
But this game is no slam dunk for KC. As much as I love their defense, there have been issues lately. They have allowed 5 pass TDs over their last two games. So Brady should also get his.
Ultimately, Tampa will suffer another loss this week and KC will cover here. I'll bet the Chiefs.
Chicago at Green Bay
Spread: GB -7.5 (Lean Packers)
Total: 45 (Lean Over – 48)
Predicted Score: Packers 31 – Bears 17
Overview: Mitch Trubisky will make his triumphant return this week as Nick Foles deals with the hip injury he suffered in the last game. Not sure if it matters. The Bears offense looked like shit with Trubisky in there and looked like shit with Foles in there. That's the reality. Will that change against a subpar Packers defense? I doubt it.
The other reality is that Aaron Rodgers is having a very solid season. And coming off a loss last week, the Packers should be motivated to get a big win this week. The Bears' defense has played Rodgers well the past few years but with the weapons the Packers have on offense, I expect points to be scored.
I can't trust the frauds here enough to bet them but I will lean them for sure.