Degen Show (12/29/2020)
Your favorite Degens give you their best NFL Week 14 DFS Picks. Check back to see how they did last week in DFS.
Powered by RedCircle
The Degens! App
Grab the Degens App hangout, shoot the breeze and get even more content.
Android:
https://play.google.com/store/apps/details?id=io.gonative.android.xmmkqw&hl=en
iOS:
https://apps.apple.com/us/app/id1527907647
Max's NFL Week 14 DFS Picks
Week 13 wasn't too bad for Mad Max. I cashed in both of my DFS tournaments with strong performances by my stack of Cousins and Thielen. I got big points from value plays David Montgomery, Robert Woods and Keke Coutee. Darren Waller was absolutely nuts last week too.
What kept me out of bigger money was a whiff by Derek Henry and a goose egg on my risk of taking Jimmy Graham.
In my standard league, my fraud of a team won once again. That improves my team to 11-2 with one more week remaining in the regular season. I beat up on the other 10-2 (now 10-3) team in the league but his team is stacked. So I fear much like some other fraud teams I know, the playoffs will catch up with me.
Stacks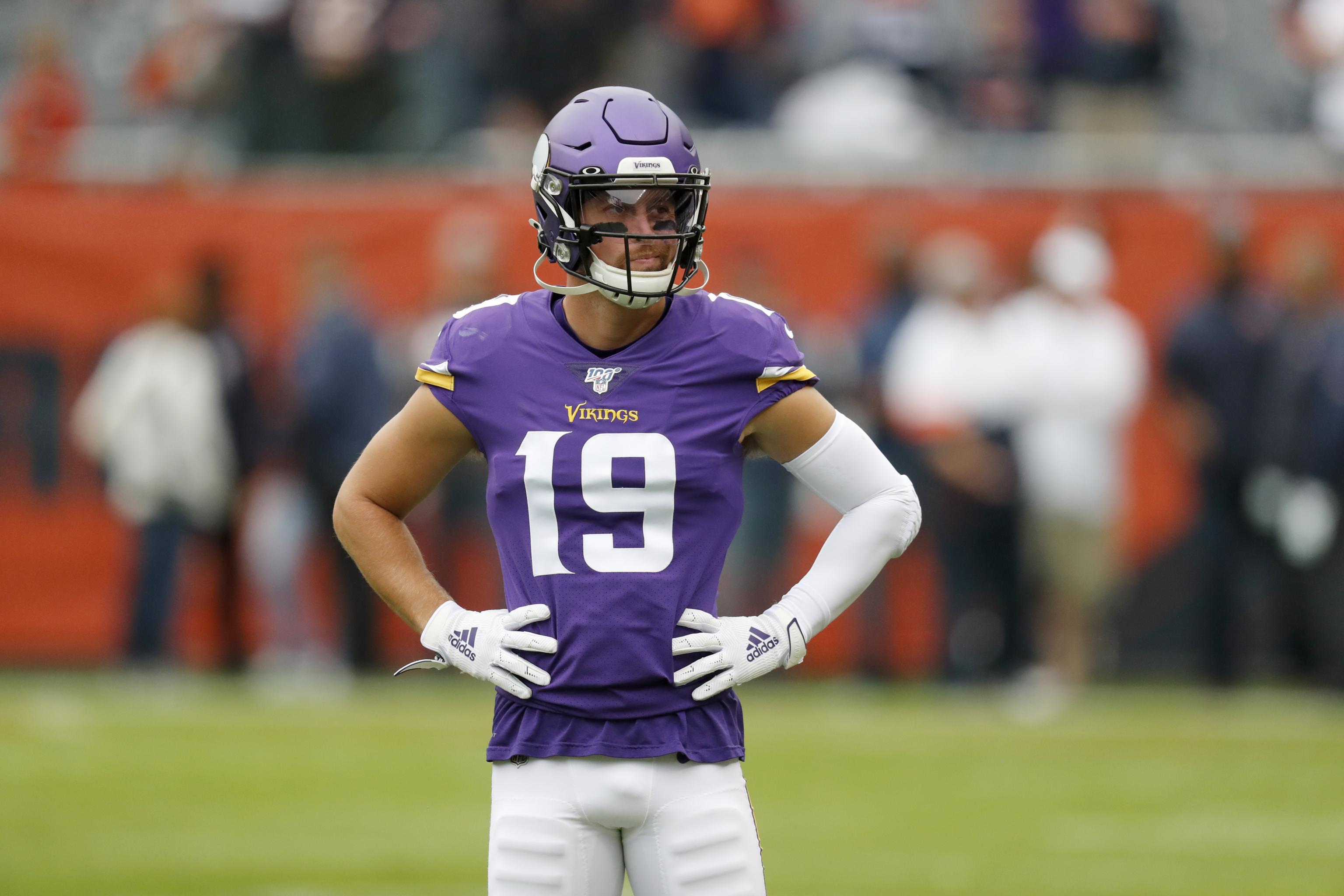 I can't help but think that revisiting my stack from last week is the way to go again this week. Kirk Cousins and Adam Thielen (or Justin Jefferson) should put up big numbers against the Tampa Bay secondary. The Bucs give up 256 yards per game in the air but more recently its been: 462 (Mahomes), 376 (Goff), and 222 + 4 TDs (Brees). They were able to hold Teddy Bridgewater and Aaron Rodgers in check this season so maybe they step up this week against Cousins.
But with Kirk on a hot streak right now, it's hard to pass him up.
Value
QB: Ryan Tannehill (TEN) – In his loss to the Browns, Tannehill threw for 389 yards and 3 TDs. And the Browns defense is much better than Jacksonville's. The Jaguars give up lots of fantasy points to QBs so maybe value stack Tannehill with Corey Davis and spend elsewhere.
Another value QB to consider is Old Man Rivers in Indy. Rivers isn't as prolific as he has been in the past but is usually good for over 275 yards and 2 TDs each game and he's playing a Raiders' defense that can be beaten in the air (ask Sam Darnold about that).
RB: David Montgomery (CHI) – My lineup will look somewhat similar as it did last week with Montgomery getting another nod as a value RB this week. He rewarded me last week and he's been playing much better since Trubisky has taken over at QB. He's averaging 4.1 yards per carry and faces a Texans' rush defense that gives up 151 yards per game on the ground (which ranks second last – just above the Cowboys).
WR:  Tyler Boyd (CIN) – My main reason here is the Cowboys' defense. They give up big plays and give up points. Whatever QB the Bengals have out there this week should be able to connect with Boyd on some yards and TDs.
Fades
QB: Kyler Murray (ARZ) – The Rams defense held Murray to 173 yards in the air. Yes, he still had 3 TDs but for what you pay for him, you need more yards in the air and ground from Murray. He plays a tougher Giants defense this week that don't give up a lot of points per game and were able to shutdown Russell Wilson this past week.
RB: Devin Singletary (BUF) – Honestly, don't like any running backs in this game. The Steelers will be apt to throw on Buffalo and Buffalo will get more in the air than on the ground against the Steelers. Still, Conner or Snell have a bit more upside than Singletary does because Tomlin never abandons the run like Sean McDermott does.
WR: Keke Coutee (HOU) – He had a solid week last week so his cost is increasing. I think a lot of people will jump on him for a repeat performance but he's got a tough matchup against the Bears (if the Bears defense actually shows up).
Defense
I'm a fan of the Washington defense against the 49ers this week. Washington is 4th in the league in total yards allowed per game and has improved to 8th fewest points allowed per game after strong outing against the Steelers (17), Cowboys (16), and Bengals (9).
The Niners 24 points against the Bills this past week has been their most amount of points since scoring 27 against the Seahawks a month ago. So it should be a good week for the Washington defense to keep the score low and possibly get an INT off Nick Mullens.
Rich's NFL Week 14 DFS Picks and Rankings
| | | |
| --- | --- | --- |
| ank | Name | Position |
| 1 | Aaron Rodgers | QB |
| 2 | Russell Wilson | QB |
| 3 | Deshaun Watson | QB |
| 4 | Patrick Mahomes | QB |
| 5 | Ryan Tannehill | QB |
| 6 | Justin Herbert | QB |
| 7 | Tom Brady | QB |
| 8 | Derrick Henry | RB |
| 9 | Matthew Stafford | QB |
| 10 | Davante Adams | WR |
| 11 | Kyler Murray | QB |
| 12 | D.K. Metcalf | WR |
| 13 | Dalvin Cook | RB |
| 14 | Mitchell Trubisky | QB |
| 15 | Nick Foles | QB |
| 16 | Matt Ryan | QB |
| 17 | Andy Dalton | QB |
| 18 | Derek Carr | QB |
| 19 | Taysom Hill | QB |
| 20 | Philip Rivers | QB |
| 21 | Drew Brees | QB |
| 22 | Alvin Kamara | RB |
| 23 | Brandon Allen | QB |
| 24 | Ryan Finley | QB |
| 25 | Drew Lock | QB |
| 26 | Teddy Bridgewater | QB |
| 27 | Christian McCaffrey | RB |
| 28 | Alex Smith | QB |
| 29 | Justin Jefferson | WR |
| 30 | Mike Glennon | QB |
| 31 | Michael Thomas | WR |
| 32 | Nick Mullens | QB |
| 33 | Jimmy Garoppolo | QB |
| 34 | Daniel Jones | QB |
| 35 | Kirk Cousins | QB |
| 36 | Sam Darnold | QB |
| 37 | Colt McCoy | QB |
| 38 | James Robinson | RB |
| 39 | Jalen Hurts | QB |
| 40 | Ezekiel Elliott | RB |
| 41 | Austin Ekeler | RB |
| 42 | Aaron Jones | RB |
| 43 | Robby Anderson | WR |
| 44 | Gardner Minshew II | QB |
| 45 | Joe Mixon | RB |
| 46 | Myles Gaskin | RB |
| 47 | Deebo Samuel | WR |
| 48 | D.J. Moore | WR |
| 49 | Tyreek Hill | WR |
| 50 | Allen Lazard | WR |
| 51 | J.D. McKissic | RB |
| 52 | Miles Sanders | RB |
| 53 | Allen Robinson | WR |
| 54 | Brandon Aiyuk | WR |
| 55 | Travis Kelce | TE |
| 56 | Jonathan Taylor | RB |
| 57 | David Montgomery | RB |
| 58 | Mike Evans | WR |
| 59 | Brandin Cooks | WR |
| 60 | Chris Carson | RB |
| 61 | Tyler Lockett | WR |
| 62 | Ronald Jones II | RB |
| 63 | Corey Davis | WR |
| 64 | Giovani Bernard | RB |
| 65 | Raheem Mostert | RB |
| 66 | Adam Thielen | WR |
| 67 | Antonio Brown | WR |
| 68 | Kenny Golladay | WR |
| 69 | Mike Davis | RB |
| 70 | Ryan Fitzpatrick | QB |
| 71 | Amari Cooper | WR |
| 72 | Keenan Allen | WR |
| 73 | Chris Godwin | WR |
| 74 | Wayne Gallman | RB |
| 75 | Calvin Ridley | WR |
| 76 | DeAndre Hopkins | WR |
| 77 | Latavius Murray | RB |
| 78 | Todd Gurley | RB |
| 79 | A.J. Brown | WR |
| 80 | Quintez Cephus | WR |
| 81 | Clyde Edwards-Helaire | RB |
| 82 | Tyler Boyd | WR |
| 83 | Antonio Gibson | RB |
| 84 | Josh Jacobs | RB |
| 85 | Jeff Wilson | RB |
| 86 | Peyton Barber | RB |
| 87 | Terry McLaurin | WR |
| 88 | Darren Waller | TE |
| 89 | Keke Coutee | WR |
| 90 | Kenyan Drake | RB |
| 91 | Jamaal Williams | RB |
| 92 | Melvin Gordon | RB |
| 93 | CeeDee Lamb | WR |
| 94 | Julio Jones | WR |
| 95 | Tee Higgins | WR |
| 96 | Randall Cobb | WR |
| 97 | Carlos Hyde | RB |
| 98 | Frank Gore | RB |
| 99 | Tim Patrick | WR |
| 100 | Nyheim Hines | RB |
| 101 | KJ Hamler | WR |
| 102 | Jerry Jeudy | WR |
| 103 | Robert Tonyan | TE |
| 104 | DJ Chark | WR |
| 105 | Ty Johnson | RB |
| 106 | Jalen Reagor | WR |
| 107 | Curtis Samuel | WR |
| 108 | Demarcus Robinson | WR |
| 109 | Chase Edmonds | RB |
| 110 | David Johnson | RB |
| 111 | D'Andre Swift | RB |
| 112 | Adrian Peterson | RB |
| 113 | DeVante Parker | WR |
| 114 | Hunter Renfrow | WR |
| 115 | Marvin Jones | WR |
| 116 | T.J. Hockenson | TE |
| 117 | Jamison Crowder | WR |
| 118 | Keelan Cole | WR |
| 119 | Michael Gallup | WR |
| 120 | Darius Slayton | WR |
| 121 | Nelson Agholor | WR |
| 122 | Mike Williams | WR |
| 123 | Noah Fant | TE |
| 124 | Laviska Shenault Jr. | WR |
| 125 | T.Y. Hilton | WR |
| 126 | Rob Gronkowski | TE |
| 127 | Brian Hill | RB |
| 128 | Anthony Miller | WR |
| 129 | Jerick McKinnon | RB |
| 130 | Joshua Kelley | RB |
| 131 | Carson Wentz | QB |
| 132 | Darnell Mooney | WR |
| 133 | Evan Engram | TE |
| 134 | Hunter Henry | TE |
| 135 | Russell Gage | WR |
| 136 | Jordan Wilkins | RB |
| 137 | Joe Flacco | QB |
| 138 | Tony Pollard | RB |
| 139 | Mike Gesicki | TE |
| 140 | Josh Adams | RB |
| 141 | Emmanuel Sanders | WR |
| 142 | Dalton Schultz | TE |
| 143 | Henry Ruggs III | WR |
| 144 | Hayden Hurst | TE |
| 145 | Scott Miller | WR |
| 146 | Danny Amendola | WR |
| 147 | Travis Fulgham | WR |
| 148 | Leonard Fournette | RB |
| 149 | David Moore | WR |
| 150 | Alexander Mattison | RB |
| 151 | Mecole Hardman | WR |
| 152 | Phillip Lindsay | RB |
| 153 | Christian Kirk | WR |
| 154 | Tyler Eifert | TE |
| 155 | Zach Pascal | WR |
| 156 | Breshad Perriman | WR |
| 157 | George Kittle | TE |
| 158 | Michael Pittman Jr. | WR |
| 159 | Duke Johnson | RB |
| 160 | Jonnu Smith | TE |
| 161 | Tua Tagovailoa | QB |
| 162 | Anthony Firkser | TE |
| 163 | Jimmy Graham | TE |
| 164 | Kalen Ballage | RB |
| 165 | Chris Conley | WR |
| 166 | Marquez Valdes-Scantling | WR |
| 167 | Sterling Shepard | WR |
| 168 | Dallas Goedert | TE |
| 169 | Kendrick Bourne | WR |
| 170 | Samaje Perine | RB |
| 171 | Devontae Booker | RB |
| 172 | Denzel Mims | WR |
| 173 | Tre'Quan Smith | WR |
| 174 | Mo Alie-Cox | TE |
| 175 | Boston Scott | RB |
| 176 | Jalen Guyton | WR |
| 177 | Dwayne Haskins | QB |
| 178 | Jake Luton | QB |
| 179 | Logan Thomas | TE |
| 180 | A.J. Green | WR |
| 181 | Cordarrelle Patterson | WR |
| 182 | Kerryon Johnson | RB |
| 183 | Greg Ward | WR |
| 184 | Richard Rodgers | TE |
| 185 | Justin Jackson | RB |
| 186 | Golden Tate | WR |
| 187 | Kyle Rudolph | TE |
| 188 | Jared Cook | TE |
| 189 | Braxton Berrios | WR |
| 190 | Drew Sample | TE |
| 191 | Larry Fitzgerald | WR |
| 192 | Jordan Akins | TE |
| 193 | Le'Veon Bell | RB |
| 194 | Sammy Watkins | WR |
| 195 | Jakeem Grant | WR |
| 196 | Darren Fells | TE |
| 197 | Adam Humphries | WR |
| 198 | Jeremy McNichols | RB |
| 199 | Marcus Johnson | WR |
| 200 | Olamide Zaccheaus | WR |
| 201 | Cam Sims | WR |
| 202 | Collin Johnson | WR |
| 203 | Jeff Driskel | QB |
| 204 | Deonte Harris | WR |
| 205 | Preston Williams | WR |
| 206 | Dan Arnold | TE |
| 207 | James O'Shaughnessy | TE |
| 208 | Matt Breida | RB |
| 209 | Tyron Johnson | WR |
| 210 | Trey Burton | TE |
| 211 | Ito Smith | RB |
| 212 | La'Mical Perine | RB |
| 213 | Will Dissly | TE |
| 214 | Kalif Raymond | WR |
| 215 | DeeJay Dallas | RB |
| 216 | Devonta Freeman | RB |
| 217 | Richie James | WR |
| 218 | DaeSean Hamilton | WR |
| 219 | Royce Freeman | RB |
| 220 | Zach Ertz | TE |
| 221 | JaMycal Hasty | RB |
| 222 | Cameron Brate | TE |
| 223 | Andy Isabella | WR |
| 224 | Kyle Juszczyk | RB |
| 225 | Salvon Ahmed | RB |
| 226 | Darrel Williams | RB |
| 227 | Tyler Ervin | RB |
| 228 | Travis Homer | RB |
| 229 | Jalen Richard | RB |
| 230 | Jacob Hollister | TE |
| 231 | Jeff Smith | WR |
| 232 | Irv Smith Jr. | TE |
| 233 | Dion Lewis | RB |
| 234 | Jordan Reed | TE |
| 235 | Olabisi Johnson | WR |
| 236 | Alfred Morris | RB |
| 237 | Garrett Gilbert | QB |
| 238 | Freddie Swain | WR |
| 239 | John Hightower | WR |
| 240 | DeSean Jackson | WR |
| 241 | Cole Kmet | TE |
| 242 | O.J. Howard | TE |
| 243 | Chris Herndon | TE |
| 244 | Brett Rypien | QB |
| 245 | Ross Dwelley | TE |
| 246 | Isaiah Wright | WR |
| 247 | Jace Sternberger | TE |
| 248 | Steven Sims | WR |
| 249 | Auden Tate | WR |
| 250 | Ben DiNucci | QB |
| 251 | Bryan Edwards | WR |
| 252 | Marquez Callaway | WR |
| 253 | Christian Blake | WR |
| 254 | Albert Okwuegbunam | TE |
| 255 | Jack Doyle | TE |
| 256 | Chad Beebe | WR |
| 257 | Mike Thomas | WR |
| 258 | AJ Dillon | RB |
| 259 | Dontrelle Inman | WR |
| 260 | Cameron Batson | WR |
| 261 | Tarik Cohen | RB |
| 262 | Tyler Johnson | WR |
| 263 | Troymaine Pope | RB |
| 264 | Marcedes Lewis | TE |
| 265 | Alec Ingold | RB |
| 266 | P.J. Walker | QB |
| 267 | Equanimeous St. Brown | WR |
| 268 | Zay Jones | WR |
| 269 | D'Onta Foreman | RB |
| 270 | Adam Trautman | TE |
| 271 | Jesse James | TE |
| 272 | Noah Brown | WR |
| 273 | Durham Smythe | TE |
| 274 | Byron Pringle | WR |
| 275 | Reggie Bonnafon | RB |
| 276 | Tyrod Taylor | QB |
| 277 | Chad Hansen | WR |
| 278 | Justin Watson | WR |
| 279 | Ryan Griffin | TE |
| 280 | Malik Taylor | WR |
| 281 | C.J. Beathard | QB |
| 282 | Parris Campbell | WR |
| 283 | Ian Thomas | TE |
| 284 | Kaden Smith | TE |
| 285 | Blake Bell | TE |
| 286 | C.J. Uzomah | TE |
| 287 | Jamal Agnew | WR |
| 288 | C.J. Board | WR |
| 289 | Nick Vannett | TE |
| 290 | Ryan Nall | RB |
| 291 | Austin Mack | WR |