Degen Show (12/19/2020)
Your favorite Degens give you their NFL Week 15 Picks. Check back to see what they thought of the week in DFS.
Powered by RedCircle
The Degens! App
Grab the Degens App hangout, shoot the breeze and get even more content.
Android:
https://play.google.com/store/apps/details?id=io.gonative.android.xmmkqw&hl=en
iOS:
https://apps.apple.com/us/app/id1527907647
Max's NFL Week 15 Picks
Houston at Indianapolis
Spread: IND -7.5 (Lean Colts)
Total: 51 (Bet Over – 53)
Predicted Score: Colts 31 – Texans 22
Overview:  The Texans have given up 40 sacks on the season and the last time these teams played, the Colts got to Deshaun Watson 5 times. Last week, the Bears got 7 sacks in their 36-7 rout of the Texans. When Watson is not evading the pass rush, he should be able to sling the ball on Indy and try to get a few TDs to pass his career season high.
For the Colts, it should be another big week for their offense too. After thrashing the Raiders 44-27 last week, Rivers and Hilton will look to connect and put more than the 26 points the Colts did two weeks ago against Houston.
The Colts should win and get a step closer to the playoffs. I do have them covering but can only lean Indy here.
Detroit at Tennessee
Spread: TEN -11 (Lean Titans)
Total: 51.5 (Bet Over – 61)
Predicted Score: Titans 36 – Lions 25
Overview:  Derek Henry should be ready to run all over a poor Lions' rush defense. But the Titans might get cautious with him late in the game if they have a big lead. It'll be after he drops at least 150 yards on Detroit but still, Henry will probably want every yard to get him closer to 2k on the season.
The Lions are 29th in the league in rush defense and gives up 1.6 rushing TDs per game – which ranks second to last in the league. The Titans are 2nd in the league in rushing yards per game and 6th in rushing TDs. It seems like a bad matchup for sure.
Tennessee should get the win and I have them barely covering here. So I will lean the Titans here.
Tampa Bay at Atlanta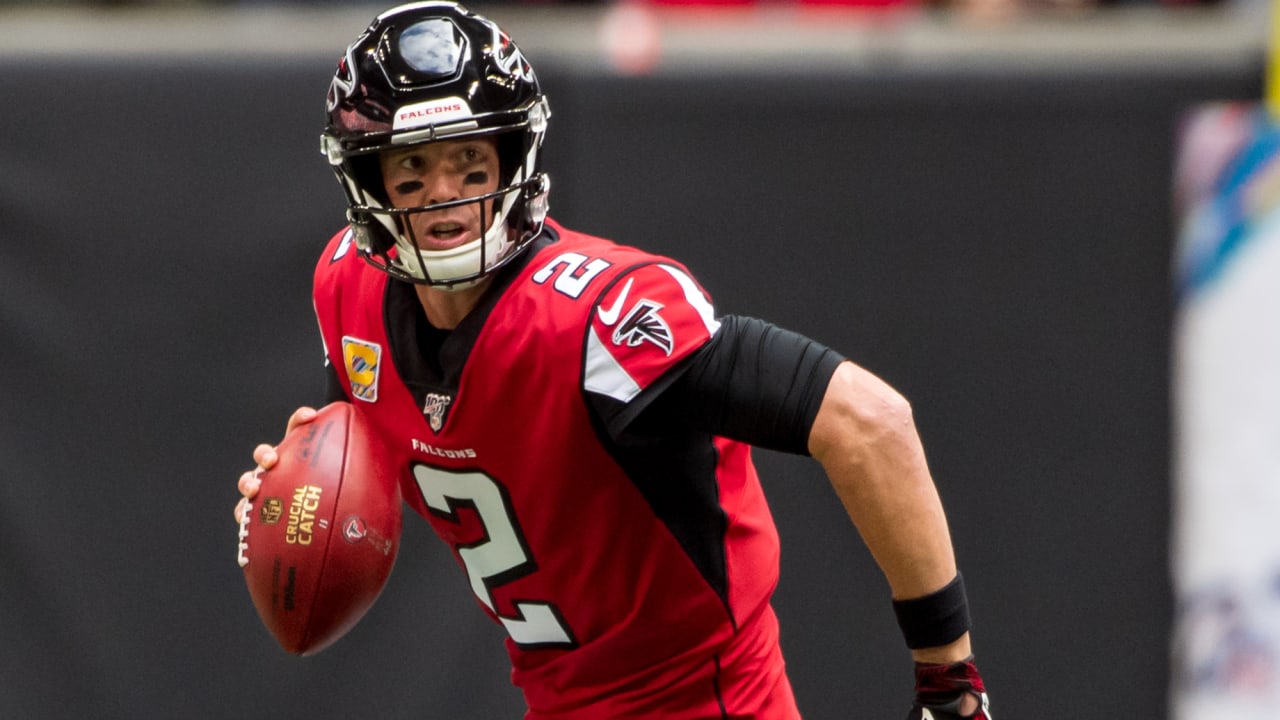 Spread: TB -6 (Lean Falcons)
Total: 48.5 (Bet Over – 55)
Predicted Score: Bucs 28 – Falcons 27
Overview:  The Falcons are one of the more confusing teams in the league. One week they look like they have it figured out and the next they look like a mess. And it's not their defense that's the main issue anymore. A lot of their woes are a result of the inconsistent play of Matt Ryan.
Todd Gurley also has been ineffective the past 3 weeks and will face the best rushing defense in the league this week. Tampa is coming off a week where Dalvin Cook ran for over 100 yards and the Vikings totaled 162 – but other than that, the Bucs have been rock solid against the rush.
Despite the win over Minnesota, I'm still not sold on the Bucs. They have some glaring issues and while Atlanta probably does not win this one, I think they can keep it close. I'll lean the Falcons here.
New England at Miami
Spread: MIA -1.5 (Lean Dolphins)
Total: 41.5 (Lean Over – 46)
Predicted Score: Dolphins 25 – Patriots 21
Overview:  Interesting matchup here. Miami head coach, Brian Flores, is a disciple of Bill and he's one of the reasons the Pats did not get homefield in the playoffs last year. Now he gets another chance to beat his former boss and essentially end their playoff hopes. But Bill won't go down without a fight.
It's well documented that Belichick can shutdown rookie QBs. The most recent victim was Justin Herbert where the Pats held him scoreless on their way to a 45-0 win. The last rookie QB to beat the Pats was Geno Smith of the Jets back in 2013. In OT.
Since then a list of his victims include Derek Carr, Jared Goff, Marcus Mariota, Deshuan Watson, Daniel Jones, Sam Darnold and Josh Allen. The Pats got the better of Miami earlier in the season and can lean on their top 5 rushing offense to try and do it again.
I think the Pats fall short here and Miami covers this one. But I can only lean the Dolphins here.
Seattle at Washington
Spread: SEA -6.5 (Bet Seahawks)
Total: 43.5 (Lean Over – 52)
Predicted Score: Seahawks 30 – Washington 22
Overview:  Washington is in the driver seat for the NFC East but an injury to their steady QB could be enough to drive them into a wall. Dwayne Haskins will return to the starting role after being benched earlier in the season. That, along with a more aggressive Seahawks defense, should make for some bad offense from the Washington team.
On offense, Russell Wilson and DK Metcalf will be harassed by the Washington defense but still should be able to put up some big numbers this week. Seattle bounced back from their loss to the Giants by beating the other New York team 40-3 last week. I don't think they do that against Washington this week but I think they do enough to win and cover.
Betting the Seahawks.
Chicago at Minnesota
Spread: MIN -3 (Bet Bears)
Total: 46 (Lean Over 52)
Predicted Score: Vikings 26 – Bears 26
Overview:  It's hard to argue that the Bears' offense with Mitch Trubisky has looked a lot better than it did with Nick Foles. In his last 3 games, he's averaging over 250 yards in the air with 7 TDs and 2 INTs. In those games, the Bears are averaging over 30 points per game. He's facing a Minnesota pass defense that ranks 26th in the league in passing yards allowed. So he has a chance for another good week.
The Vikings were one of the league's hottest teams before they ran into the Bucs last week. Kicking problems doomed them last week as Dan Bailey looked like Ray Finkle out there. That's a Porky's reference in case you didn't know.
Both teams are 6-7 and the winner stays in the playoff hunt while the loser would only have a fractional chance of making it. I'm still banking on the Bears getting the over in their win totals and they should get a step closer this week.
The Bears could straight-up win this one but my numbers are too close so I will bet them – but I'm taking the points.
Jacksonville at Baltimore
Spread: BAL -13 (Bet Jaguars)
Total: 48 (Lean Over – 50)
Predicted Score: Ravens 30 – Jaguars 20
Overview:  Talk about opposing forces. I covered this on the DFS show but the Ravens run the ball well – #1 in the league with 174 yards per game. The Jags suck at defending the run – ranking 3rd worst by giving up 146 yards per game. So this should be a chance for Lamar Jackson and the running back collective to rack up some yards on the ground.
Baltimore is middle of the pack in rushing defense and are facing one of the best backs in the league in James Robinson. The Ravens are also coming off a game where the Browns dropped 42 points on them. So there's some cracks in that Baltimore defense for sure.
There is no discussion over who wins this game. It's just deciding how much the Ravens win by. I only have them winning by 10 here and with some wiggle room, I'll bet the Jaguars with the points.
San Francisco at Dallas
Spread: SF -3 (Bet 49ers)
Total: 45 (Lean Over – 46)
Predicted Score: 49ers 25 – Dallas 21
Overview:  When a defense feels good about only giving up 101 yards, you know that defense has major issues with stopping the run. But Dallas is coming off that high of shutting down Gio Bernard's porn stache last week and hope to repeat against the Niners this week. The only problem is that San Francisco rarely abandons the run like the Bengals do. So the worst rushing defense in the league will have a bigger challenge this week for sure. Raheem Mostert is out, so that helps them, but Jeff Wilson Jr. should have a big game.
With injuries to Alex Smith and Daniel Jones, the NFC East is still sadly wide open. A loss this week would knock the Cowboys out once and for all. A win for the Niners keeps their playoff hopes alive but it's a longshot. This team's only win over their last 6 games was a 23-20 win over the Rams and the Cardinals, Vikings, Bears and Lions are currently ahead of them.
But they will get one step closer with a win this week. The Niners will get the road win and cover this one. I'll bet San Francisco here.
NY Jets at LA Rams
Spread: LAR -17.5 (Lean Jets)
Total: 44 (Bet Under – 41)
Predicted Score: Rams 28 – Jets 13
Overview:  The Jets sit at 0-13 and it bears repeating that they will not win a game unless the Jaguars win another game. Adam Gase is starting his PR tour of apologies to try and salvage any chance he has at a future job in the NFL. His tone says "I didn't develop Sam Darnold buuuuuut he was injured" and "I didn't win many games buuuuuuuut there was a lack of talent here" and "I tried to make Le'Veon Bell work buuuuuut I really didn't want him on the team so to prove me right, I used him poorly to damage his value."
But yeah, stand-up dude that Adam Gase.
The Rams have a chance to get win #10 this week and go back to the playoffs after missing out last year. The Rams rank #1 in defense and the Jets rank last in total offense. The Rams rank 5th in total offense while the Jets rank 30th in defense. This should be a big win for L.A.
But it's still too many points for me. I have the Rams winning by 15. As such, I'll lean the Jets with the points here.
Philadelphia at Arizona
Spread: ARZ -6.5 (Lean Eagles)
Total: 48.5 (Bet Over – 49)
Predicted Score: Cardinals 27 – Eagles 22
Overview:  The Eagles would be eliminated this week if they lose and the Washington Team wins. However, with a Washington loss and an Eagles win, Philly could be back into the conversation for the NFC East title. The Eagles broke a 4-game losing streak by stunning the Saints last week.
Jalen Hurts put up 167 yards and a TD in the win. Nothing spectacular but also helped to limit the turnovers for a team that is 29th in giveaways per game.
For the Cardinals, they need to keep winning if they want to get a playoff spot. They control their own destiny if they can win out. So expect Kyler Murray to do whatever he can to get this team's offense going. It could mean a lot of running this week to exploit an Eagles' defense that gives up 127 yards per game on the ground.
I do think Arizona gets the win but not sure if they cover. I'll lean the Eagles here.
Kansas City at New Orleans
Spread: KC -3 (Lean Saints)
Total: 52 (Lean Over – 57)
Predicted Score: Chiefs 29 – Saints 28
Overview:  This could be a preview of the Super Bowl if the Saints can shrug off their stinker against the Eagles last week and get a returning Drew Brees back into a groove. It is a matchup of the top offense in KC against the 2nd ranked defense with New Orleans. But let's not sleep on KC's defense.
When focused, this Spags' defense is damn good. Their pass rush has come alive recently and they had 4 sacks last week. The Honey Badger has 4 INTs over his last 3 games and with Michael Thomas out this week – the pressure will be on Emmanuel Sanders as the deep threat. Most of the offense flows through Alvin Kamara and I expect him to have a big week.
I was surprised when I ran my numbers and got this so close. Both of my main models have KC winning but each time it was less than 2 points. I expect KC to get a big road win but I don't have them covering here.
I'll lean the Saints.
Cleveland at NY Giants
Spread: CLE -6.5 (Lean Browns)
Total: 44 (Lean Over – 50)
Predicted Score: Browns 32 – Giants 18
Overview:  After giving the sports betting world a kick in the dick last week with a last second safety, the Browns look to get back into gambler's good graces as a big road favorite this week. The Browns probably should have won last week. If Lamar Jackson's explosive diarrhea didn't subside, perhaps Cleveland would be on a 5-game winning streak.
They have a great opportunity to restart their winning ways this week against a Giants' team that were world-beaters a few weeks ago against Seattle but looked like the dregs of the NFC East last week against the Cardinals. Daniel Jones is listed as questionable this week and he didn't look right last week – which exacerbated the situation.
The Browns will put their great run game against a solid Giants' rush defense. If the Browns win in that area, game over. The Browns are winning despite not having former Giant Odell Beckham Jr. out on the field this season. It hasn't slowed down Baker Mayfield at all.
Crazy to say this but congrats to the 10-win Browns – who will have a 95% chance of making the playoffs with a win this week. So don't fuck it up.
Leaning the Browns.