Degen Show (11/6/2020)
Your favorite Degens make their NFL Week 9 Best Bets. Listen here and read Max's show notes below. Also remember to check our NFL Week 9 DFS picks.
Powered by RedCircle
The Degens! App
Grab the Degens App hangout, shoot the breeze and get even more content.
Android:
https://play.google.com/store/apps/details?id=io.gonative.android.xmmkqw&hl=en
iOS:
https://apps.apple.com/us/app/id1527907647
Degen News
The Vegas Draconians
Our favorite Las Vegas football squad aren't too happy about the repercussions of constantly failing to follow NFL rules on Covid-19. The Raiders were fined $500,000 and lost a 6th round pick based on the issues. Head coach Jon Gruden will also be fined $150,000.
I almost feel like there needs to be a sliding scale on these punishments based on where the team plays. I mean, there's nothing to do in Cleveland so you shouldn't be going out anyway. But you put a team in Las Vegas and expect them to behave? Even worse, you put the fucking Raiders in Vegas and expected angelic behavior?
December Basketball
The NBA Players Association board of representatives have agreed that basketball will return on December 22 for a 72-game season. Free agency could start soon after the November 18th draft.
There's still some financial terms to figure out but everyone has been saying that it has to be before Christmas for the league to have a chance at profitability this season. It is interesting to see how the reverse of profit sharing is working. Players were all-in to collect on revenue when the league was making bank but now that's there's losses?
Max's NFL Week 9 Best Bets (Show Notes)
Seattle at Buffalo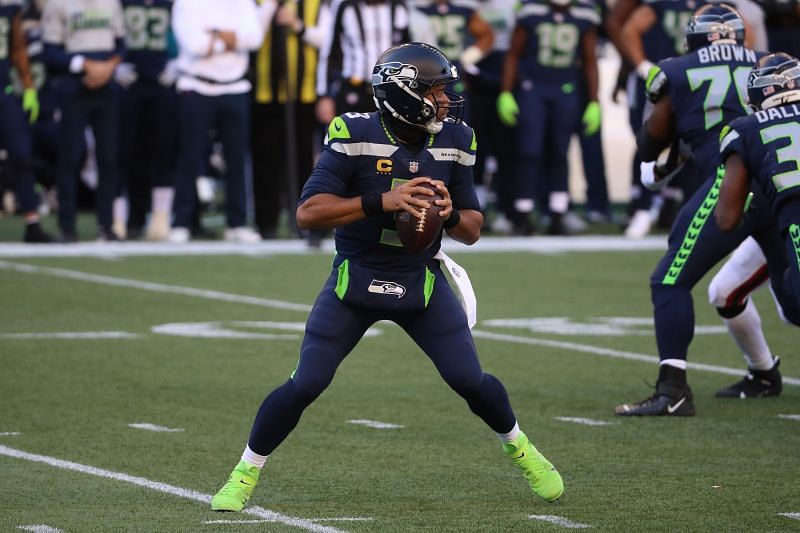 Spread: SEA -3 (Bet Seahawks)
O/U: 55 (Over – 59)
Predicted Score: Seahawks 34 – Bills 25
Overview: We covered this a bit on the DFS show on Wednesday and my sentiment is the same. Josh Allen has not looked right for the last few weeks and this is his chance to breakout again. The Seahawks defense gives up 359 yards per game in the air. The Bills haven't had over 300 yards passing since week 4.
There are a few things to note about Seattle's defense, though. Jamal Adams will be back in the lineup and their latest acquisition, Carlos Dunlap, should help with putting more pressure on Allen. Offensively, Seattle should be able to move the ball on the Bills. Expect Russell Wilson to have a monster game here.
I despise the Seahawks because they are a flawed team that has lucked into wins this season. But I cannot deny that their offense is damn good and should be able to put up points on Buffalo today. They are a road favorite against an above .500 team. Not usually a situation I like to bet on. But I will anyway here. Betting Seattle.
Denver at Atlanta
Spread: ATL -4 (Bet Falcons)
O/U: 50 (Under – 47)
Predicted Score: Falcons 27 – Broncos 20
Overview: It's safe to say that I have some trust issues with the Falcons. But things have looked much better for them since firing Dan Quinn. Yes, they had that boneheaded gaff by Gurley against the Lions a few weeks back, but other than that, this is a team playing some pretty good defense and producing just enough offense to win some games.
And this is a winnable game for them. Drew Lock has looked better but he's still a bottom tier QB in this league who completes only 58% of his passes. The Falcons' defense has been putting pressure on QBs lately and as such, it's made their secondary look much better.
For the Broncos to compete, and possibly win, they will need to run the ball. This is something they can do well and something that Atlanta still has problems defending. That all said, Denver has not been able to control the clock this season while Atlanta's offense has been able to set the tone in the air and the ground. It's not a dynamic offense anymore, but still effective.
I don't love the Falcons here but I like them enough to bet them. I'll take Atlanta here to cover.
Chicago at Tennessee
Spread: TEN -6.5 (Lean Titans)
O/U: 47.5 (Over – 52)
Predicted Score: Titans 30 – Chicago 22
Overview: If Nick Foles wants to have a big game and prove he deserves to be the starter of the Bears then this is a game to do it in. The Titans' defense – particularly their secondary – can be beat. There are even more questions surrounding the health of their secondary so that makes this opportunity for the Bears even better.
That said, the Bears' offensive line is trash right now. If Foles cannot release the ball fast, he will end up on his back a lot of this game. The Bears defense will need to pick up the slack today and help contain Derek Henry on the ground and hope that paying attention to him doesn't risk Ryan Tannehill having a big game.
I do have the Titans winning and covering this game but I am not in love with it. I'll lean Tennessee.
Detroit at Minnesota
Spread: MIN -4 (Lean Lions)
O/U: 52 (Over – 56)
Predicted Score: Vikings 28 – Lions 28
Overview: The big news in this game is that Matthew Stafford is on the Covid-19 list and will not be able to start unless he can keep passing his Covid tests. If he doesn't start, it could be Chase Daniel or David Blough who gets the start. That will be a big blow to the Lions but against this shaky Vikings defense, maybe not.
The other issue for the Lions is that Kenny Golladay won't play so expect more attention to go to Marvin Jones Jr. Another storyline is Adrian Peterson matching up against the team he spent most of his career with. He has yet to beat the Vikings in the 2 games he's played in against them.
And that streak could continue today if Kirk Cousins continues his trend of shredding the Lions' defense. Last season, Cousins had 5 TDs and no INTs while tossing close to 600 yards in his games against Detroit. This season has not been too kind to Cousins, but this could be a chance to get back-to-back divisional wins.
Or a tie. Because this is another game that I have as a pretty even matchup – even with the uncertainty of Stafford. As such, I'll lean the team getting points. Lean the Lions.
Baltimore at Indianapolis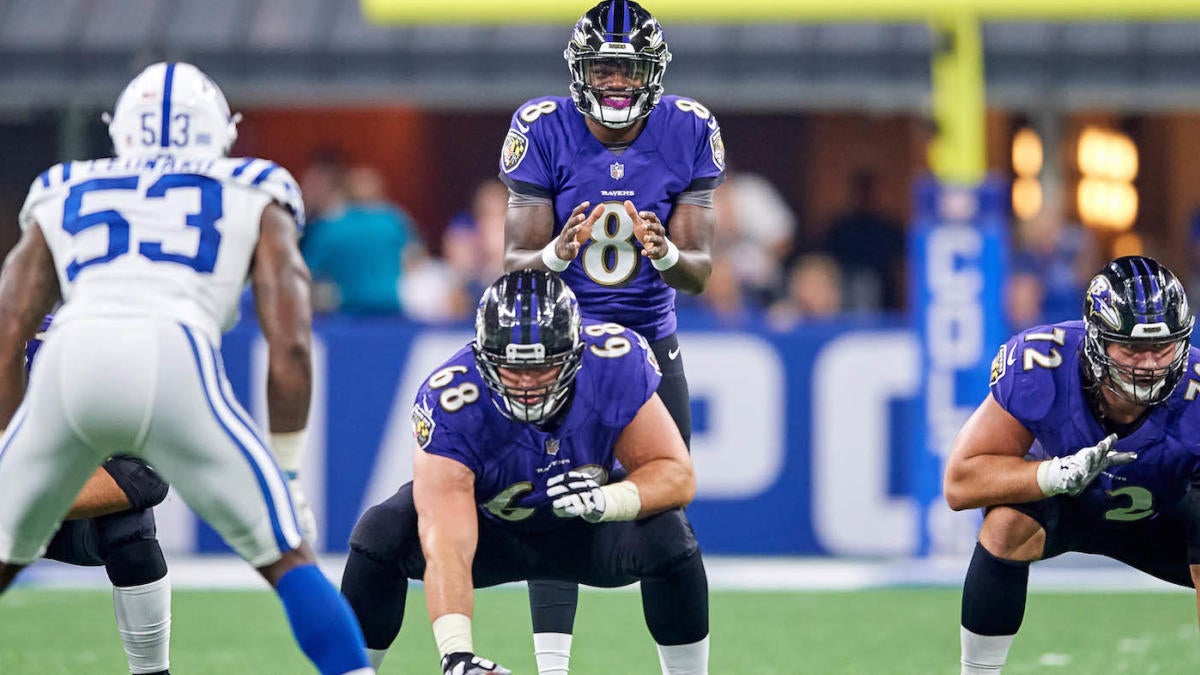 Spread: IND -1 (Lean Ravens)
O/U: 48.5 (Over – 54)
Predicted Score: Ravens 27 – Colts 27
Overview: Despite what Arch says, the Colts do have a good defense and especially against the run. But that's going to be tested today as Ravens' rookie J.K. Dobbins looks to run for over 100 yards again this week. He managed to do it last week against the stingy Steelers defense so it'll be interesting to see if he can do it again.
The Ravens do have some offensive line injuries that could make it a challenge for him and also put Lamar Jackson in broken play situations. Jackson has been good but not great this year so this is a game for him to show off his former MVP abilities.
For Indy, they win by limiting the turnovers and by solid play by Phillip Rivers. In essence, those two things often go hand in hand. The Colts are unbeaten at home but Baltimore is undefeated on the road this year. One of those should end today. Or not. I have this as a tie. And as such, I'll lean the Ravens getting the point.
Carolina at Kansas City
Spread: KC -10.5 (Lean Carolina)
O/U: 53 (Over – 53)
Predicted Score: Chiefs 31 – Panthers 22
Overview: KC continues to rack up points against subpar teams. Enter Carolina. The Panthers got off to an unexpected good start to the season but their lackluster play has caught up with them. Their offense has sputtered as they've only averaged 19 points per game over their last 3. The Chiefs? 35 points per game over their last 3.
Carolina will get Christian McCaffrey back to their lineup today. As Rich mentioned on the DFS show, he could be a nonfactor or he could run all over KC today. Ankle injuries are a bit of an unknown but the opportunity should be there against the Chiefs' 29th ranked run defense.
Defensively though, the young Panthers' secondary is in for a rough day. Andy Reid unleashed Mahomes last week against the Jets and if he does the same this week, Carolina will need to deal with a guy who has a 21:1 TD to INT ratio on the season.
That all said, it's still too many points for me. I say this often for KC and have been wrong a lot. So feel free to fade me on this one.
Houston at Jacksonville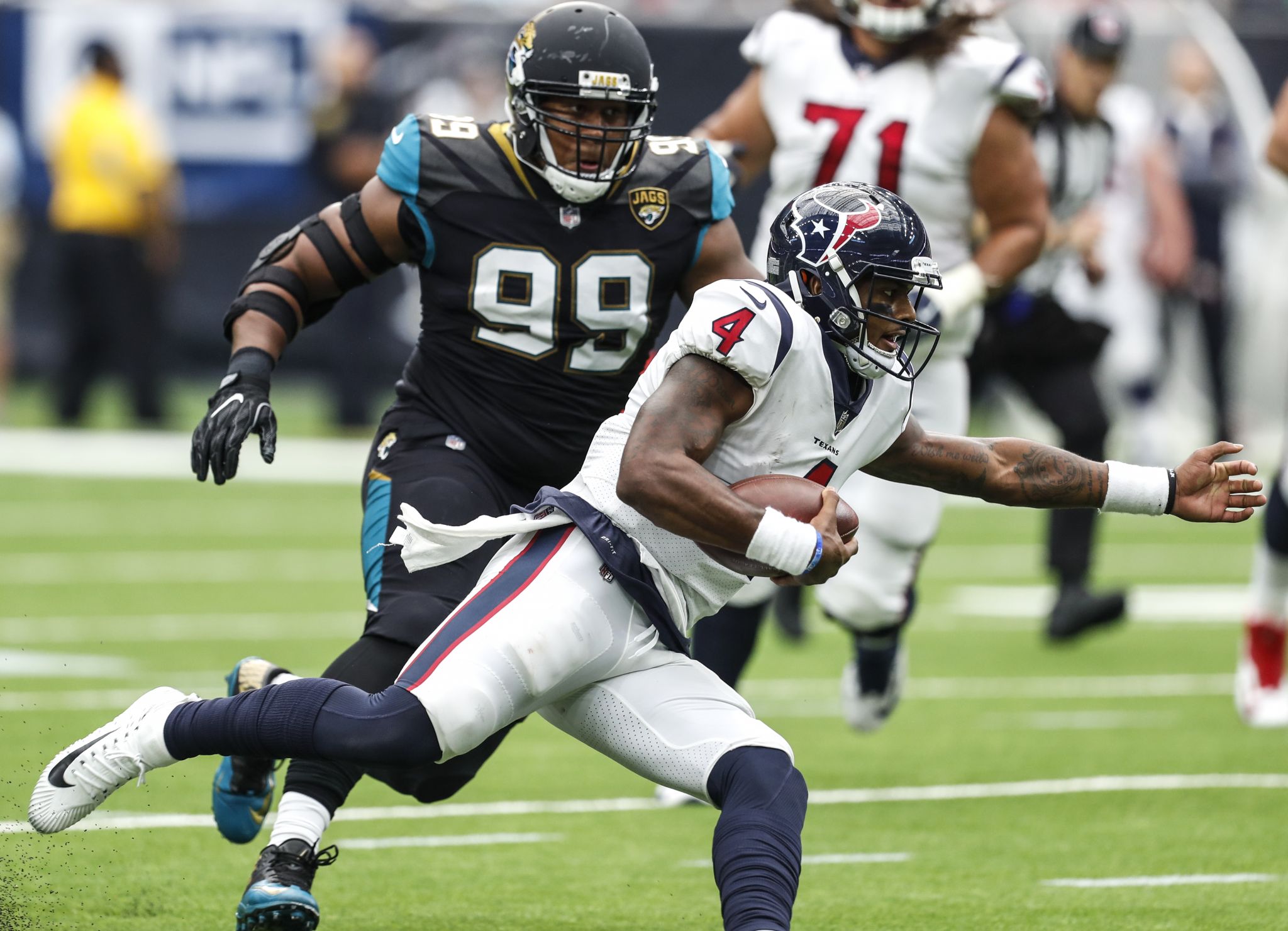 Spread: HOU -7 (Lean Jaguars)
O/U: 50 (Over – 51)
Predicted Score: Texans 26 – Jaguars 25
Overview: Mr. Mustache is out for the Jags and Jake Luton will get the start instead. So this should be a no brainer to bet the Texans, right? Well, not so fast. Sure, the Texans' offense has looked better since they jettisoned Bill O'Brien but they still allow their opponents to control the tempo of the game. Simply speaking, their defense needs to step up if you expect them to cover this one.
Deshaun Watson should have a good day against this porous Jaguars' defense and David Johnson might finally be able to break out for a big game. Jacksonville is 28th against the run in rushing yards allowed per game and Johnson almost had 100 yards rushing last time they played.
This one seems like a square sucker play to me. A Houston team trending up, a rookie QB for Jacksonville, and a bad Jaguars defense. But I just can't get there. I'll lean the Jaguars with the points.
NY Giants at Washington
Spread: WAS -2.5 (Bet Giants)
O/U: 43 (Under – 38)
Predicted Score: Washington 20 – Giants 18
Overview: Daniel Jones has 4 career wins. Three of them have come against the Washington Football Compilation. In his last game against Washington, he only threw for 112 yards but he ran for 74. He might have some help on the ground this week as Wayne Gallman has had two consecutive good weeks while Davonta Freeman has been out.
But as good as the Washington team is defensively they make up for it by being terrible offensively. The only teams worse than them? The Jets and the Giants. And for Washington, their points per game are trending down while the Giants' points per game are trending up.
I've already locked in my bet over at MyBookie but I kind of pulled a rich and misread my spreadsheet. I thought I had the Giants winning by 2 but I have them losing by 2. So I should only be leaning them but my money is already on them so I will bet the Giants.
Las Vegas at LA Chargers
Spread: LAC -1 (Bet Raiders)
O/U: 52 (Under – 48)
Predicted Score: Raiders 25 – Chargers 23
Overview: Jeez, where to begin on this one. The Chargers are a team that consistently shows how good they can be before showing who they actually might be. There are a mediocre team with a rookie QB who looks great at moments but is also a rookie who makes mistakes. Could they get a big lead this week and blow it again? Yeah, they probably could.
For the Raiders, they are above .500 and have a chance to start a playoff run. After suffering through fierce winds last week in Cleveland, Derek Carr and crew should have a more productive week in SoFi Stadium. Las Vegas' o-line is still iffy but the Chargers' pass rush is even iffier. I think Carr will have the time needed to get the job done today.
There aren't a lot of possible moneyline plays today on the board but this is one of them. I'll still take the point because, I mean, it's the Raiders. But it will be a bet on them nonetheless.
Pittsburgh at Dallas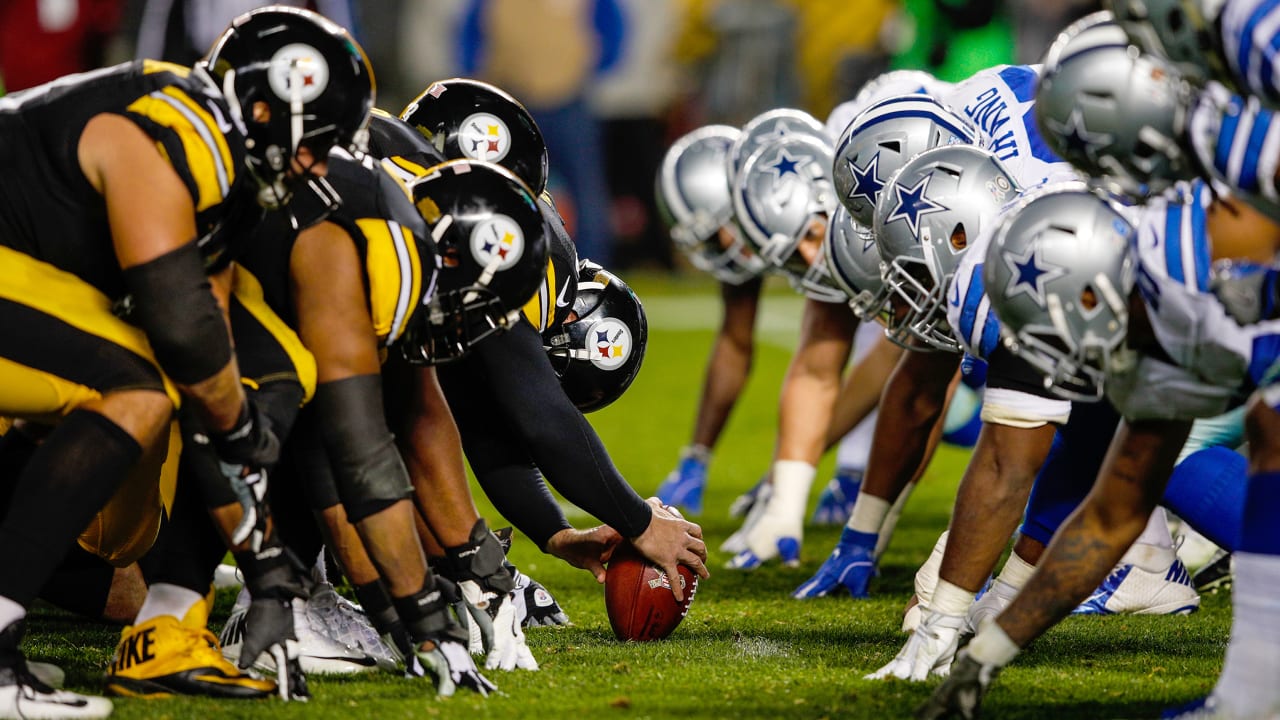 Spread: PIT -14.5 (Lean Dallas)
O/U: 43 (Over – 53)
Predicted Score: Steelers 32 – Dallas 21
Overview: I feel like I have the start of a bad joke. Dallas is a bad team. How bad are they? They are so bad that they are starting their 4th QB this season, have an overpaid RB who is dealing with a hamstring injury and are a -14.5 underdog at home. Funny to me, probably not to Rich.
The Steelers should keep their unbeaten streak going this week, but can they cover this big spread. Yeah, probably. But Big Ben is due for a stinker and if Elliott is healthy, he could be able to run on the Pittsburgh defense if McCarthy watched the footage from the Ravens game last week.
Which you would hope a head coach would do. But McCarthy isn't always known for being a diligent head coach. Hopefully for Dallas, McCarthy practiced fundamentals like holding on to the ball and not throwing dumb interceptions. Because the Steelers feast on turnovers.
I have Dallas losing by double-digits but not by 14.5. It could be worse factoring in the QB and RB situation here. So I'll lean Dallas here but would not be shocked if the Steelers cover this one.
Miami at Arizona
Spread: ARZ -4.5 (Lean Dolphins)
O/U: 49.5 (Over – 57)
Predicted Score: Arizona 29 – Dolphins 28
Overview: With the Niners seemingly done with for this season, Arizona has a chance to capitalize and make the playoffs despite a loaded NFC West. If you rewind to 2018, the two starting QBs in this game were competing for a Heisman Trophy. Now they are fighting for an NFL win.
Kyler Murray has been a very good QB to start his NFL season. The case is still out on Tua Tagovailoa. But other than Patrick Peterson, the Cardinals secondary is a bit shaky. That's mostly because they are dealing with a slew of injuries back there. Can Tua exploit that? We'll see.
Defensively, the Dolphins have come up big in key spots. They force turnovers and get solid field position for their offense. This could be another tough game against an NFC West opponent.
In theory, I should be betting Miami here but I have some doubts about them. Particularly the uncertainty around Tua. I will lean the Dolphins here but Arizona should pull out a very close win.
New Orleans at Tampa Bay
Spread: TB -4 (Bet Saints)
O/U: 51 (Over – 59)
Predicted Score: Bucs 30 – Saints 29
Overview: The buzz in Tampa is around Antonio Brown making his debut. If he's not a distraction, he will add another dangerous weapon to Tom Brady's arsenal. Brady took the high road this past week when asked about the Patriots' struggles but you know deep down he's laughing.
Yet it could be Drew Brees having the last laugh this week and possibly in the playoffs too. The Bucs defense has shown some cracks the last few weeks and the Saints are getting healthier on the offensive side of the ball. Alvin Kamara should have a big game and New Orleans has the pieces needed to keep up with Tampa Bay.
I do think the Bucs eek out a win but 4 points is a tad too much for me. I like the Saints early in the week and sticking with them now. Betting New Orleans.