Degen Show (1/7/22)
Your favorite Degens give you their Sports Bet Picks for 1/7/22. Listen to the Degen's NBA Totals show, NHL win Totals episode, or NFL win Totals one too.
Powered by RedCircle
---
Keep the Lights On Around Here!
Owning a casino isn't just for billionaires anymore…
Earn profits from Moonbet's premium blockchain-based online Sportsbook, Casino and eSports betting platform simply by holding MBET tokens.
Visit the Degen shop!
Promocode: ABSOLUTEDEGEN
Oddsjam is the best odds site on earth. Get the fastest line updates.
---
The Degens! App
Grab the Degens App hangout, shoot the breeze and get even more content.
Android:
https://play.google.com/store/apps/details?id=io.gonative.android.xmmkqw&hl=en
iOS:
https://apps.apple.com/us/app/id1527907647
---
Max's Sports Bet Picks for 1/7/22
NFL Week 18 Saturday Games
Kansas City (-10.5) vs. Denver (10.5)
Spread: Bet $50 Denver
Total: Lean Over 45
Predicted Score: Kansas City 27 – Denver 19 (46)
Notes: Dating back a few years, the Chiefs have been getting big lines and have been unable to cover. Fast forward to this season – the season where they have been an inconsistent and uneven team – and they have found a way to cover the big spreads.
Prior to their loss last week – where they coughed up a big lead to Joe Burrow and the Bengals – they had covered over Pittsburgh, the Chargers, Las Vegas and yes, the Broncos.
That game wasn't a pretty one – winning 22-9 as the Broncos put up 404 yards of offense to KC's 267. Patrick Mahomes struggled in that one – throwing for 184 yards with no TDs and 1 INT.
KC will treat this game as a playoff game. They would still need to hope for the Texans to upset the Titans on Sunday. But a win on Saturday is the first step and something they can control.
The Chiefs have beaten the Broncos in 12 straight games. But Vic Fangio has put together defensive schemes that have baffled Mahomes at times.
The last time these teams played, Teddy Bridgewater was the QB for Denver. But he suffered a concussion a few weeks later – leading to Drew Lock in at QB.
The Broncos lost those 3 starts and were eliminated from the playoffs. So they don't have much to play for other than trying to stop KC from getting the top seed and for division pride.
And that should be enough for them to keep it close.
$50 bet on the Broncos.
Dallas (-5.5) vs. Philadelphia (5.5)
Spread: Bet $50 Philadelphia
Total: Lean Over 43.5
Predicted Score: Dallas 30 – Philadelphia 26 (56)
Notes: The Eagles have won 4 in a row – benefiting from a pretty friendly schedule down the stretch. This isn't to take anything away from them – they are a pretty good team. But they might not be in the playoffs if it weren't for this easy strength of schedule recently.
The Eagles are in and locked in at the 6th seed. A Dallas win could push them to the 2 seed – if the Rams also lose – which means hosting Philly instead of Arizona.
The question will be how much time the starters will see in this game. Mike McCarthy and Nick Sirianni cannot afford to lose key players before the playoffs start. So if it ends up being backups, I'll take the Stache to lead the Eagles to a win.
Or, you know, a close loss.
These teams haven't played since Week 3. The Cowboys dismantled the Eagles in that one. But Dallas' offense was clicking at that point and the Eagles were still trying to figure out if Jalen Hurts was their QB or not.
I think he answered that question for now.
But this week probably belongs to the Stache. Minshew led them to a win over the Jets and should keep them competitive.
$50 bet on the Eagles.
NBA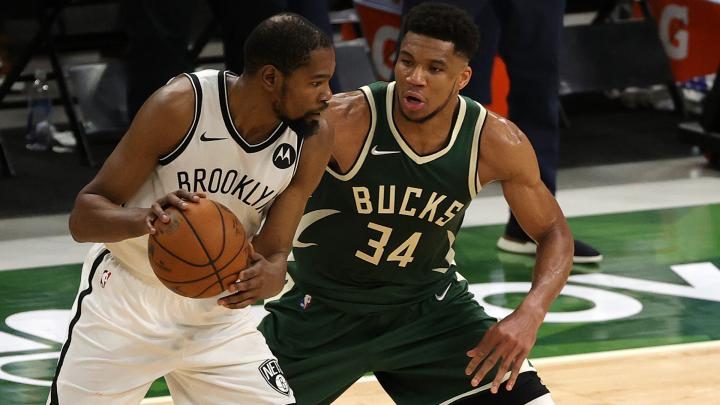 MIL (4.5) at BKN (-4.5)
Pick: Bet $10 MIL ML
Total: 229 (Lean Under – 229)
Predicted Score: MIL 118 – BKN 111
Notes: The Nets return to Brooklyn for the next two games which means that Kyrie Irving is out for them. Looking ahead on their schedule, there are a few road trips where he could play 4 or 5 games in a row.
For tonight, it's just Durant and Harden.
Boring.
They will take on Giannis and whatever pieces of the Bucks who aren't on Covid protocols. Jrue Holiday, George Hill, Pat Connaughton, and Grayson Allen will all miss the game tonight.
Despite that, I can't discount Giannis from showing up tonight and flexing against the team he helped bounced from the playoffs last season.
Milwaukee has lost 2 in a row and will want to avoid losing 3 in a row – something the Nets just did last week. Brooklyn is a mediocre 10-9 at home this season and it will be interesting to see how they adjust alternating life with and without Kyrie.
The value is on Milwaukee here for sure.
$10 moneyline bet on the Bucks.
Leans
SAS (7) at PHI (-7)
Pick: Lean SAS
Total: 219 (Lean Over – 223)
Predicted Score: SAS 109 – PHI 114
DAL (-2.5) at HOU (2.5)
Pick: Lean DAL
Total: 216.5 (Lean Over – 223)
Predicted Score: DAL 116 – HOU 107
Notes: Porzingis is out and Luca is doubtful.
WAS (6.5) at CHI (-6.5)
Pick: Lean WAS
Total: 222.5 (Lean Over – 228)
Predicted Score: WAS 112 – CHI 116
MIN (-5.5) at OKC (5.5)
Pick: Lean OKC
Total: 215 (Lean Under – 210)
Predicted Score: MIN 105 – OKC 105
SAC (8) at DEN (-8)
Pick: Lean SAC
Total: 224 (Lean Under – 221)
Predicted Score: SAC 110 – DEN 111
UTA (11) at TOR (-11)
Pick: Lean UTA
Total: 222 (Lean Over – 226)
Predicted Score: UTA 114 – TOR 112
CLE (-4.5) at POR (4.5)
Pick: Lean POR
Total: 216 (Lean Over – 228)
Predicted Score: CLE 116 – POR 112
ATL (3) at LAL (-3)
Pick: Lean ATL
Total: 226 (Lean Over – 231)
Predicted Score: ATL 114 – LAL 117
NHL
Calgary Flames (145) at Carolina Hurricanes (-165)
Pick: Bet $10 Carolina
Notes: After the break, the Hurricanes have outscored their opponents 11-4 in the two games they have played. The will break a 6-day layoff by hosting the Flames today.
Calgary has been a mixed bag since the break ended – going 2-2 with a -1 goal differential in that span. They were able to beat the beatable teams but struggled against Florida and Tampa.
Carolina is right up there with those latter teams. They are well rested while Calgary is playing their 5th road game in a row, in a back-to-back and in the 3rd game of 4 nights.
Earlier in the season, the Flames could overcome such adversity – but they have come down to Earth a bit since then.
The Hurricanes are 10-3-0 at home this season and the only hesitation here in betting them is that this is the first game of their back-to-back.
So Antti Raanta may get the start tonight to save Freddie Andersen for the game against divisional opponent Florida tomorrow.
I'll still bet them anyway.
$10 bet on the Hurricanes.
Washington Capitals (-105) at St. Louis Blues (-115)
Pick: Lean St. Louis