Degen Show (10/12/21)
Your favorite Degens give you their Sports Bet Picks for 10/12/21. Listen to the Degen's MLB futures episode or their mulligan after the All Star break.
Powered by RedCircle
---
Keep the Lights On Around Here!
Owning a casino isn't just for billionaires anymore…
Earn profits from Moonbet's premium blockchain-based online Sportsbook, Casino and eSports betting platform simply by holding MBET tokens.
Visit the Degen shop!
Promocode: ABSOLUTEDEGEN
---
The Degens! App
Grab the Degens App hangout, shoot the breeze and get even more content.
Android:
https://play.google.com/store/apps/details?id=io.gonative.android.xmmkqw&hl=en
iOS:
https://apps.apple.com/us/app/id1527907647
---
Max's Sports Bet Picks for 10/12/21
MLB
HOU (103) at CWS (-112)
Pitchers: L. McCullers Jr. (ERA: 3.1 – Road ERA: 2.76 – Avg. ML: -146) vs. C. Rodon (ERA: 2.3 – Home ERA: 2.28 – Avg. ML: -144)
Pick: Lean CWS
Notes: Possibly the inevitable was postponed for a day as the White Sox aim to fend off elimination today instead of having to do it yesterday. Yesterday, I was leaning Houston because of the plus line. The line is a little less today so my pick shifts to … a lean on the White Sox.
MIL (120) at ATL (-142)
Pitchers: E. Lauer (ERA: 2.92 – Road ERA: 3.4 – Avg. ML: -109) vs. H. Ynoa (ERA: 4.2 – Home ERA: 2.92 – Avg. ML: -131)
Pick: Bet $10 ATL
Notes: Atlanta has dominated the Brewers in this series. Pitching continues to be their focal point as they reduced their playoff ERA with a shutout yesterday. Ynoa takes the mound and he's been very good at home this season.
But it almost doesn't seem to matter here. The Brewers' bats are ice cold right now.
So $10 bet on Atlanta. I'm liking the under again but suspicious that after the last few games that the total is at 8.5 today when it was 8 yesterday.
SF (130) at LAD (-154)
Pitchers: A. DeSclafani (ERA: 3.23 – Road ERA: 3.27 – Avg. ML: -105) vs. T. Gonsolin (ERA: 3.05 – Home ERA: 2.83 – Avg. ML: -179)
Pick: Bet $10 SF
Notes: Well, the Giants have a chance to knock out the Dodgers today. And while I'm not sure if they indeed do that – the value is still on them to bet them. DeSclafani has had a very good season and while Gonsolin has looked good this season, I expect there to be short hook and all hands on deck in this elimination game.
$10 bet on the Giants.
NHL Bets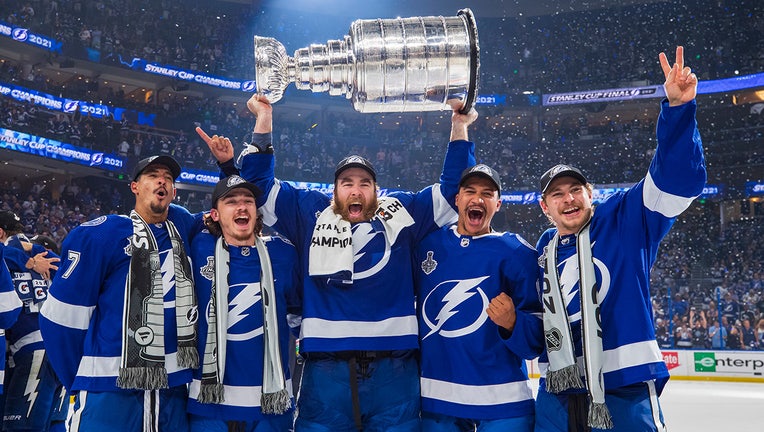 Pittsburgh Penguins (176) at Tampa Bay Lightning (-198)
Pick: Bet $10 Tampa Bay
Notes: The Tampa Bay Lightning will raise their banner celebrating their Stanley Cup and host a Penguins team that won the Eastern Division last season but fizzled in the playoffs. The Penguins were a tough team to bet on last season. They dominated at home but played like a different team on the road.
It was well-documented how I was down on Tampa last season. I still don't love them this season but I like them more than I do the Penguins this season. Based on my rankings, there's a good chance the Penguins miss the playoffs this season.
It should start tonight with an opening season loss on the road.
$10 bet on the Tampa Bay Lightning.
Seattle Kraken (216) at Vegas Golden Knights (-247)
Pick: Lean Vegas
Notes: Two teams with high expectations. The Golden Knights are expected to once again compete for a Stanley Cup while the Kraken have the pressure of being an expansion team following up the great success that Vegas had.
Seattle finds themselves as major dogs in their first game. And yeah, it makes sense. I do like this Seattle team but hard to place a bet on them. There are a few reasons to consider a lottery ticket here. Vegas moved on from Marc-Andre Fleury and have to hope Robin Lehner is the real deal.
Also, Seattle' drafted a good defense. And we've seen that defensive teams in the NHL tend to be good bets over the season since they can keep games close.
Still, with the limited data I have, I have Vegas winning this game enough to avoid a passion bet on Seattle. Leaning the Golden Knights.
NHL Win Totals
| | | | | |
| --- | --- | --- | --- | --- |
| Team | Total | Expected | Diff | O/U |
| Anaheim Ducks | 71.5 | 69 | -2.5 | Under |
| Arizona Coyotes | 68.5 | 76 | 7.5 | Over |
| Boston Bruins | 102.5 | 95 | -7.5 | Under |
| Buffalo Sabres | 69.5 | 59 | -10.5 | Under |
| Calgary Flames | 92.5 | 82 | -10.5 | Under |
| Carolina Hurricanes | 95.5 | 103 | 7.5 | Over |
| Chicago Blackhawks | 90.5 | 92 | 1.5 | Over |
| Colorado Avalanche | 111.5 | 112 | 0.5 | Over |
| Columbus Blue Jackets | 76.5 | 71 | -5.5 | Under |
| Dallas Stars | 94.5 | 94 | -0.5 | Under |
| Detroit Red Wings | 78.5 | 74 | -4.5 | Under |
| Edmonton Oilers | 98.5 | 100 | 1.5 | Over |
| Florida Panthers | 101.5 | 109 | 7.5 | Over |
| Los Angeles Kings | 84.5 | 87 | 2.5 | Over |
| Minnesota Wild | 96.5 | 102 | 5.5 | Over |
| Montreal Canadiens | 89.5 | 87 | -2.5 | Under |
| Nashville Predators | 84.5 | 85 | 0.5 | Over |
| New Jersey Devils | 89.5 | 80 | -9.5 | Under |
| New York Islanders | 99.5 | 105 | 5.5 | Over |
| New York Rangers | 96.5 | 89 | -7.5 | Under |
| Ottawa Senators | 76.5 | 77 | 0.5 | Over |
| Philadelphia Flyers | 92.5 | 91 | -1.5 | Under |
| Pittsburgh Penguins | 96.5 | 90 | -6.5 | Under |
| San Jose Sharks | 83.5 | 73 | -10.5 | Under |
| Seattle Kraken | 94.5 | 89 | -5.5 | Under |
| St. Louis Blues | 92.5 | 87 | -5.5 | Under |
| Tampa Bay Lightning | 106.5 | 100 | -6.5 | Under |
| Toronto Maple Leafs | 105.5 | 101 | -4.5 | Under |
| Vancouver Canucks | 88.5 | 86 | -2.5 | Under |
| Vegas Golden Knights | 106.5 | 113 | 6.5 | Over |
| Washington Capitals | 95.5 | 97 | 1.5 | Over |
| Winnipeg Jets | 92.5 | 98 | 5.5 | Over |