Degen Show (10/20/21)
Your favorite Degens give you their Sports Bet Picks for 10/20/21. Listen to the Degen's MLB futures episode or their mulligan after the All Star break.
Powered by RedCircle
---
Keep the Lights On Around Here!
Owning a casino isn't just for billionaires anymore…
Earn profits from Moonbet's premium blockchain-based online Sportsbook, Casino and eSports betting platform simply by holding MBET tokens.
Visit the Degen shop!
Promocode: ABSOLUTEDEGEN
---
The Degens! App
Grab the Degens App hangout, shoot the breeze and get even more content.
Android:
https://play.google.com/store/apps/details?id=io.gonative.android.xmmkqw&hl=en
iOS:
https://apps.apple.com/us/app/id1527907647
---
Max's Sports Bet Picks for 10/20/21
MLB
HOU (111) at BOS (-120)
Pitchers: F. Valdez (ERA: 3.43 – Road ERA: 2.93 – Avg. ML: -142) vs. C. Sale (ERA: 4.23 – Home ERA: 2.54 – Avg. ML: -158)
Pick: Bet $10 BOS
Notes: The Astros woke up yesterday and will be interesting to see if the trashcan lids will be banging again for them in Boston. I was leaning the Red Sox yesterday but I am comfortable jumping back on them today to get the win.
Chris Sale has not been seeing much action his last few starts – but I mean, what starting pitcher has? He has been effective in his 1-2 inning bursts so maybe he gives Boston a solid open today.
Valdez has not seen many innings either lately but that's because he's been hit hard in his last 3 outings. I like Boston to get to him today.
$10 bet on the Red Sox.
ATL (186) at LAD (-205)
Pitchers: H. Ynoa (ERA: 4.2 – Road ERA: 5.83 – Avg. ML: -131) vs. J. Urias (ERA: 3.07 – Home ERA: 3.54 – Avg. ML: -172)
Pick: Lean LAD
Notes: There is some discrepancy over who will start for the Braves today. It does seem like Ynoa will get some kind of action today. Last time I saw him starting he ended up coming in around the 3rd inning. So it seems that with Urias on the bump today, LA will have the advantage there.
The Braves do not quit though. I was lucky to hit on my Dodgers play yesterday. I am not tempting fate again today.
Lean on LA.
NHL
Boston Bruins (-135) at Philadelphia Flyers (122)
Pick: Lean Philadelphia
Notes: Philly bounced back from their first game loss by dominating Seattle. I think we can come to expect that from them as Carter Hart is a bit bipolar for sure. The Bruins opened the season with a win against the Stars four days ago.
I think the value is on Philly here but I can only lean them.
St. Louis Blues (110) at Vegas Golden Knights (-135)
Pick: Lean Vegas
Notes: Jordan Kyrou has 6 points through 2 games as he and the Blues head to Vegas for a bigtime matchup. The Golden Knights are 1-1 after dropping a road game in Los Angeles six days ago. They should be well rested at least.
I like the Golden Knights to get the win but it's a little too close for my liking. Lean on Vegas.
NBA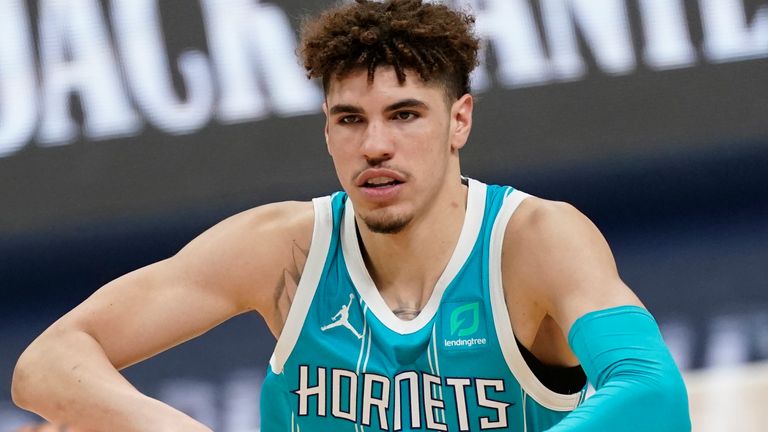 IND (2) at CHA (-2)
Pick: Bet $10 ML IND (+113)
Total: 223.5 (Bet $10 Over – 235)
Predicted Score: IND 119 – CHA 116
Notes: The Hornets made some progress last season as LaMelo Ball proved to be NBA-ready. And much like Giannis did, LaMelo will try to drag his brother along for the ride as LiAngelo Ball signed a G-League contract with the Hornets.
Indy, true to form from last season, starts off the year pretty banged up. Caris LeVert is out and Holiday, Lamb and Brogdon are all dealing with some kind of injury. Still, I like Indy to get this one today. $10 moneyline bet on the Pacers.
I also like the over in this game. I think both teams will come out shooting the ball well to start the year off and put up some points. So $10 bet on the over too.
DEN (6) at PHX (-6)
Pick: Bet $10 Denver
Total: 223.5 (Lean Over – 226)
Predicted Score: DEN 112 – PHX 114
Notes: This is an exciting match-up that pits two of the Western Conference favorites against each other. My concern is that some of what we saw from Phoenix last season was a bit of an illusion. Chris Paul will be another year older and he avoided injury most of last year.
Can he do it again? That Phoenix training staff is known to do wonders so we shall see.
The contract status of DeAndre Ayton is another distraction they will deal with. But still, Devin Booker is a great young player and will continue to improve his game.
For Denver, reigning MVP – Nikola Jokic – will do what he can to lead this team as they hope Jamal Murray can return to his previous self this season. I think Jokic can keep this team competitive – and if Aaron Gordon can step up – they will win some games.
Today is not one of them though. I like Denver to keep this game close today but I don't have them winning. So I will take the points. $10 bet on the Nuggets +6.
CHI (-5) at DET (5)
Pick: Lean Chicago
Total: 218.5 (Bet $10 Under – 210)
Predicted Score: CHI 108 – DET 102
Notes: The Bulls could be a sleeper in the East. If everything plays out the way they hope, and their team can gel with Lavine, Ball and Vucevic – this is a balanced team that can score from many areas of the court.
As for the Pistons, I scanned their roster and know only a few players on that team. Which is an improvement from last season for me.
I do think the Bulls win and cover but I have trust issues with them. So my play in this game is $10 on the under 218.5.
Leans
BOS (2) at NYK (-2)
Pick: Lean Boston
Total: 217 (Lean Over – 220)
Predicted Score: BOS 110 – NYK 110
WAS (2.5) at TOR (-2.5)
Pick: Lean Washington
Total: 219.5 (Lean Over – 241)
Predicted Score: WAS 123 – TOR 118
CLE (7.5) at MEM (-7.5)
Pick: Lean Memphis
Total: 216.5 (Lean Over – 221)
Predicted Score: CLE 105 – MEM 116
PHI (-3) at NOP (3)
Pick: Lean Philadelphia
Total: 226 (Lean Over – 219)
Predicted Score: PHI 112 – NOP 107
HOU (5.5) at MIN (-5.5)
Pick: Lean Houston
Total: 229.5 (Lean Over – 244)
Predicted Score: HOU 121 – MIN 123
ORL (6) at SAS (-6)
Pick: Lean Orlando
Total: 213 (Lean Over – 230)
Predicted Score: ORL 113 – SAS 117
OKC (12) at UTA (-12)
Pick: Lean Utah
Total: 220.5 (Lean Over – 223)
Predicted Score: OKC 104 – UTA 119
SAC (5) at POR (-5)
Pick: Lean Sacramento
Total: 232.5 (Lean Under – 223)
Predicted Score: SAC 110 – POR 113