Degen Show (10/29/21)
Your favorite Degens give you their Sports Bet Picks for 10/29/21. Listen to the Degen's MLB futures episode or their mulligan after the All Star break.
Powered by RedCircle
---
Degen Rank
How are your favorite Degens doing lately?
[chart id="14382″]
---
Keep the Lights On Around Here!
Owning a casino isn't just for billionaires anymore…
Earn profits from Moonbet's premium blockchain-based online Sportsbook, Casino and eSports betting platform simply by holding MBET tokens.
Visit the Degen shop!
Promocode: ABSOLUTEDEGEN
---
The Degens! App
Grab the Degens App hangout, shoot the breeze and get even more content.
Android:
https://play.google.com/store/apps/details?id=io.gonative.android.xmmkqw&hl=en
iOS:
https://apps.apple.com/us/app/id1527907647
---
Max's Sports Bet Picks for 10/29/21
MLB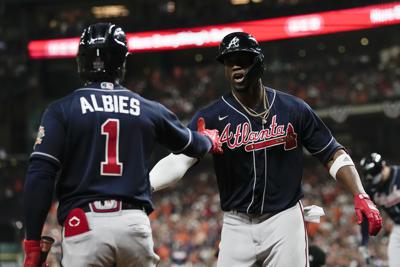 HOU (105) at ATL (-114)
Pitchers: L. Garcia (ERA: 3.8 – Road ERA: 4.89 – Avg. ML: -134) vs. I. Anderson (ERA: 3.52 – Home ERA: 3.36 – Avg. ML: -110)
Pick: Bet $10 ATL
Notes: I'm not going to lie when I say that picking this game was tough. This is a very evenly matched series. Just when I think the Braves have the pitching edge, Houston shows they can deal too. In fact, over the last 7 days, Houston's team ERA is 2.67 compared to the Braves' 3.81. Their WHIP is 1.04 compared to the Braves' 1.12.
So yeah, Houston is not just relying on their bats here.
Interesting pitching match-up today as Garcia faces off against Anderson. I had expected Greinke to get the game 3 start but seems like even Houston is afraid of him melting down.
Garcia did not pitch well for a few games but came together in Houston's last series against the Red Sox. Anderson has pitched well in his 3 postseason games and looked strong in the last month as well. So it should be a pretty good start to the game for both teams. Like I said, evenly matched.
Bullpen and bats. Evenly matched too.
I do think Atlanta sneaks away with the win today. It's definitely not a slam dunk though. So I'll drop a $10 bet on the Braves.
NBA
CHA (6) at MIA (-6)
Pick: Bet $10 CHA
Total: 221.5 (Lean Under – 220)
Predicted Score: CHA 108 – MIA 112
Notes: The Hornets have started the season with a road-heavy schedule. This will be their 4th road game in 6 games. Their previous 3 road games? All wins. But we know the Heat are a tough team to beat at home so no, not going to moneyline the Hornets here.
I am going to bet them though. Charlotte has a very well-balanced team that can match Miami very well. Plumlee can guard Adebayo, Bridges matches up well with Butler and Ball could frustrate Lowry out there. So a $10 bet on the Hornets with these points.
CLE (9) at LAL (-9)
Pick: Bet $10 CLE
Total: 219.5 (Lean Under – 216)
Predicted Score: CLE 107 – LAL 109
Notes: After blowing a huge lead to the Thunder the other night, the Lakers will look to regroup and get a much-needed win tonight. So far, the Westbrook experiment has not looked great. Add into the mix the injury to LeBron and the in-fighting between Dwight Howard and Anthony Davis and you are left with a goddamn mess that Coach Frank Vogel needs to sort out quickly.
They should be able to right the ship against Cleveland today but I don't think this is going to be a cakewalk. Collin Sexton was iffy about playing for the Cavs in the offseason but he's off to a good start. We mentioned the Cavs' rebounding abilities and Jarrett Allen is turning into one of the game's best young big men. Add in the veteran leadership of Ricky Rubio and when Kevin Love feels like playing him too, and you have a competitive team.
$10 bet on Cleveland with the points.
Leans
ORL (8) at TOR (-8)
Pick: Lean ORL
Total: 210 (Lean Over – 218)
Predicted Score: ORL 106 – TOR 112
IND (8) at BKN (-8)
Pick: Lean IND
Total: 223.5 (Lean Under – 220)
Predicted Score: IND 109 – BKN 111
SAC (-2) at NOP (2)
Pick: Lean SAC
Total: 220.5 (Lean Under – 215)
Predicted Score: SAC 109 – NOP 106
DAL (1) at DEN (-1)
Pick: Lean DAL
Total: 220.5 (Lean Under – 219)
Predicted Score: DAL 111 – DEN 108
LAC (2.5) at POR (-2.5)
Pick: Lean LAC
Total: 223 (Lean Under – 221)
Predicted Score: LAC 110 – POR 111
NHL
Ottawa Senators (163) at Dallas Stars (-182)
Pick: Bet $10 Ottawa
Notes: Not much I like today. You could eat some chalk on Carolina. The Rangers look like a good play but too chalky for me. Washington? Maybe. The implied probability says Arizona but they look terrible. Which pretty much leaves me with this one and a value play on Ottawa.
The Senators are not one of the worst of the bad teams in the league. And they even beat Dallas in one of their wins this season. When they lose it hasn't been blowout losses and their goal differential is the same as Dallas'. The Senators get quality shots on goal and with this plus line, the value is with them.
$10 bet on the Senators.
Leans
Chicago Blackhawks (155) at Carolina Hurricanes (-185)
Pick: Lean Carolina
Columbus Blue Jackets (159) at New York Rangers (-177)
Pick: Lean New York
Arizona Coyotes (235) at Washington Capitals (-300)
Pick: Lean Arizona
Florida Panthers (-179) at Detroit Red Wings (160)
Pick: Lean Detroit
Anaheim Ducks (220) at Vegas Golden Knights (-275)
Pick: Lean Vegas