Degen Show (12/16/21)
Your favorite Degens give you their Sports Bet Picks for 12/16/21. Listen to the Degen's NBA totals show, NHL win totals episode, or NFL win totals one too.
Powered by RedCircle
---
Keep the Lights On Around Here!
Owning a casino isn't just for billionaires anymore…
Earn profits from Moonbet's premium blockchain-based online Sportsbook, Casino and eSports betting platform simply by holding MBET tokens.
Visit the Degen shop!
Promocode: ABSOLUTEDEGEN
Oddsjam is the best odds site on earth. Get the fastest line updates.
---
The Degens! App
Grab the Degens App hangout, shoot the breeze and get even more content.
Android:
https://play.google.com/store/apps/details?id=io.gonative.android.xmmkqw&hl=en
iOS:
https://apps.apple.com/us/app/id1527907647
---
Max's Sports Bet Picks for 12/16/21
DFS – Week 15
Week 14 Recap
No, not a good week. Taylor Heinicke and my Washington offense strategy did not go well. I hit on Leonard Fournette and Ja'Marr Chase. But also had a couple of zeroes on the board.
As for my weekly PPR league, I got burned by the Dallas offense and that spelled doom – and the end of my playoff hopes this year.
Starts
QB: Tua Tagovailoa (MIA – $7,400) – Tua has been playing some good football and gets to take on a Jets team that can be thrown on. Granted, New York has played some better D the past few weeks – but with their current personnel, I am not sure if that is sustainable.
WR: Jaylen Waddle (MIA – $7,100) – And I will stack Tua with Jaylen Waddle this week. He's easily Tua's best connection out there on the field and has been producing each week.
WR: Ceedee Lamb (DAL – $7,400) – I'm banking on Dallas getting out of their offensive funk. The Giants' defense is OK but can be scored on.
RB: James Connor (ARZ – $8,000) – He's been the man in the backfield for the Cardinals and Detroit ranks 28th in opponent's rushing yards per game.
RB: AJ Dillon (GB – $7,500) – Tough to pay for a guy in a platoon. Especially when the other guys is Aaron Jones. But Jones is banged up and Dillon has been getting the ball a lot lately.
DEF: Arizona ($4,800) – I mean, a few good defenses to choose from this week. But I like Arizona facing off against a Detroit offense that does not do well against stout defenses.
Sits
RB: Cordarrelle Patterson (ATL – $7,000) – He's had some iffy weeks and playing a Niners' defense that is getting better each week. I think its too much money to risk on a running back where you can find some value elsewhere.
QB: Josh Allen (BUF – $8,700) – He's the second most expensive QB at FanDuel and the way he and the Bills are playing right now, I just don't trust him. Carolina has a very good pass defense and this will not be an easy one for Josh.
QB/WR: Cam Newton (CAR – $6,900) and DJ Moore (CAR – $6,600) – Conversely, the Bills also have a solid pass defense and Cam Newton cannot be trusted. That probably puts DJ Moore at risk of having an off week too.
Value
WR: Christian Kirk (ARZ – $6,000) – With the news that De'Andre Hopkins is out for the regular season, Kyler Murray will need to connect with some other guys out there. Kirk has had some duds this year but he also shows the promise of being a bigtime dude.
TE: Zach Ertz (ARZ – $5,300) – Keeping with the Arizona theme, I am hoping that Ertz gets some looks this week. Murray is not one to throw to a tight end but Ertz had a decent week last week and has had a few big games in Arizona this season.
WR: Van Jefferson (LAR – $6,200) – After getting a big TD in front of his dad last week, Van looks to make sure he's Stafford's #2 receiver this week as they play a Seattle defense that can be thrown on.
DEF: Dallas ($4,600) – If you really need to save a few hundred dollars and want a risk/reward, take Dallas against this putrid Giants' offense.
NFL Thursday Night Football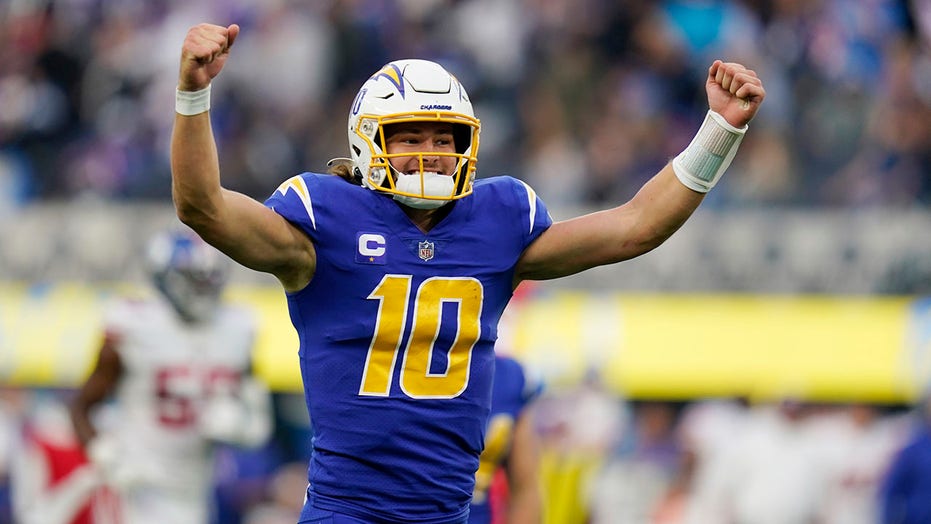 Kansas City (-3) vs. LA Chargers (3)
Spread: Bet $50 LA Chargers
Total: Lean Over
Predicted Score: Kansas City 28 – LA Chargers 26 (54)
Notes: Beating a divisional opponent twice in the same season isn't always easy. That's unless you are the Patriots for a 20 year span in the AFC East.
But now, the Chargers have a chance to take first place in the AFC West by taking down the Chiefs for the second time this year. Admittedly, I still don't know what to think of KC.
I really like what they are doing defensively and at times, you see flashes of that offensive brilliance. But I do fear that LA won't be cute like Vegas has been.
The Chargers have the defensive personnel to challenge Mahomes and the Chiefs. It's a defense that has gotten better the past month as well.
Ultimately I do think the Chiefs win on some fluky, last second play. Because when the Chargers lose, they either get blown out or they Charger things up at the end.
That said, the value is on the home team getting the points. $50 bet on LA.
NBA
PHI (1) at BKN (-1)
Pick: Bet $10 BKN ML
Total: 213 (Lean Over – 218)
Predicted Score: PHI 107 – BKN 111
Notes: The Nets have been ravaged by Covid protocol issues and find themselves hosting a Philly team that has not been playing inspiring basketball lately.
Losers of 2 in a row, the Sixers couldn't even grab a home win over a depleted Heat team. Still, when you have a healthy enough Joel Embiid on your team, you have a chance to win.
But Kevin Durant is playing at an insane level right now – averaging over 30 points, 7 rebounds and 7 assists per game over his last 10 games. He's coming off a triple double in the Nets' OT win over the Raptors a few days back.
He's the best player on the court in this game and should be enough to push Brooklyn to another win.
$10 ML bet on the Nets.
Leans
DET (10) at IND (-10)
Pick: Lean DET
Total: 210.5 (Lean Over – 215)
Predicted Score: DET 104 – IND 111
NYK (-5.5) at HOU (5.5)
Pick: Lean HOU
Total: 215.5 (Lean Over – 221)
Predicted Score: NYK 109 – HOU 112
WAS (8.5) at PHX (-8.5)
Pick: Lean WAS
Total: 215.5 (Lean Under – 215)
Predicted Score: WAS 104 – PHX 111
NHL
Boston Bruins (-135) at New York Islanders (115)
Pick: Bet $10 Boston
Notes: The Islanders took a quick trip to Detroit, lost, and now head back home where they are 1-5-2 this season. They finally got a home win over the Devils last week but I think that home winning streak ends here.
The Bruins are not playing their best hockey right now but after coming off a loss to the Golden Knights, this team should be ready to grab a win.
Boston is poised to get better. Their PDO is one of the lowest in the league and their expected goals for is greater than their actual goals for.
Those are indicators that their offense should pick up.
Defensively, they have some great goaltending – which was a big question heading into this season – and they have the second least shots against this season.
Which means they limit the shots on goal and stifle other teams' offenses.
The Islanders have not offense. So this should be a Boston win.
$10 bet on the Bruins.
Leans
Vegas Golden Knights (-170) at New Jersey Devils (150)
Pick: Lean Vegas
Los Angeles Kings (155) at Florida Panthers (-175)
Pick: Lean Florida
Detroit Red Wings (165) at Carolina Hurricanes (-185)
Pick: Lean Carolina
Philadelphia Flyers (-140) at Montreal Canadiens (120)
Pick: Lean Philadelphia
Ottawa Senators (210) at Tampa Bay Lightning (-250)
Pick: Lean Tampa Bay
Colorado Avalanche (-165) at Nashville Predators (145)
Pick: Lean Colorado
Buffalo Sabres (260) at Minnesota Wild (-320)
Pick: Lean Minnesota
Columbus Blue Jackets (170) at Edmonton Oilers (-200)
Pick: Lean Edmonton
Vancouver Canucks (120) at San Jose Sharks (-140)
Pick: Lean San Jose