Degen Show Part (4/20/21)
Your favorite Degens give you their Sports Bet Picks for 4/20/21. Listen to the Degen's NBA win totals episode, their MLB futures episode and Max's NHL Power rankings post.
Powered by RedCircle
---
Keep the Lights On Around Here!
Promocode: ABSOLUTEDEGEN
Promocode: ABSOLUTEDEGEN
---
The Degens! App
Grab the Degens App hangout, shoot the breeze and get even more content.
Android:
https://play.google.com/store/apps/details?id=io.gonative.android.xmmkqw&hl=en
iOS:
https://apps.apple.com/us/app/id1527907647
---
Max's Sports Bet Picks for 4/20/21
NBA
BKN (2.5) at NOP (-2.5)
Pick: Bet $20 BKN
Total: 231.5 (Lean Under – 225)
Predicted Score: BKN 115 – NOP 110
Notes: I'm starting to think that Harden, Durant and Kyrie are actually just two people sharing disguises. You never see the 3 of them on the court at the same time. Durant is out today and there is a chance Harden could play … soon. Just not tonight. New Orleans has lost 3 in a row – including 2 in OT. The Nets lost a close one to Miami even with Durant only playing 4 minutes of that game and Kyrie shooting 2-9 from 3. I think Brooklyn could still win this one but I'll take the points.
ORL (12.5) at ATL (-12.5)
Pick: Lean ORL
Total: 218.5 (Lean Over – 226)
Predicted Score: ORL 111 – ATL 115
Notes: Orlando has lost 4 of 5 including a loss to the lowly Rockets. Atlanta has been fairly sharp lately and is shooting the ball quite well. The Hawks are starting to get healthy but do have some question marks tonight. I have the Hawks winning but this is too much chalk for me to give up on them.
CHA (5.5) at NYK (-5.5)
Pick: Lean CHA
Total: 209.5 (Lean Over – 224)
Predicted Score: CHA 110 – NYK 114
Notes: LaMelo Ball will start practicing again which could mean a return this season. But he won't be there tonight to try and beat Julius Randle and the Knicks. New York has won 6 in a row and are 18-10 at home this season. Defense is still their bread and butter – ranking third in defensive efficiency in the league. One issue with the Knicks is they cannot defend the 3 at an elite level and Charlotte is a top 10 3-point shooting team. New York should win but I don't quite have them covering.
MIN (3.5) at SAC (-3.5)
Pick: Lean MIN
Total: 237.5 (Lean Over – 241)
Predicted Score: MIN 121 – SAC 120
Notes: After their loss to the Clippers two days ago, the T-Wolves have now lost 7 straight road games and are an abysmal 5-24 on the road this season. The Kings broke their losing streak and saved Luke Walton's job for now. The Kings' effective field goal % is on a decline and this could be a rare road win for Minnesota as a result.
LAC (-8.5) at POR (8.5)
Pick: Lean LAC
Total: 226.5 (Lean Under – 217)
Predicted Score: LAC 113 – POR 104
Notes: The Clippers should get the win here and I have them covering – but they aren't covering games ATS that consistently. Portland does not have Lillard again so the Blazers will struggle to keep up. A lean on the Clippers.
NHL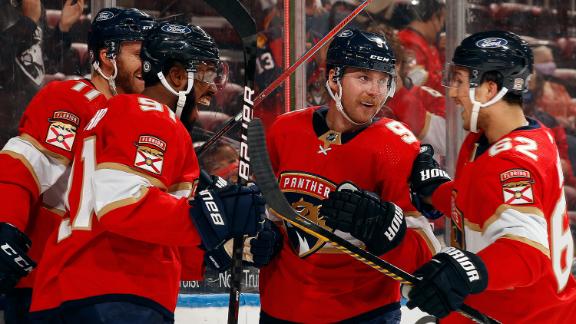 Columbus Blue Jackets (184) at Florida Panthers (-208)
Pick: Bet $20 Florida
Notes: Columbus is slumping badly right now and Florida is 15-4-3 at home. Screw it. $20 bet on the Panthers.
New York Rangers (116) at New York Islanders (-128)
Pick: Bet $20 New York Rangers
Notes: The Rangers just swept a 4 game series against the Devils but now they have a real challenge against the Islanders. The Islanders are 18-2-2 at home this season. One of those losses is to the Rangers a little over a week ago. And I think the Rangers could do it again. Not much I love today and wish there was more of a payout on the Rangers but still, $20 bet on the Rangers.
Boston Bruins (-280) at Buffalo Sabres (242)
Pick: Lean Buffalo
Notes: Boston is on a 4-game winning streak but don't look now! Buffalo has won 3 of 5 and almost beat Buffalo a week ago. Hell yeah there is some value here.
Carolina Hurricanes (105) at Tampa Bay Lightning (-118)
Pick: Lean Carolina
Notes: Carolina is not as good on the road as they are at home. But they nabbed a win over the Lightning on Monday. Not sure they can do it again but my metrics lean that way.
New Jersey Devils (222) at Pittsburgh Penguins (-254)
Pick: Lean New Jersey
Notes: The Devils suck and Penguins are 16-3-2 at home this year. But yeah, I still see value with the payout on NJ. Just no value if you lose. Lean on the Devils.
Detroit Red Wings (220) at Dallas Stars (-252)
Pick: Lean Detroit
Notes: Dallas got the win on Monday and more than likely do it again. Detroit is not very good on the road. But this payout pushes the implied probability in their direction.
Toronto Maple Leafs (-295) at Vancouver Canucks (254)
Pick: Lean Toronto
Notes: Vancouver will be playing a ton of games in a little bit of time. This team will be exhausted and pretty much a bet-against most nights. That's the case tonight but way too much chalk for me.
Anaheim Ducks (131) at Los Angeles Kings (-146)
Pick: Lean Los Angeles
Notes: The Kings have been off almost a week. Funny thing about both teams – they both are coming off consecutive losses to the Golden Knights. Los Angeles should nab a win today.
MLB
ARI (130) at CIN (-142)
Pitchers: Z. Gallen vs. L. Castillo
Pick: Bet $20 CIN
Notes: Damn, I hate the way the Reds have been playing lately but I think they bounce back today. Castillo has not been an ace this year and Zac with a C has looked solid. $20 bet on the Reds.
PIT (115) at DET (-124)
Pitchers: T. Anderson vs. M. Fulmer
Pick: Bet $20 DET
Notes: The Tigers just lost 4 in a row to Oakland while the Pirates stunned the Brewers – taking 2 of 3. I Like Fulmer on the mound today for Detroit and think they pull out a win.
BAL (103) at MIA (-111)
Pitchers: M. Harvey vs. N. Neidert
Pick: Bet $20 BAL
Notes: Miami has played some good baseball lately but Baltimore had a bounce back series against Texas. I like the Orioles' offense and still have a spot in my heart for Matt Harvey.
SF (144) at PHI (-156)
Pitchers: L. Webb vs. Z. Wheeler
Pick: Bet $20 PHI
Notes: Near Elite Zach Wheeler is on the bump today and he's been unhittable at home. The Phillies should get to Webb early and give Wheeler some cushion.
TOR (102) at BOS (-110)
Pitchers: H. Ryu vs. E. Rodriquez
Pick: Bet $20 TOR
Notes: Is Boston actually good? I guess they are. Rodriquez has been decent this season but Ryu should quiet the Boston bats today. The Toronto offense is starting to heat up and I like the Blue Jays to nab a win today.
TEX (173) at LAA (-190)
Pitchers: J. Lyles vs. S. Ohtani
Pick: Bet $20 TEX
Notes: Ohtani has looked good and Lyles is hittable. But the payout on Texas is nice and they have not been dreadful.
LAD (-194) at SEA (177)
Pitchers: J. Urias vs. M. Gonzalez
Pick: Lean LAD
Notes: Looks trappish.
CWS (-107) at CLE (-101)
Pitchers: C. Rodon vs. Z. Plesac
Pick: Lean CWS
Notes: Looks trappish.
MIN () at OAK ()
Pitchers: M. Shoemaker vs. S. Manaea
Pick: n/a
ATL (112) at NYY (-121)
Pitchers: C. Morton vs. J. Taillon
Pick: Lean NYY
Notes: Lucky is on the Braves.
STL (115) at WSH (-125)
Pitchers: A. Wainwright vs. P. Corbin
Pick: Lean WSH
NYM (-123) at CHC (114)
Pitchers: T. Walker vs. J. Arrieta
Pick: Lean NYM
Notes: Arrieta has been damn good at home this season but Tijuan Walker has not been too shabby. I like the Mets' bats to do some damage in the later innings and sneak out a road win.
TB () at KC ()
Pitchers: R. Hill vs. B. Keller
Pick: n/a
HOU () at COL ()
Pitchers: L. Garcia vs. J. Gray
Pick: n/a
MIN () at OAK ()
Pitchers: UNDECIDED vs. UNDECIDED
Pick:
MIL (106) at SD (-114)
Pitchers: C. Burnes vs. C. Paddack
Pick: Lean MIL
Notes: Paddack has not been an ace this year and Burnes looks amazing so far. He will regress but even still, the Brewers' bats are doing more damage than the Padres' right now.