Degen Show Part (4/5/21)
Your favorite Degens give you their Sports Bet Picks for 4/5/21. Listen to the Degen's NBA win totals episode, their MLB futures episode and Max's NHL Power rankings post.
Powered by RedCircle
---
Keep the Lights On Around Here!
Promocode: ABSOLUTEDEGEN
Promocode: ABSOLUTEDEGEN
---
The Degens! App
Grab the Degens App hangout, shoot the breeze and get even more content.
Android:
https://play.google.com/store/apps/details?id=io.gonative.android.xmmkqw&hl=en
iOS:
https://apps.apple.com/us/app/id1527907647
---
Max's Sports Bet Picks for 4/5/21
NBA
WAS (4.5) at TOR (-4.5)
Pick: Bet $20 TOR
Total: 228.5 (Lean Under – 216)
Predicted Score: WAS 105 – TOR 111
Overview: Washington has lost 3 in a row and their offense has not looked good. Toronto broke out of their skid with a big win over a depleted Warriors team. Bradley Beal missed the game on Saturday for the Wizards and is still on the injury report right now. Kyle Lowry remains out for Toronto and Fred VanVleet is also day-to-day. Still, the Raptors are shooting the ball much better lately and Washington has not been able to find much success on the road. The Raptors don't have homecourt advantage really, but at least they haven't had to travel since last Thursday. $20 bet on the Raptors.
SAC (-2.5) at MIN (2.5)
Pick: Bet $20 SAC
Total: 236.5 (Lean Under – 226)
Predicted Score: SAC 116 – MIN 110
Overview: D'Angelo Russell is listed as doubtful for today – which means he probably won't play but is getting close to NBA action. I've been burned on the Kings a lot lately and their 10-14 road record does not instill a ton of confidence. But Minnesota is a bad team. And despite the 3-game skid, the Kings are only 3 games out of the play-in game in the West and need to win the winnable games. Fuck my life. This is where I am at in NBA betting. $20 bet on the Kings.
UTA (-5.5) at DAL (5.5)
Pick: Bet $20 UTA
Total: 226.5 (Lean Under – 213)
Predicted Score: UTA 111 – DAL 102
Overview: Dallas returns home after a successful road trip – winning their last 4 games. Porzingis did get banged up a bit on the trip and is listed as questionable tonight. The Jazz are back to their winning ways and while they have not consistently been covering their spreads, I like them to do so tonight. $20 bet on the Jazz.
DET (-3) at OKC (3)
Pick: Lean OKC
Total: 213 (Lean Over – 217)
Predicted Score: DET 109 – OKC 108
Overview: Both of these teams played on Saturday and if you took their respective points scored and applied them to this game, the Thunder would have won 85-81. That's my way of saying that both teams' offenses are not very good right now.
NYK (5.5) at BKN (-5.5)
Pick: Lean NYK
Total: 217.5 (Lean Under – 210)
Predicted Score: NYK 106 – BKN 104
Overview: There's no real updates on Harden and Durant's injuries after they missed yesterday's game. There is optimism that Durant will play again soon though but the Nets are really missing the MVP right now – as Harden's play more than kept them afloat as Durant has been out. The Knicks broke a 3-game losing streak by dismantling Detroit. It improved their road record to 11-15 on the season. Brooklyn is a very good home team but cany Kyrie power this team to a win by himself? Maybe. I have the Knicks sneaking out a win here but I can only lean them.
CLE (9) at SAS (-9)
Pick: Lean CLE
Total: 215.5 (Lean Over – 216)
Predicted Score: CLE 107 – SAS 109
Overview: Cleveland has lost 5 in a row. The Spurs have lost 2 in a row but it took a combined 3 OTs to do it.
PHX (-11.5) at HOU (11.5)
Pick: Lean HOU
Total: 218.5 (Lean Over – 220)
Predicted Score: PHX 113 – HOU 107
Overview: John Wall is unlikely to play tonight for HOU. The Suns are (pun intended) hot right now and should get another win. I worry about them taking the foot off the pedal though.
NHL
Edmonton Oilers (117) at Montreal Canadiens (-129)
Pick: Bet Montreal
Notes: In an interesting twist this season, Carey Price is not the key to winning for Montreal as Jake Allen provides more value in net than the once mighty Price does. With the best player in the league in Connor McDavid in town tonight, you would think the Canadiens would want to go with Allen but as of now, Price is listed as the starter. I still think Montreal can pull out the win but I'd feel better if Allen got the start.
Philadelphia Flyers (149) at Boston Bruins (-166)
Pick: Lean Philadelphia
Notes: Philly has lost 2 in a row and the Bruins are coming off their win over the Penguins. The Boston offense looked good on Saturday. Defense? Not so much. Speaking of bad defense … the Flyers have been terrible – with both goalies playing awful lately. But they can get quality shots so if they exploit the cracks in Boston's defense, I like them at this plus line a little.
Ottawa Senators (168) at Winnipeg Jets (-188)
Pick: Lean Winnipeg
Notes: Ottawa has only 5 wins on the road this season and while the Jets are decent enough at home, this seems a little juiced for me. I have the Jets winning but don't want to pay that much for them.
Colorado Avalanche (-167) at Minnesota Wild (150)
Pick: Bet Minnesota
Notes: The Wild just beat Vegas twice in a row and now have to deal with the Avalanche. Colorado has won 4 straight.  I love Minnesota at home getting this big plus line. I don't love the line getting better for them with the money backing them. Still, there is value there.
Vegas Golden Knights (-137) at St. Louis Blues (124)
Pick: Bet Vegas
Notes: The Golden Knights will be pissed after dropping two in a row to Minnesota and should take it out on the mediocre Blues. St. Louis is banged up and have not found solid goaltending this season as Jordan Binnington has not looked like himself all year. The Blues have lost 6 straight and should be 7 after today.
Toronto Maple Leafs (-145) at Calgary Flames (125)
Pick: Lean Toronto
Notes: Toronto is very good on the road and should get the win today – avenging the loss from yesterday to Calgary. But I can only lean them.
Arizona Coyotes (-110) at Los Angeles Kings (-110)
Pick: Lean Los Angeles
Notes: Arizona is the hotter team – winning 4 of 5 games (including a sweep of the same San Jose team that took 2 in a row from LA). This is a coin flip game but a slight lean on LA to get the win.
MLB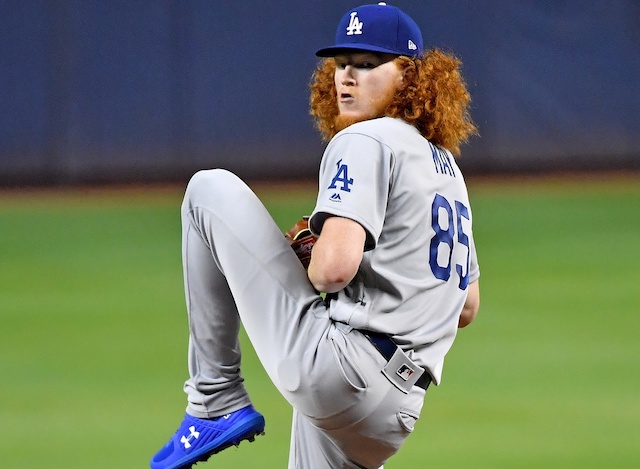 MIN (-148) at DET (136)
Pitchers: M. Shoemaker vs. J. Urena
Pick: Bet $20 MIN
Notes: The Twins find themselves tied with the Royals and Tigers in the AL Central. Who ever thought that would be a sentence anyone would ever say? After today, the Tigers should start falling out of that spot. I like the Twins to get a road win today.
HOU (105) at LAA (-114)
Pitchers: L. Garcia vs. J. Quintana
Pick: Bet $20 HOU
Notes: The Houston offense put up 35 runs in their 4-game sweep this past opening weekend. If that is a sign to come, the Astros could be a contender. The Angels start the season 3-1 and looked pretty good themselves. But I like Houston here to keep their winning streak going a little longer.
LAD (-155) at OAK (142)
Pitchers: D. May vs. F. Montas
Pick: Bet $20 LAD
Notes: The Dodgers hit their backend of the rotation – meaning former Red Sox starter David Price … still doesn't make the cut. Dustin May will get a shot against the A's – who were swept by the Astros to start the year. Well, looks like an 0-5 start is in the cards for them.
KC (109) at CLE (-118)
Pitchers: D. Duffy vs. L. Allen
Pick: Bet $20 CLE
Notes: I bet against the Royals the other day and it bit me in the ass. Well, I'm betting against them again today. Let's see if the Indians can do better than Texas did.
TB (-117) at BOS (108)
Pitchers: M. Wacha vs. N. Pivetta
Pick: Bet $20 BOS
Notes: I have also bet against the Rays twice this year and I'm 1-1. Let's see if that goes up to 2-1. I like the Red Sox here since I am familiar with the pitching style of one Michael Wacha. And he's not very good. Hoping the Boston offense can put this away early.
TOR (-151) at TEX (139)
Pitchers: S. Matz vs. M. Foltynewicz
Pick: Lean TEX
BAL (204) at NYY (-226)
Pitchers: J. Lopez vs. J. Montgomery
Pick: Lean BAL
STL (106) at MIA (-114)
Pitchers: D. Ponce de Leon vs. T. Rogers
Pick: Lean MIA
PIT (134) at CIN (-146)
Pitchers: J. Brubaker vs. J. De Leon
Pick: Lean CIN
NYM (-204) at PHI (185)
Pitchers: J. deGrom vs. M. Moore
Pick: Lean NYM
MIL (102) at CHC (-110)
Pitchers: B. Anderson vs. T. Williams
Pick: Lean MIL
SF (148) at SD (-162)
Pitchers: A. DeSclafani vs. A. Morejon
Pick: Lean SD
CWS (-123) at SEA (113)
Pitchers: C. Rodon vs. J. Sheffield
Pick: Lean SEA