Degen Show Part (6/7/21)
Your favorite Degens give you their Sports Bet Picks for 6/7/21. Listen to the Degen's NBA win totals episode, their MLB futures episode and Max's NHL Power rankings post.
Powered by RedCircle
---
Keep the Lights On Around Here!
Promocode: ABSOLUTEDEGEN
Promocode: ABSOLUTEDEGEN
---
The Degens! App
Grab the Degens App hangout, shoot the breeze and get even more content.
Android:
https://play.google.com/store/apps/details?id=io.gonative.android.xmmkqw&hl=en
iOS:
https://apps.apple.com/us/app/id1527907647
---
Max's Sports Bet Picks for 6/7/21
NBA
MIL (1.5) at BKN (-1.5)
Pick: Bet $10 MIL ML (103)
Total: 233.5 (Lean Under – 226)
Predicted Score: MIL 114 – BKN 112
Notes: James Harden lasted less than a minute in the last game – leaving after suffering another hamstring injury. Usually his less than a minute performances are with local strippers. But now the Brooklyn Nets will have to figure out how to win game 2 – and possibly beyond – without him in the lineup.
In game 1, they did plenty without him to beat the Bucks. However, I don't expect the Bucks to hit only 6 3-pointers while shooting 20%. Middleton was a big culprit there – shooting 0-5 from 3 and scoring only 13 points. If he can play a better game tonight, the Bucks should win.
And that's what I'm banking on. Milwaukee needs to jump on the chance to play Brooklyn without Harden and go back home tied 1-1 in the series. $10 ML bet on the Bucks.
DEN (4.5) at PHX (-4.5)
Pick: Bet $15 PHX ML (-192)
Total: 219.5 (Lean Over – 220)
Predicted Score: DEN 108 – PHX 112
Notes: It's only a 3-game sampling but if the regular season matchups between these two teams foreshadow this series, then we are in for a good one. Denver won the series 2-1 but the games were decided by less than 3 points in regulation, in OT and in double OT.
When Jamal Murray went down with an injury, I expected the Nuggets to be done with. But the trade for Aaron Gordon has helped and the progress of Michael Porter Jr. and Monte Morris have been huge. Add that to the MVP performance by Jokic and this team is still a very good one.
The Suns – when fully healthy – can matchup well with the Nuggets. Ayton can play tough defense on Jokic. Booker and Paul should give the Nuggets' backcourt fits. Nuggets' coach, Mike Malone, is familiar with Chris Paul and the Suns coach Monty Williams – as Malone served as an assistant in New Orleans when both were there. Maybe that gives Malone an edge in knowing how to defend against Williams' offense.
This should be another close game but I have Phoenix winning. $15 ML bet on the Suns.
NHL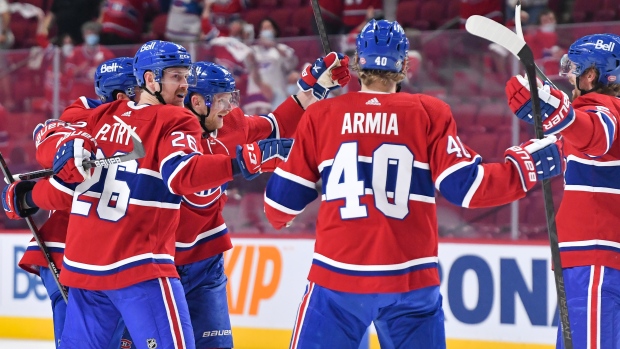 New York Islanders (166) at Boston Bruins (-186)
Pick: Bet $20 New York
Notes: These two teams continue to impress me in how they approach each game. In many ways, the Islanders are the bizarro world version of the Bruins. Each team plays defense, relies on goaltending and are opportunistic on offense. The Bruins have a bit more firepower but the Islanders make up for that by taking very good shots and taking advantage of mistakes.
The money is coming in on New York so the line movement is suspect. But with this plus line, hard to argue the value with the Islanders.
A $20 bet on the Islanders.
Winnipeg Jets (130) at Montreal Canadiens (-150)
Pick: Bet $20 Montreal
Notes: The team of destiny is a game away from sweeping the Jets. After an ass-kicking yesterday, the Jets have to be wondering what the hell is going on. It's very rare for a team to sweep a team in the first round only to get swept in the next.
Carey Price has proven to be the better goalie – despite how awesome Connor Hellebuyck has been all season – and the Canadiens have been the more aggressive team on offense. They are killing it in regards to expected goals per game and have doubled the Jets up on high danger shots.
At this point, I know its eating some chalk, but I can't bet against Montreal. They lose today, they win the next one. $20 bet on the Canadiens.
MLB
MIA (129) at BOS (-140)
Pitchers: P. Lopez (ERA: 3.08 – Road ERA: 5.08 – Avg. ML: 100) vs. N. Pivetta (ERA: 3.8 – Home ERA: 3.75 – Avg. ML: 101)
Pick: Bet $10 MIA
Notes: Miami avoided a 4-game sweep at the hands of the Pirates by winning yesterday. The Fish are only 13-21 on the road. Boston has won 4 in a row after sweeping their rival Yankees in New York. The Sox return home where they are only 16-13.
Pablo Lopez takes the mound for the Marlins. He's having a decent season but can't seem to get run support. His ERA is pretty high on the road – hovering above 5 – but he's been pitching better over his last 4 starts. Nick Pivetta is 6-1 but both his ERA and WHIP tell a story of how good the Red Sox offense can be.
The Marlins' offense does not stand a chance if the Red Sox bats are clicking. I'm banking on the Fish being able to steal a game in this series and it being this one with the Sox being a bit lackadaisical out there today.
$10 bet on the Marlins.
KC (118) at LAA (-127)
Pitchers: J. Kowar (n/a) vs. D. Bundy (ERA: 6.61 – Home ERA: 8.11 – Avg. ML: -103)
Pick: Bet $10 LAA
Notes: Dylan Bundy has not been very good this season and his 8.11 ERA at home does not make me want to bet the Angels today. But I am going to do it anyway.
The Royals will start Jackson Kowar today. He was promoted up from Triple AAA after posting a 0.85 ERA with 41 Ks and 10 walks through 31 2/3 innings. Jaokob Junis was demoted to make roster space for him.
I think Kowar will have a decent enough start. Whether he goes too far into the game, that's the question. The Royals' offense has been feast or famine lately while the Angels continue to put up runs – even without Mike Trout.
$10 bet on the Angels.
CHC (111) at SD (-120)
Pitchers: A. Alzolay (ERA: 3.7 – Road ERA: 3.73 – Avg. ML: 110) vs. R. Weathers (ERA: 2.45 – Home ERA: 2.54 – Avg. ML: -112)
Pick: Bet $10 CHC
Notes: Ryan Weathers' last start was 6 days ago. Against the Cubs. He pitched 5 innings and gave up 4 runs in a Padres loss. It was his first start that reached 5 innings all season. The Padres just split a 4-game series with the Mets while the Cubs avoided a 4-game sweep from the Giants with a win yesterday.
Chicago is 12-16 on the road this season and Alzolay hasn't been lights-out this season – but he has been much better lately, pitching 5 or more innings while giving up 3 or less runs over his last 7 starts.
I like the Cubs with a plus line here to steal a game from a Padres team that hasn't been consistent offensively all year. $10 bet on the Cubs.