Degen Show Part (7/2/21)
Your favorite Degens give you their Sports Bet Picks for 7/2/21. Listen to the Degen's NBA win totals episode, their MLB futures episode and Max's NHL Power rankings post.
Powered by RedCircle
---
Keep the Lights On Around Here!
Visit the Degen shop!
Promocode: ABSOLUTEDEGEN
---
The Degens! App
Grab the Degens App hangout, shoot the breeze and get even more content.
Android:
https://play.google.com/store/apps/details?id=io.gonative.android.xmmkqw&hl=en
iOS:
https://apps.apple.com/us/app/id1527907647
---
Max's Sports Bet Picks for 7/2/21
NBA
No NBA today. Thank Jebus.
NHL
Tampa Bay Lightning (-129) at Montreal Canadiens (117)
Pick: Bet $20 Montreal
Notes: The Montreal Canadiens get the interim coach back today meaning their interim interim coach can go back to not worrying about how the fuck to solve for the Tampa Bay Lightning. Tampa is aiming to being just the second NHL team to win back-to-back titles in the salary-cap Era.
Which sounds impressive but really that's only 15 years ago. And the Lightning basically cheated the cap this year anyway. And the Lightning were bubble champs last year.
But I digress.
Tampa held home ice and has outscored the Canadiens 8-2 in this series so far. The scary thing is that Tampa is being outplayed and winning. Montreal outshot Tampa 43-23 in game 2 and had a better expected goals and more high danger shots.
I said it the other day – Carey Price is the second best goalie in this series. Vasilevskiy has been unbelievable and sometimes that's all you need to win the Cup. And that's why they are so damn tough to beat.
But they can be beat. They have lost Game 3's each time in these playoffs and are heading to the Bell Centre in front of 3500 Canadiens fans that will feel like 35000. Value is still on Montreal and I am going down with the ship.
$20 bet on the Canadiens.
MLB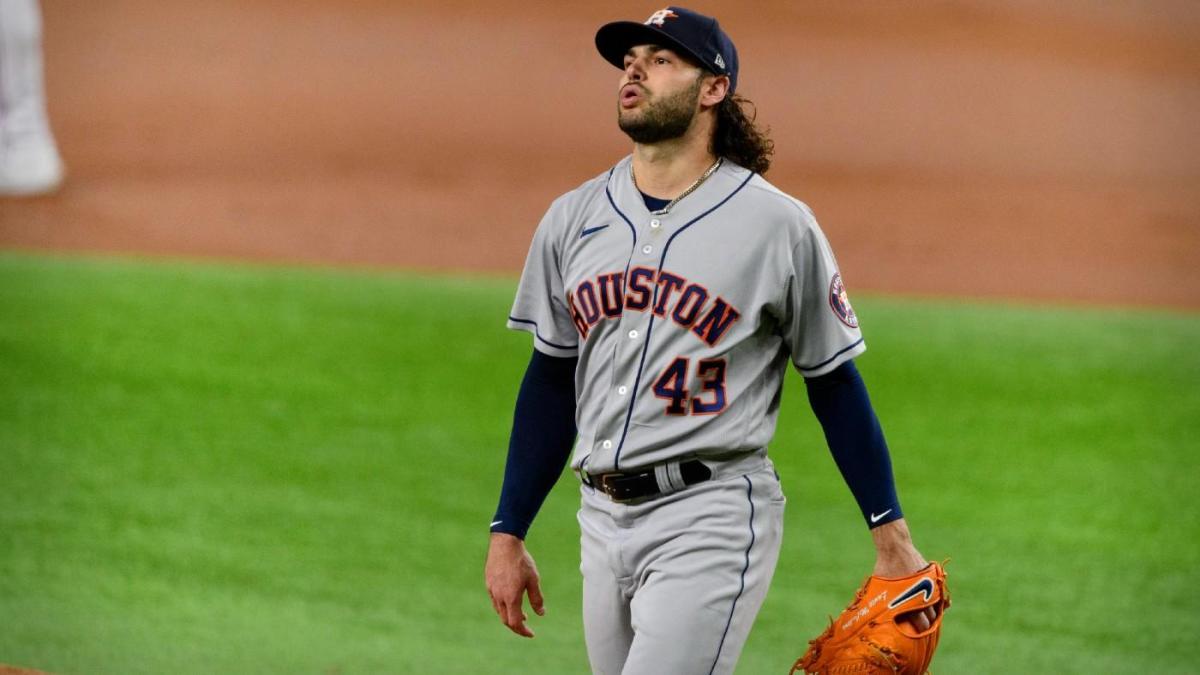 HOU (-178) at CLE (163)
Pitchers: L. McCullers Jr. (ERA: 2.98 – Road ERA: 2.88 – Avg. ML: -136) vs. S. Hentges (ERA: 7.97 – Home ERA: 5.71 – Avg. ML: 117)
Pick: Bet $10 HOU
Notes: I hit on the Astros yesterday and was tempted to walk away but I just couldn't. I have them winning again today and McCullers Jr. has been really good on the road while Hentges should be hit hard by this Astros team. Take away that 13-run outing, and this Cleveland offense has been dreadful lately. Houston should get it done today.
$10 bet on the Astros.
CWS (-149) at DET (137)
Pitchers: L. Lynn (ERA: 2.07 – Road ERA: 3.28 – Avg. ML: -132) vs. C. Mize (ERA: 3.53 – Home ERA: 4.04 – Avg. ML: 147)
Pick: Bet $10 DET
Notes: Lance Lynn has had a tremendous year but his road numbers are mortal in comparison. Casey Mize is having a decent enough year and Detroit has looked pretty good lately – winning 3 of 5 including a pair against Cleveland and a shocker over Houston.
I like the value in Detroit here today even if I have Chicago winning. Because its only a slight win today.
$10 on the Tigers.
BAL (149) at LAA (-162)
Pitchers: K. Akin (ERA: 7.81 – Road ERA: 9.26 – Avg. ML: 157) vs. G. Canning (ERA: 5 – Home ERA: 5.2 – Avg. ML: 102)
Pick: Bet $10 BAL
Notes: Another value play today. And I am basically tossing out starting pitching as it's a nonfactor on both sides because each pitcher is equally shitty. The Orioles just swept Houston so while unfathomable as it may seem that they could win 4 in a row, beating the Angels is doable for them.
LA has won 3 of4 after taking advantage of a lackluster Yankees team. You know, the same lackluster Yankees team that will probably sweep the fucking Mets this weekend.
But I digress again.
$10 bet on the Orioles.
SF (-144) at ARI (133)
Pitchers: A. Wood (ERA: 4.05 – Road ERA: 3.65 – Avg. ML: -112) vs. Z. Gallen (ERA: 3.83 – Home ERA: 4.15 – Avg. ML: 126)
Pick: Bet $10 SF
Notes: Maybe I am chasing waterfalls. I was wrong on the Giants yesterday and with Panther's wood fetish on the mound today, it's hard to resist betting San Francisco again today. I know Zac with a C is on the bump today for Arizona but come on… they can't win 2 in a row, right?
$10 bet on the Giants.
Leans
SD (107) at PHI (-126)
Pitchers: C. Paddack (ERA: 4.13 – Road ERA: 4.07 – Avg. ML: -156) vs. Z. Wheeler (ERA: 2.23 – Home ERA: 2.09 – Avg. ML: -107)
Pick: Lean SD
MIL (-117) at PIT (108)
Pitchers: A. Houser (ERA: 4.45 – Road ERA: 4.46 – Avg. ML: -108) vs. J. Brubaker (ERA: 3.92 – Home ERA: 2.77 – Avg. ML: 123)
Pick: Lean PIT
LAD (-105) at WSH (-103)
Pitchers: J. Urias (ERA: 4.02 – Road ERA: 3.64 – Avg. ML: -170) vs. M. Scherzer (ERA: 2.16 – Home ERA: 1.97 – Avg. ML: -124)
Pick: Lean WSH
NYM (125) at NYY (-136)
Pitchers: T. Walker (ERA: 2.41 – Road ERA: 3.38 – Avg. ML: -113) vs. J. Montgomery (ERA: 4.34 – Home ERA: 3.04 – Avg. ML: -130)
Pick: Lean NYY
TB () at TOR ()
Pitchers: L. Patino (ERA: 4.84 – Road ERA: 11.61 – Avg. ML: -111) vs. A. Manoah (ERA: 3.39 – Home ERA: 3.96 – Avg. ML: -122)
Pick: TBD
CHC (137) at CIN (-149)
Pitchers: A. Mills (ERA: 3.68 – Road ERA: 5.21 – Avg. ML: 107) vs. S. Gray (ERA: 3.64 – Home ERA: 3.49 – Avg. ML: -103)
Pick: Lean CHC
MIA () at ATL ()
Pitchers: P. Lopez (ERA: 3.25 – Road ERA: 4.36 – Avg. ML: -102) vs. D. Smyly (ERA: 4.87 – Home ERA: 5.93 – Avg. ML: -114)
Pick: TBD
STL (-106) at COL (-102)
Pitchers: J. Oviedo (ERA: 6.02 – Road ERA: 7.39 – Avg. ML: 110) vs. C. Gonzalez (ERA: 5.81 – Home ERA: 4.29 – Avg. ML: 155)
Pick: Lean STL
MIN (100) at KC (-109)
Pitchers: J. Happ (ERA: 6.01 – Road ERA: 8.04 – Avg. ML: -108) vs. B. Singer (ERA: 4.9 – Home ERA: 4.41 – Avg. ML: 107)
Pick: Lean KC
BOS (-107) at OAK (-102)
Pitchers: E. Rodriguez (ERA: 6.77 – Road ERA: 7.73 – Avg. ML: -103) vs. F. Montas (ERA: 4.83 – Home ERA: 4.79 – Avg. ML: -108)
Pick: Lean OAK
TEX (-100) at SEA (-108)
Pitchers: K. Gibson (ERA: 2.02 – Road ERA: 3.14 – Avg. ML: 131) vs. L. Gilbert (ERA: 4.42 – Home ERA: 6.72 – Avg. ML: 136)
Pick: Lean SEA