Degen Show (9/18/21)
Your favorite Degens give you their Sports Bet Picks for 9/18/21. Listen to the Degen's MLB futures episode or their mulligan after the All Star break.
Powered by RedCircle
---
Keep the Lights On Around Here!
Owning a casino isn't just for billionaires anymore…
Earn profits from Moonbet's premium blockchain-based online Sportsbook, Casino and eSports betting platform simply by holding MBET tokens.
Visit the Degen shop!
Promocode: ABSOLUTEDEGEN
Oddsjam is the best odds site on earth. Get the fastest line updates.
---
The Degens! App
Grab the Degens App hangout, shoot the breeze and get even more content.
Android:
https://play.google.com/store/apps/details?id=io.gonative.android.xmmkqw&hl=en
iOS:
https://apps.apple.com/us/app/id1527907647
---
Max's Sports Bet Picks for 9/18/21
NFL Week 2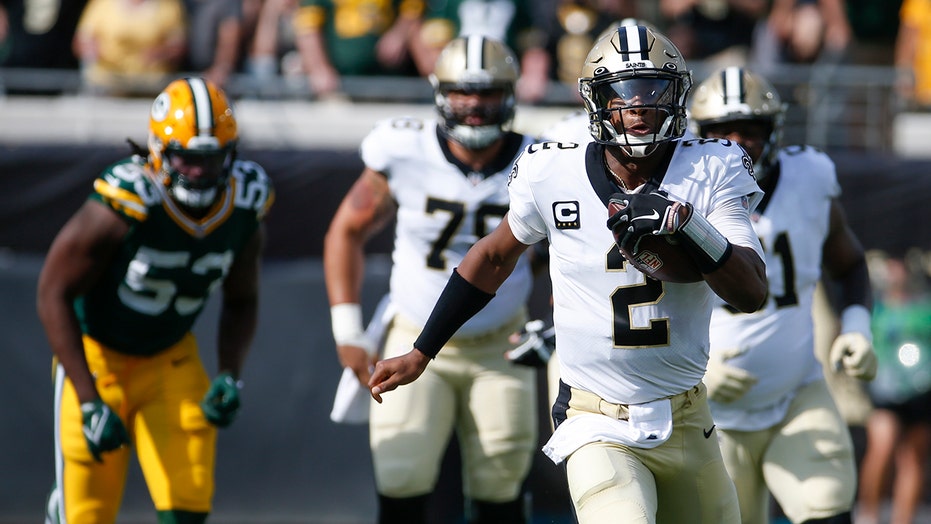 New Orleans vs. Carolina
Spread: Bet $50 New Orleans -3.5
Total: Lean Over 45 (51)
Predicted Score: New Orleans 32 – Carolina 18
Notes: Both teams got week 1 wins but it was New Orleans that looked very impressive in their blowout over the Frauds while the Panthers out Darnold'd the Jets. Both teams have a great running back as the focal point of their offense but it will be the QB that makes the difference this week. Sean Payton seems all in on Jameis Winston and his trust in him will be key to the Saints winning this season.
Winston threw for 5 TDs in week 1 and while its hard to believe he will repeat this week, he should still be able to move the ball against a Carolina defense that didn't have to work hard in week 1.
Saints will win on the road and easily cover. $50 bet on New Orleans.
Houston vs. Cleveland
Spread: Lean Houston +13
Total: Bet $50 Over 48 (59)
Predicted Score: Houston 32 – Cleveland 27
Notes: If week 1 was an indicator, these teams should put up some points. Sure, Houston did damage against a shitty Jacksonville team but the Browns defense did not look markedly better than the team in 2020 that gave up 26.6 points per game and 374 yards per game.
We sometimes forget that Tyrod Taylor was a Pro-Bowler who pushed the Bills to the playoffs and only missed last season because a doctor hired by Justin Herbert stabbed him in the chest before the first game. So I think he can put up some offense today. Mayfield will too.
So my bet on this one is a $50 bet on the over.
Cincinnati vs. Chicago
Spread: Bet $50 Cincinnati +2
Total: Lean Under 45 (40)
Predicted Score: Cincinnati 21 – Chicago 19
Notes: Joe Burrow will face off against the QB that led the Bengals for many years. Andy Dalton is keeping the seat warm for the eventual QB in Chicago but for at least another week, he gets the starting nod. Burrow connected with his former favorite receiver at LSU and soon to be his favorite NFL wide receiver for 101 yards and a TD in week 1. So the Burrow / Ja'Marr Chase connection in week 2 should be fun to watch.
Add in Joe Mixon and this Bengals offense should be as much of a handful for Chicago as the Rams were in week 1. I think Cincinnati goes on the road and gets the win. So I don't hate the moneyline play here. But it's too early in the season to do such things. So just a $50 bet on the Bengals with the points.
Las Vegas vs. Pittsburgh
Spread: Bet $50 Las Vegas +6.5
Total: Lean Over 47 (56)
Predicted Score: Las Vegas 31 – Pittsburgh 25
Notes: After beating the Ravens in dramatic fashion, the Raiders will try to go 2-0 against the AFC North as they travel to Pittsburgh to take on Svelte Ben and the Steelers. Pittsburgh was not great in week 1 – but they still managed a win over the Bills.
The Raiders will need to win this week without Josh Jacobs. Which means Kenyan Drake should get a good amount of work this week. The Steelers had one of the best defenses last season and they should once again this year. But the season is early and the Bills showed that there is some improvement needed. I think the Raiders could pull off a shocker this week.
Yet, I'll still take the points.
$50 bet on Las Vegas.
San Francisco vs. Philadelphia
Spread: Lean San Francisco -3
Total: Bet $50 Over 50 (60)
Predicted Score: San Francisco 32 – Philadelphia 28
Notes: We get to see if the Eagles are for real or not. The 49ers ran away with their week 1 matchup against the Lions only to take their foot off the gas in the second half. They still managed to put up 41 points. The Eagles put up 32 points in week 1. Granted that was against a Falcons team that was one of the worst defenses in the NFL last season – giving up 398 yards per game and 26 points per game.
Even in an off year last season, the 49ers managed to have a stout defense. Still, they did give up 33 points in mostly garbage time last week. And I think some points will be scored this week too.
$50 bet on the over.
New England vs. NY Jets
Spread: Lean NY Jets +6
Total: Bet $50 Under 43 (32)
Predicted Score: New England 19 – NY Jets 13
Notes: I've talked about some overs and some teams that can score points. Now let's look at a very low total. And its low for a reason. Neither the Patriots nor the Jets have top tier offenses and both will trot out a rookie QB – the first time ever each team has had a rookie QB against each other in the same game. Last season, the Patriots had the 6th worst scoring offense. The Jets were dead last.
I just don't see either team making incredible jumps offensively this season. $50 bet on the under.
Leans
Buffalo vs. Miami
Spread: Lean Buffalo -3.5
Total: Lean Under 48 (44)
Predicted Score: Buffalo 25 – Miami 19
LA Rams vs. Indianapolis
Spread: Lean Indianapolis +3.5
Total: Lean Over 47.5 (48)
Predicted Score: LA Rams 25 – Indianapolis 23
Denver vs. Jacksonville
Spread: Lean Denver -6
Total: Lean Under 45 (45)
Predicted Score: Denver 26 – Jacksonville 19
Minnesota vs. Arizona
Spread: Lean Arizona -3.5
Total: Lean Over 51 (56)
Predicted Score: Arizona 31 – Minnesota 25
Atlanta vs. Tampa Bay
Spread: Lean Tampa Bay -12
Total: Lean Under 51 (48)
Predicted Score: Tampa Bay 31 – Atlanta 17
Tennessee vs. Seattle
Spread: Lean Seattle -6.5
Total: Lean Over 53.5 (55)
Predicted Score: Seattle 31 – Tennessee 24
Dallas vs. LA Chargers
Spread: Lean Dallas +3.5
Total: Lean Under 54.5 (45)
Predicted Score: Dallas 24 – LA Chargers 21
Kansas City vs. Baltimore
Spread: Lean Kansas City -3.5
Total: Lean Over 54.5 (56)
Predicted Score: Kansas City 30 – Baltimore 26
MLB
BAL (232) at BOS (-260)
Pitchers: Z. Lowther (ERA: 13.37 – Road ERA: 0 – Avg. ML: 139) vs. N. Pivetta (ERA: 4.61 – Home ERA: 5.74 – Avg. ML: -106)
Pick: Bet $10 BOS
SEA (-114) at KC (105)
Pitchers: Y. Kikuchi (ERA: 4.25 – Road ERA: 4.26 – Avg. ML: 120) vs. K. Bubic (ERA: 5.58 – Home ERA: 5.17 – Avg. ML: 130)
Pick: Bet $10 KC
SD (107) at STL (-116)
Pitchers: Y. Darvish (ERA: 4.43 – Road ERA: 6.54 – Avg. ML: -158) vs. A. Wainwright (ERA: 2.91 – Home ERA: 2.73 – Avg. ML: -112)
Pick: Bet $10 STL
OAK (-122) at LAA (112)
Pitchers: D. Jefferies (ERA: 5.4 – Road ERA: 5.4 – Avg. ML: 111) vs. J. Suarez (ERA: 4.42 – Home ERA: 5 – Avg. ML: 122)
Pick: Bet $10 LAA
Leans
CLE (164) at NYY (-180)
Pitchers: A. Civale (ERA: 3.87 – Road ERA: 3.45 – Avg. ML: -105) vs. L. Gil (ERA: 2.96 – Home ERA: 2.96 – Avg. ML: -138)
Pick: Lean NYY
LAD (-184) at CIN (168)
Pitchers: M. Scherzer (ERA: 2.2 – Road ERA: 2.48 – Avg. ML: -128) vs. S. Gray (ERA: 3.94 – Home ERA: 4.84 – Avg. ML: -114)
Pick: Lean LAD
MIN (156) at TOR (-170)
Pitchers: B. Ober (ERA: 4.29 – Road ERA: 3.99 – Avg. ML: 106) vs. S. Matz (ERA: 3.97 – Home ERA: 4.27 – Avg. ML: -123)
Pick: Lean TOR
COL (106) at WSH (-114)
Pitchers: K. Freeland (ERA: 4.8 – Road ERA: 4.25 – Avg. ML: 148) vs. P. Corbin (ERA: 6.09 – Home ERA: 6.05 – Avg. ML: 115)
Pick: Lean WSH
DET (163) at TB (-178)
Pitchers: T. Skubal (ERA: 4.31 – Road ERA: 5.02 – Avg. ML: 131) vs. R. Yarbrough (ERA: 5.54 – Home ERA: 5.48 – Avg. ML: -107)
Pick: Lean DET
PIT (118) at MIA (-127)
Pitchers: B. Wilson (ERA: 5.02 – Road ERA: 3.75 – Avg. ML: 141) vs. E. Cabrera (ERA: 7.01 – Home ERA: 7.68 – Avg. ML: 169)
Pick: Lean MIA
CWS (-215) at TEX (195)
Pitchers: L. Lynn (ERA: 2.5 – Road ERA: 2.15 – Avg. ML: -134) vs. S. Howard (ERA: 6.89 – Home ERA: 10.7 – Avg. ML: 128)
Pick: Lean CWS
ARI (232) at HOU (-259)
Pitchers: H. Castellanos (ERA: 4.66 – Road ERA: 5.29 – Avg. ML: 141) vs. L. McCullers Jr. (ERA: 3.18 – Home ERA: 3.66 – Avg. ML: -146)
Pick: Lean HOU
PHI (-111) at NYM (102)
Pitchers: A. Nola (ERA: 4.7 – Road ERA: 5.67 – Avg. ML: -130) vs. C. Carrasco (ERA: 5.65 – Home ERA: 6.72 – Avg. ML: 104)
Pick: Lean NYM
CHC (266) at MIL (-300)
Pitchers: J. Steele (ERA: 5.63 – Road ERA: 2 – Avg. ML: 163) vs. C. Burnes (ERA: 2.21 – Home ERA: 2.76 – Avg. ML: -150)
Pick: Lean MIL
ATL (115) at SF (-135)
Pitchers: C. Morton (ERA: 3.48 – Road ERA: 2.8 – Avg. ML: -136) vs. A. Wood (ERA: 4.54 – Home ERA: 4.77 – Avg. ML: -120)
Pick: Lean SF