Degen Show (9/20/21)
Your favorite Degens give you their Sports Bet Picks for 9/20/21. Listen to the Degen's MLB futures episode or their mulligan after the All Star break.
Powered by RedCircle
---
Keep the Lights On Around Here!
Owning a casino isn't just for billionaires anymore…
Earn profits from Moonbet's premium blockchain-based online Sportsbook, Casino and eSports betting platform simply by holding MBET tokens.
Visit the Degen shop!
Promocode: ABSOLUTEDEGEN
---
The Degens! App
Grab the Degens App hangout, shoot the breeze and get even more content.
Android:
https://play.google.com/store/apps/details?id=io.gonative.android.xmmkqw&hl=en
iOS:
https://apps.apple.com/us/app/id1527907647
---
Max's Sports Bet Picks for 9/20/21
NFL Week 2: Max's Touchdown
Week 2 Injuries: A slew of injuries that will shake things up in the NFL. Andy Dalton was knocked out and Justin Fields replaced him. Carson Wentz injured his ankle. Tyrod Taylor was hurt. Jarvis Landry hurt his MCL. TJ Watt hurt his groin. Tua got knocked out in the Dolphins' blowout loss.And the 49ers lost 3.Yes, 3, running backs on the same day.Yikes.
Raiders for Real: The KOD could not kill the Raiders from going into Pittsburgh and showing that they are the real deal. Derek Carr was sensational and clearly outplayed Big Ben.Watch out AFC. Here come the Raiders.
Baker Man Rises to the Occasion: One QB who shook off an injury to lead his team to a win was Baker Mayfield. He was being outplayed by Tyrod before their respective injuries. But he helped avoid an 0-2 start for the Browns.
Who Needs an Offense Anyway?: Joe Burrow and Ja'Marr Chase connected for a TD. The 42 yard connection between the two was half of the Bears' QB's throwing totals. When people shit on Mitch Trubisky, let's remember this game where the Red Rifle and Justin Fields combined for 83 fucking passing yards.The Bears still won, so, I guess fuck me. But let's see how many more games they can win if their passing totals are that awful.
The 2-0 Club: The West continues to be the best. The Raiders, Broncos, Rams, Cardinals and Niners are all 2-0. The NFC South has a pair of 2-0 teams with the Bucs and Panthers. No other divisions have an unbeaten team.
The 0-2 Club: The Jets, Colts, Jaguars, Giants, Vikings, and Falcons are all 0-2 to start the year. Another team could be 0-2 – barring a tie – after tonight. The Titans snuck out an OT win to avoid going 0-2 and allowing the Texans to be in the sole spot for first place in the AFC South.A ballsy move prevented the Ravens from going 0-2. The New York teams are probably lottery bound again.Also, a giant middle-finger salute to Kirk Cousins and the Vikings because having talent and using it to win games is two totally different fucking things.
The Ghost of Sam Darnold: Panther will do his where he was right and where he was wrong and to steal some thunder, I was wrong about New Orleans stomping on Carolina. Carolina beat the Saints 26-7 with Sam Darnold outperforming Jameis Winston by a lot. Winston went 11-22 for 111 yards, 0 TDs and 2 INTs. Darnold was 26-38 for 305 yards 2 TDs and 1 INT.But the thing that makes his performance even better is the fact that Zach Wilson of the Jets – the guy who usurped him in New York – was 19-33 for 210 yards with 0 TDs and 4 INTs. That, ladies and gentleman, is fitting for a Jets organization that continues to embarrass themselves.Now don't take this a knock on Wilson. Lord knows he'll get dealt to the Broncos next year and lead them to a fucking Super Bowl. No, this is a pure indictment on the Jets' management – who wasted Darnold with Gase has his head coach and then jettisoned him before giving him a shot to prove he's better than the shitshow Gase created.Well, through 2 games this season, he's looked better than he has in his whole career.
And that's Max's Week 2 TD.
Record: 3-3
Spread: 1-2
Bet $50 New Orleans -3.5 – Loss
Bet $50 Cincinnati +2 – Loss
Bet $50 Las Vegas +6.5 – Win
Totals: 2-1
Bet $50 Over 48 (59) – Win
Bet $50 Over 50 (60) – Loss
Bet $50 Under 43 (32) – Win
NFL Week 2 Monday Night Football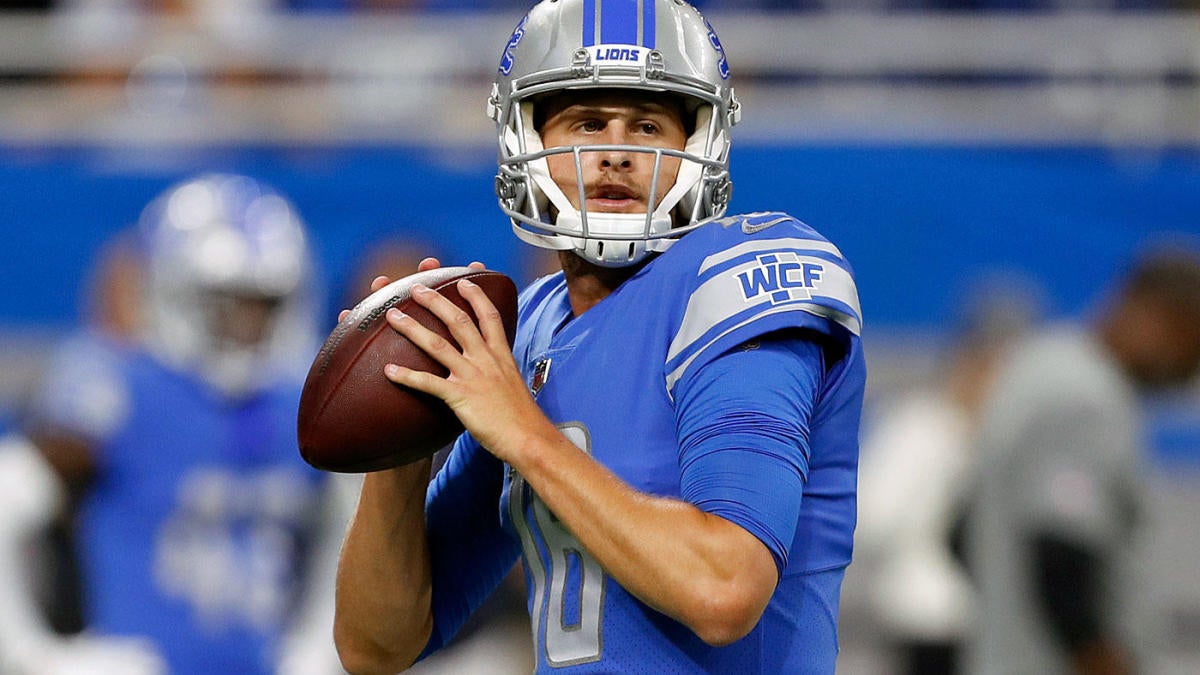 Detroit vs. Green Bay
Spread: Bet $50 Detroit +11.5
Total: Lean Over 48.5 (49)
Predicted Score: Green Bay 26 – Detroit 23
Notes: After being embarrassed in week 1 and being pulled for Jordan Love, you would have to expect Aaaron Rodgers to come out and have a great game. It's Monday Night Football and its in from of the home crowd. If the opposite happens, then our conspiracy theory from last week gets even stronger.
I mean, they lost 38-3 to a Saints team that looked feeble against Sam Darnold this week. Now they get to face off against a Lions team that no longer has Matt Stafford at QB. Other than injuries, the Packers and Rodgers have seen Stafford's face consistently for a decade. Now Stafford is gone and got what Rodgers wanted: a fresh start elsewhere.
In replace of Stafford is Jared Goff – who padded some stats in garbage time last week against the Niners. Still, it was probably the best he's looked throwing the ball in years.
Rodgers has owned the Lions in Lambeau over the years – going 9-2 with 21 TDs and only 4 INTs. The Packers should bounce back and avoid going 0-2 to start the year. But I don't think they cover here. Maybe this is the game that will prove that Rodgers' heart is still in it for this season. But until I see that, no way I trust him with a double digit spread.
$50 bet on the Lions with the points. As for the total, it's close – but should be a slight over.
MLB
PIT (150) at CIN (-163)
Pitchers: D. Peters (ERA: 2.72 – Road ERA: 1.8 – Avg. ML: 159) vs. V. Gutierrez (ERA: 4.31 – Home ERA: 4.99 – Avg. ML: 107)
Pick: Bet $10 PIT
Notes: The Reds are now 3 games back of the Cardinals in the second Wild Card spot and part of that is going 3-7 over their last 10 games. 2 of those losses came at the hands of the Pirates. Dillon Peters will get the start for the Pirates. He's looked good in his limited time for the Pirates and maybe he's finally meeting the expectations that resulted in Miami drafting him 7 years ago.
He's a groundball pitcher and if his control is on, he could limit the damage by the Reds' offense. An offense that was great all season but has sputtered lately – ranking dead last in runs scored and batting average the past 2 weeks.
The value is with the Pirates today. $10 bet on Pittsburgh.
CWS (-225) at DET (203)
Pitchers: C. Rodon (ERA: 2.3 – Road ERA: 2.14 – Avg. ML: -141) vs. M. Manning (ERA: 5.98 – Home ERA: 4.5 – Avg. ML: 141)
Pick: Bet $10 CWS
Notes: The Tigers went on the road and took 2 of 4 from the Rays. Now they return home where they are an above .500 team and hosting a White Sox team that is below .500 on the road. The question marks around the White Sox road play – and in general their ability to play to their potential – has plagued them all season.
Chicago definitely has the pitching advantage here as Rodon is a Cy Young candidate and Manning once read a Wikipedia article about who Cy Young was. Or skimmed it, at least.
Chicago should get the win here and I'd also probably eye the under. Both teams have struggled to score as of late and with Rodon on the mound, you probably could see a shutout through about 6 innings from him.
$10 bet on the White Sox.
HOU (-211) at LAA (191)
Pitchers: F. Valdez (ERA: 3.3 – Road ERA: 3.45 – Avg. ML: -144) vs. J. Barria (ERA: 4.25 – Home ERA: 3.55 – Avg. ML: 138)
Pick: Bet $10 HOU
Notes: The Angels just got swept this weekend by the A's and while all 3 games were close, the issues with their offense were on clear display. Over the last two weeks, their batting average and runs scored is only better than the aforementioned Reds.
Houston will put Framber Valdez on the mound – who has been shaky his last 2 starts – but has a chance to get back to early-season form against this lackluster offense. It's chalky, but I like Houston to get the win today.
$10 bet on the Astros.
Leans
KC (120) at CLE (-143)
Pitchers: B. Singer (ERA: 5.18 – Road ERA: 5.24 – Avg. ML: 117) vs. T. McKenzie (ERA: 4.12 – Home ERA: 3.6 – Avg. ML: 113)
Pick: Lean CLE
WSH (-101) at MIA (-107)
Pitchers: E. Fedde (ERA: 5.29 – Road ERA: 5.41 – Avg. ML: 132) vs. J. Luzardo (ERA: 6.7 – Home ERA: 5.56 – Avg. ML: 117)
Pick: Lean MIA
TEX (233) at NYY (-260)
Pitchers: A. Alexy (ERA: 0 – Road ERA: 0 – Avg. ML: 133) vs. N. Cortes Jr. (ERA: 2.8 – Home ERA: 2.74 – Avg. ML: -122)
Pick: Lean NYY
BAL (179) at PHI (-196)
Pitchers: J. Means (ERA: 3.48 – Road ERA: 2.49 – Avg. ML: 125) vs. R. Suarez (ERA: 1.94 – Home ERA: 1.82 – Avg. ML: -125)
Pick: Lean PHI
TOR (-123) at TB (114)
Pitchers: R. Ray (ERA: 2.6 – Road ERA: 3.18 – Avg. ML: -130) vs. S. Baz (ERA: 0 – Home ERA: 0 – Avg. ML: 0)
Pick: Lean TB
KC (129) at CLE (-140)
Pitchers: C. Hernandez (ERA: 3.88 – Road ERA: 1 – Avg. ML: 131) vs. Undecided (ERA: 0 – Home ERA: 0 – Avg. ML: 0)
Pick: Lean CLE
STL (192) at MIL (-212)
Pitchers: J. Woodford (ERA: 5.09 – Road ERA: 5 – Avg. ML: 133) vs. F. Peralta (ERA: 2.64 – Home ERA: 2.56 – Avg. ML: -140)
Pick: Lean STL
ATL (-213) at ARI (175)
Pitchers: H. Ynoa (ERA: 3.37 – Road ERA: 4.44 – Avg. ML: -124) vs. H. Mejia (ERA: 4.91 – Home ERA: 0 – Avg. ML: 144)
Pick: Lean ATL
SEA (143) at OAK (-156)
Pitchers: T. Anderson (ERA: 4.21 – Road ERA: 5.01 – Avg. ML: 126) vs. S. Manaea (ERA: 4.01 – Home ERA: 3.97 – Avg. ML: -114)
Pick: Lean OAK