Degen Show Part (4/27/21)
Your favorite Degens give you their Sports Bet Picks for 4/27/21. Listen to the Degen's NBA win totals episode, their MLB futures episode and Max's NHL Power rankings post.
Powered by RedCircle
---
Keep the Lights On Around Here!
Promocode: ABSOLUTEDEGEN
Promocode: ABSOLUTEDEGEN
---
The Degens! App
Grab the Degens App hangout, shoot the breeze and get even more content.
Android:
https://play.google.com/store/apps/details?id=io.gonative.android.xmmkqw&hl=en
iOS:
https://apps.apple.com/us/app/id1527907647
---
Max's Sports Bet Picks for 4/27/21
NBA
MIN (-1.5) at HOU (1.5)
Pick: Bet $20 MIN
Total: 229.5 (Lean Under – 228)
Predicted Score: MIN 117 – HOU 111
Notes: John Wall will miss the remainder of the season for Houston as the Rockets, losers of 4 straight, host a T-Wolves team that just beat the Jazz in back-to-back games. Betting on Minnesota on the road still scares me. A 7-25 road team is not a team you want to usually lay money on. But they have won 2 recent road games and Houston is a terrible 7-23 at home. So this is what my NBA betting season has come down to. $20 bet on the Timberwolves.
DAL (-1.5) at GSW (1.5)
Pick: Bet $20 GSW
Total: 225.5 (Lean Over – 223)
Predicted Score: DAL 108 – GSW 115
Notes: Porzingis missed the Monday game and should play today and be ready for a matchup against Steph Curry and crew. The Mavs lost last night to the Kings without Porzingis in the lineup and now head Southwest to play a Warriors team that has won 3 out of 4 games. And yes, I had to Google where Sacramento is to confirm its location in California compared to San Francisco. I mean, who fucking lives in Sacramento? But I digress. Steph Curry has a playoff push in mind and possibly an MVP award to win. I like the Warriors to get the win tonight but I'll take whatever points I can get. $20 bet on Golden State.
POR (-4.5) at IND (4.5)
Pick: Lean IND
Total: 233.5 (Lean Under – 225)
Predicted Score: POR 112 – IND 113
Notes: Sabonis and Turner are still out for Indy but the Pacers have managed to win 3 in a row. Granted, it was Orlando, Detroit and OKC. The Blazers have lost 5 in a row but many of those have been close. I have this as a close one here too.
MIL (-9.5) at CHA (9.5)
Pick: Lean CHA
Total: 223.5 (Lean Under – 219)
Predicted Score: MIL 112 – CHA 107
Notes: LaMelo Ball is still out but could be back soon for Charlotte. The Hornets have managed to win at home lately while the Bucks have remained an inconsistent team – dropping a road loss to the Hawks on Sunday. I like Milwaukee to snap Charlotte's home win streak but I don't like them enough to bet them.
OKC (10.5) at BOS (-10.5)
Pick: Lean OKC
Total: 215.5 (Lean Over – 216)
Predicted Score: OKC 104 – BOS 112
Notes: Jayson Tatum and Kemba Walker are out for Boston as the Celtics return home after losing consecutive games on the road. The Thunder lost their 14th game last night and it is hard to imagine them not losing their 15th in a row tonight. But crazier things have happened. Too many points here despite OKC once again losing by a massive amount last night. I have Boston trust issues.
BKN (-6.5) at TOR (6.5)
Pick: Lean TOR
Total: 231.5 (Lean Under – 225)
Predicted Score: BKN 112 – TOR 113
Notes: Kevin Durant came off the bench in the Nets' last game and he did some damage on the floor. Brooklyn has won two in a row since their road loss to Toronto six days ago. The Raptors have been playing much better basketball lately but a lot has been against lesser competition. Not a game I want to bet on here.
NHL
Florida Panthers (-120) at Nashville Predators (107)
Pick: Bet $20 Florida
Notes: Gambler's fallacy here. Nashville took game 1 yesterday against the Panthers and I just don't see them winning two in a row. Granted, I didn't have them winning yesterday either and 4 goals later they did just that. Still, the Panthers do very well on the second night of back-to-backs against the same opponent – hat tip to Ty McCoy for posting that at the site – so I will double dip here.
Tampa Bay Lightning (-185) at Chicago Blackhawks (165)
Pick: Bet $20 Chicago
Notes: Chicago is a solid value play today. The Lightning have been beatable on the road and the Blackhawks have played them tough this season. I'm going to take a flyer on Chicago here with a $20 bet.
Boston Bruins (-111) at Pittsburgh Penguins (100)
Pick: Lean Boston
Notes: I missed on my bet on Boston on Sunday as the Penguins beat them 1-0 to win their 4th straight. Pittsburgh is 20-3-2 at home so the value looks to get them without a minus line here. But my metrics still favor a healthy Bruins team here.
Buffalo Sabres (258) at New York Rangers (-301)
Pick: Lean New York
Notes: As bad as my NHL has gone lately I thought about betting the Rangers here just to get a win. I don't think they lose two in a row to Buffalo. But that 6-3 loss on Sunday probably still stings for them.
Detroit Red Wings (127) at Columbus Blue Jackets (-141)
Pick: Lean Detroit
Notes: Columbus is on a losing streak but their opponents have been tough. And those were road games. The Blue Jackets are a bit better at home and Detroit has struggled on the road. Still, I think the value is on the Red Wings here.
New York Islanders (-101) at Washington Capitals (-111)
Pick: Lean Washington
Notes: The Capitals just beat the Islanders in consecutive games – outscoring them 7-3. New York has not been good on the road but the money is hammering them right now so maybe someone knows something I don't. A lean on Washington.
Philadelphia Flyers (-130) at New Jersey Devils (117)
Pick: Lean Philadelphia
Notes: The Devils had the Flyers dead to rights on Sunday but Philly scored twice in the final 2 minutes and then won the shootout. So the line seems to indicate that NJ will nab the win today and break their losing streak. My metrics still favor Philly.
Carolina Hurricanes (-126) at Dallas Stars (112)
Pick: Lean Dallas
Notes: Dallas nabbed the first game here and I have them taking the second game too. But it is close so only a lean.
MLB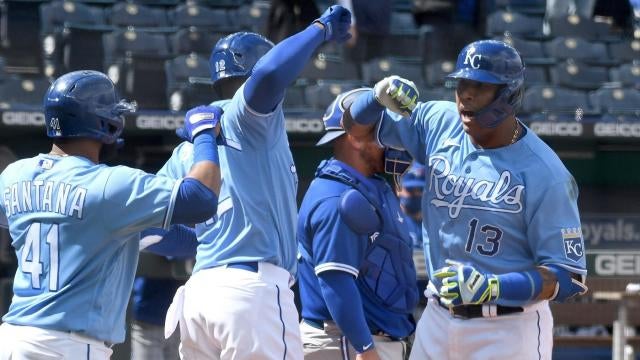 KC (-114) at PIT (105)
Pitchers: J. Junis (ERA: 4.2 – Road ERA: 0 – Avg. ML: 130) vs. T. Anderson (ERA: 4.01 – Home ERA: 3.53 – Avg. ML: 147)
Pick: Bet $20 KC
Notes: The Royals are 14-7 and are in first place in the AL Central. They head to Pittsburgh to face a Pirates team that has not been as shitty as expected. Still, the Royals should continue their winning ways and take game 1 of this series. $20 bet on KC.
WSH (-117) at TOR (108)
Pitchers: M. Scherzer (ERA: 1.8 – Road ERA: 1.5 – Avg. ML: 108) vs. T. Thornton (ERA: 0 – Home ERA: n/a – Avg. ML: 113)
Pick: Bet $20 TOR
Notes: When you see Scherzer on the mound at this type of moneyline you would be tempted to jump on him. But I think the value is Toronto at home. I am still waiting on the Blue Jays offense to click but their pitching has held its own so far. $20 bet on Toronto.
BOS (128) at NYM (-139)
Pitchers: G. Richards (ERA: 6.67 – Road ERA: 1.8 – Avg. ML: -110) vs. D. Peterson (ERA: 6.87 – Home ERA: 1.5 – Avg. ML: 107)
Pick: Bet $20 NYM
Notes: This is a winnable game for the Red Sox. So why am I on the Mets? I'm a glutton for punishment. The Mets are a much better home team so far this season and Peterson has thrived in the pitcher friendly Citi Field. I think the Mets have a good shot at sweeping the Red Sox and keeping their mirage going for a bit longer. $20 bet on New York.
LAA (-150) at TEX (138)
Pitchers: J. Quintana (ERA: 9.68 – Road ERA: 37.5 – Avg. ML: -106) vs. M. Foltynewicz (ERA: 5.32 – Home ERA: 5.63 – Avg. ML: 141)
Pick: Bet $20 LAA
Notes: The Angels started off hot and then cooled down. And now they are they team we expected them to be. Just, so so. Texas has started to regress and part of that is bad play at home. I like the Angels to win this one today. $20 bet on Anaheim Los Angeles.
SEA (164) at HOU (-179)
Pitchers: M. Gonzalez (ERA: 1.29 – Road ERA: 0 – Avg. ML: 177) vs. C. Javier (ERA: 1.36 – Home ERA: n/a – Avg. ML: -101)
Pick: Bet $20 HOU
Notes: I have hit on Javier before and I like him with the start today. Gonzalez has been a shining star for the Seattle Mariners but still, I like the Astros to nab another win. $20 bet on Houston.
SD (-158) at ARI (145)
Pitchers: C. Paddack (ERA: 3.5 – Road ERA: 4 – Avg. ML: -156) vs. M. Kelly (ERA: 7.71 – Home ERA: n/a – Avg. ML: 156)
Pick: Bet $20 ARI
Notes: The Padres are riding high after winning 3 of 4 from the Dodgers. Now they crash to reality to face a surprisingly good Arizona team. Can the D-Backs nabe the series? I think so. $20 bet on Arizona.
Leans
NYY (-181) at BAL (165)
Pitchers: C. Kluber (ERA: 5.66 – Road ERA: 8.85 – Avg. ML: -132) vs. B. Zimmermann (ERA: 4.67 – Home ERA: 4.09 – Avg. ML: 119)
Pick: Lean NYY
MIN (-112) at CLE (103)
Pitchers: K. Maeda (ERA: 6.28 – Road ERA: 6.87 – Avg. ML: -128) vs. A. Civale (ERA: 2.49 – Home ERA: 2.2 – Avg. ML: -110)
Pick: Lean CLE
OAK (-116) at TB (107)
Pitchers: F. Montas (ERA: 6.92 – Road ERA: 1.5 – Avg. ML: 116) vs. M. Wacha (ERA: 3.89 – Home ERA: n/a – Avg. ML: 109)
Pick: Lean TB
CHC (149) at ATL (-163)
Pitchers: T. Williams (ERA: 4.71 – Road ERA: 14.52 – Avg. ML: -110) vs. I. Anderson (ERA: 3.38 – Home ERA: 6.24 – Avg. ML: -117)
Pick: Lean CHC
MIA (141) at MIL (-154)
Pitchers: D. Castano (ERA: 3.6 – Road ERA: 5.4 – Avg. ML: 133) vs. A. Houser (ERA: 3.44 – Home ERA: 4.95 – Avg. ML: 112)
Pick: Lean MIA
PHI (-106) at STL (-102)
Pitchers: Z. Eflin (ERA: 2.77 – Road ERA: 6 – Avg. ML: 103) vs. C. Martinez (ERA: 6 – Home ERA: 5.4 – Avg. ML: 106)
Pick: Lean PHI
DET (218) at CWS (-243)
Pitchers: J. Urena (ERA: 4.67 – Road ERA: 3.21 – Avg. ML: 134) vs. L. Giolito (ERA: 5.93 – Home ERA: 0 – Avg. ML: -111)
Pick: Lean CWS
COL (147) at SF (-161)
Pitchers: C. Gonzalez (ERA: 1.8 – Road ERA: 1.8 – Avg. ML: 129) vs. A. Sanchez (ERA: 1.88 – Home ERA: 1.8 – Avg. ML: 112)
Pick: Lean SF
CIN (211) at LAD (-234)
Pitchers: J. Hoffman (ERA: 2.69 – Road ERA: 6.59 – Avg. ML: -115) vs. W. Buehler (ERA: 2.16 – Home ERA: 1.38 – Avg. ML: -198)
Pick: Lean LAD